The landscape in Tennessee is rapidly developing where coffee is concerned, which is particularly fitting for a state whose motto is "Agriculture and Commerce." So far this summer we have reported on several new roasting and retailing outfits in Nashville and in Knoxville.
Today we turn to Memphis, the state's largest city but reportedly not its most advanced coffee-wise. This is a fact that the burgeoning one-man operation Reverb Coffee hopes to help change. Helmed by Memphian former barista Jeremy Harris, Reverb is a well-equipped wholesale/online micro-roaster gearing up a new food truck to roll out this fall.
Apart from his experience on the bar at Memphis' Café Eclectic, Harris has also put his coffee acumen to use in missionary work with the Penang House of Prayer, offering coffee training and sourcing guidance in the development of a coffee shop that eventually opened on the ground floor of the prayer house in Malaysia. Upon returning to the States, his roasting self-education started with a Behmor and jumped eight months later up to the shiny 10-kilo Ambex that's now the heart of Reverb.
Reverb supplies a handful of wholesale accounts and has already participated in what has practically become a rite of passage for roasting start-ups — a coffee-beer collaboration with a local brewery. In Reverb's case, they collaborated with Memphis Made Brewing to produce a Belgian-style coffee stout called Reverberation, which has been a hit around Thanksgiving time.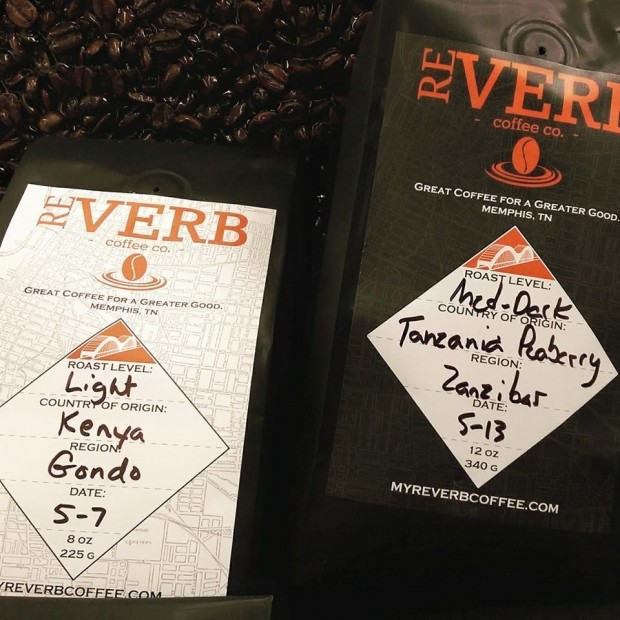 "I've used my Sumatra Mandheling the last two years, and plan on using that one again," Harris said, noting that the previous years' success may spawn an additional beer this year. "The other beer would be a cold season beer as well, so probably a stout as well." He expects the partnership to start up again in November and run probably through the end of February.
While Reverb's prospects have grown rapidly over the past couple years, its production footprint has not, which is another issue Harris hopes to address by going brick-and-mortar within two years. "I'm at my grandparents' house, in a detached shed that used to be the office for my grandfather's construction company," Harris said of his current roasting quarters. The Ambex, the greens and the packaging gear are all squeezed into a space of about 140 square feet.
Harris' vision for Reverb is for it to be a company that makes a positive impact — an impact that reverberates — in every community it touches, both locally and at origin. To help struggling communities in his home city, Harris hopes to divert a portion of his proceeds to education-focused non-profits in Memphis. "That's a huge focus here in the city, it's a big social injustice," said Harris. "Kids are born into poverty and they don't ever really have a chance to get a good education."
Harris cites the Memphis Teacher Residency as one group doing good work on that front. "I gave a little bit back to them last year," he said. "I've been strapped for cash right now, I'd love to give more, and hopefully one day we will."
Harris also aims for origin transparency with his customers, helping them to know where the coffees come from and to identify differences in the flavors indicative of different growing regions. The greens he sources solely through InterAmerican Coffee are roasted with a light touch, highlighting origin characteristics and accentuating sweetness and acidity. Reverb is exclusively single-origin for the time being.
The upcoming coffee truck, a 1996 Chevrolet P30 step van, has been purchased by Harris and is being built out by a company in Virginia. The Reverb Chevy P30 will be trimmed to a 14-foot bed and outfitted with a three-group La Marzocco Strada MP and a dual-hoppered EKK43. "I'm trying to do as much as I can through the espresso machine," Harris said. "I'll probably use two groups for regular espresso service, and then the third group I'll do as coffee shots, the Matt Perger recipe."
Coffee shots are essentially cups of brewed-style coffee made rapidly with water dispensed through an espresso machine. The published Perger recipe for the coffee shot that helped the Australian place in the 2013 World Barista Championship calls for a coarser ground 18-gram dose and 45 seconds of espresso machine water for a 320-millileter finished beverage. Said Harris, "The philosophy is to get as many drinks out as fast as we can. If we're at an event with 300 people, and somebody wants pourover, that's just going to create a bottleneck."
Tentative food plans are likely to include pastries and baked goods from local Memphis bakeries, potentially from among his current wholesale coffee clients. The anticipated coffee menu consists of classic espresso drinks alongside seasonal specials such as a pumpkin-flavored drink in the fall and possibly something minty around Christmastime. A jerry-rigged keg is also ready to dispense cold brew.
On the coffee scene in Memphis, Harris told Daily Coffee News, "I think it's progressing, and people are realizing there's something beyond the second wave." Harris said that he's noticed a few new quality-focused specialty cafés opening around town that make an effort to buy and serve excellent coffee, but that the coffee still tends to come from roasters based in cities other than Memphis. "I think compared to other cities of the same size, it lags," said Harris. "But I opened back in April 2013, and since then two roasters have started, and then another one is starting up. So, it's coming along."
Howard Bryman
Howard Bryman is the associate editor of Daily Coffee News by Roast Magazine. He is based in Portland, Oregon.