According to findings in the 2014 National Study of Employers, the percentage of employees free to work "from home" at least part of the time rocketed from 34 percent in 2004 to 63 percent as of last year, and many of those workers of course don't actually stay home. It's a well-established fact that coffee shops are no longer merely popular as places to bring a laptop and do some work — they are entrenched outposts of professional activity among growing battalions of office-free "nomads." Whether or not baristas and managers relish the sight of earbud-plugged heads awash in laptop screen glow, the nomads are there, they tend to be repeat customers, and they also tend to bring in more business.
But how do they know there will be an open seat near an outlet when they get there? These and other public work-related questions are now being answered by a new workspace-tracking platform called Workfrom. The online service displays profiles of coffee shops, bars, libraries and other public spaces, providing info such as the available WiFi speed, outlet accessibility, public transit convenience and more. Workfrom has also just partnered with the San Francisco-based tech hardware company Density to provide locations with door-mounted, infrared-based capacity-measuring sensors that count the people entering and exiting in order to send info in real time, with 95 percent accuracy, about whether there's an open seat or not.
Based, not surprisingly, in the city of Portland, Ore. — which is tied with San Diego for third-place among major cities with the highest percentage of office-free workers — Workfrom not only increases a café's visibility to potential new patrons, but also theoretically bolsters loyalty among laptop-toting regulars by removing the question of seating availability from the equation. By checking Workfrom ahead of time, especially those profiles with the Density addition, nomads can plan their café time strategically in order to stick with the cafés they prefer.
Collin Jones, owner of Crema Coffee and Bakery in southeast Portland told Daily Coffee News that while the capacity-tracking system is still in its infancy — not enough time for a noticeable bump at what's already a high-volume café, nor has he had time yet to really pour over the data that the Density sensor has provided — he has had a few Workfrom customers make themselves known. "We have had a couple people mention that they found us from the Workfrom site, and they had more information about us than you get from just Yelp or something like that," Jones said. "They were able to utilize that as a way to choose a time to come in."
Workfrom CEO and Founder Darren Buckner told Daily Coffee News that for many business owners, this technology and the strategy it facilitates for attracting the nomad worker demographic is a new experience. "This kind of data is not already out there," said Buckner. "So there's a tiny bit of a learning curve, and then having to understand what this data can do for a business. But what we've found is that this gives the businesses an opportunity to even out their traffic throughout the day."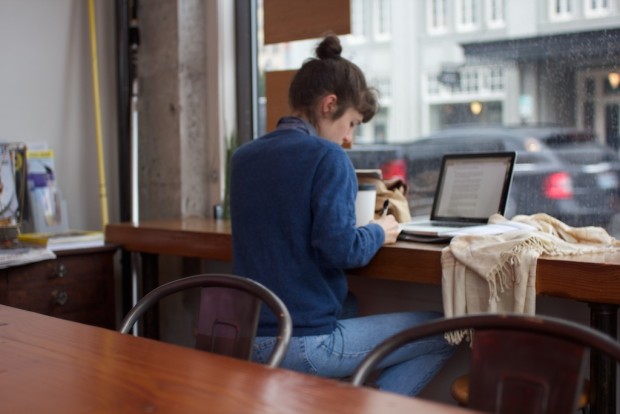 Over 600 locations have been scouted by Workfrom participants in over 50 major cities around the world, and Buckner said that not a single business has requested its profile to be removed from the system. All of the profiles are of places that are or will soon be doubly "human-verified" as Buckner puts it, meaning that the profiles created and posted by patrons are eventually confirmed by the business owners, and vice versa.
While users can post comments on the profiles of the businesses, Workfrom is intentionally not a review site. It's a resource for "free-range" workers first and foremost, but also potentially a resource for the cafés that participate. Buckner said that Workfrom endeavors to stage events and meet-ups specifically for shop owners, where businesspeople can network, interact and discuss not only how to engage the laptop crowd, but also general equipment issues, marketing ideas, organizing group purchases of bulk materials, and so on. Said Buckner of the profiled business owners, "Workfrom is also their community."
The platform generates its own revenue through advertising, with a traditional promotion-based model for the businesses to engage if they wish to self-promote and maximize their access and appeal to Workfrom visitors. Workfrom also engages with a lot of private co-working spaces, charging a fee to host a profile for any business that profits from charging workers specifically for access to its co-working space. Many cafés, meanwhile, are more than happy to make the most of what is for the most part a free service. Some offer discounts on coffee and other menu items for Workfrom members, while others provide dedicated WiFi portals just for Workfrom users.
Sensitive to the perception of the wandering workforce as nothing more than seat-hogging WiFi-suckers, Buckner believes the time has come not only to dispel that impression, but to support these workers and celebrate their café workspaces all at once. "We're not bringing in people that are just looking to buy hot water and add their own tea and bring their own mug," said Buckner. "We're here for people that choose to work at these places and really want to support them. They come there to spend their money, they come there to hold their meetings, they come there because these businesses have created the ambience and the experience that's truly inspirational for them."
Howard Bryman
Howard Bryman is the associate editor of Daily Coffee News by Roast Magazine. He is based in Portland, Oregon.