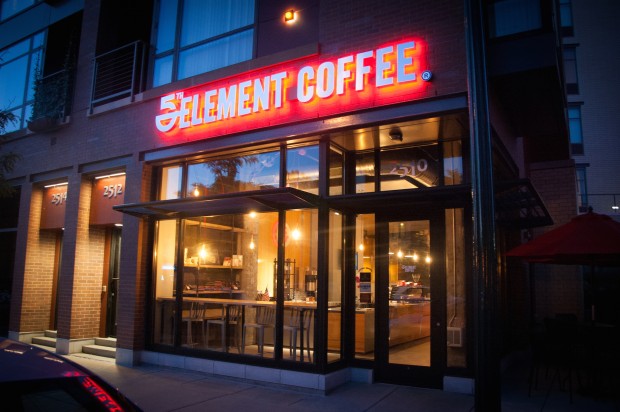 Considered America's largest producers-only farmers market, the Dane County (Wisconsin) Farmers market draws thousands of visitors each week to the state Capitol Square in Madison. On any given Saturday from April into November, you'll find local chefs mere steps away from their downtown restaurants signing contracts with local produce, meat and, of course, dairy vendors, while also scooping up fresh finds to be incorporated into that evening's dinner menus.
It is farm-to-table at its finest, and Madison's entrenched culture of agro-awareness is a primary reason 2011 World Barista Champion Alejandro Mendez decided to set up shop there. Along with three other local business partners — Todd Allbaugh, and Silas and Nelson Valle — Mendez recently opened 5th Element Coffee, a beautiful, simple shop that pays tribute to Mendez's native El Salvador while shining a bright light on Salvadoran coffees and the farmers who produce it. It's a fitting approach for Mendez, who was the first WBC champion ever from a coffee-producing country in what was then an 11-year-old competition.
"This is a city where people really like to eat well, but mostly they like to know where their food comes from," Mendez recently told Daily Coffee News. "There's the huge farmers market and a lot of restaurants doing farm-to-plate. I have the resources to do something like that with coffee, and it's something I think people here will appreciate."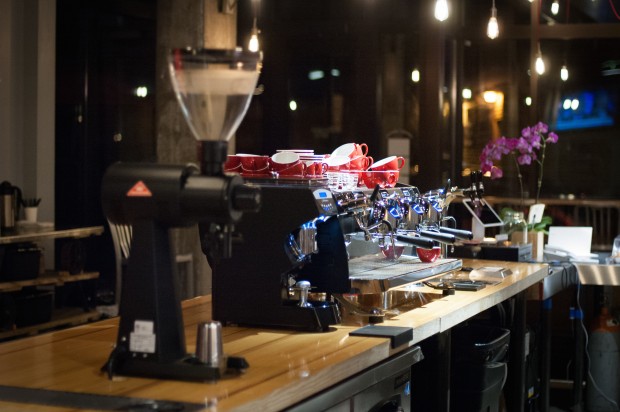 Mendez is currently splitting time between barista training and shop operations in Madison, sourcing coffees from multiple producer partners in El Salvador, and traveling other parts of the world as a consultant and general ambassador to specialty coffee through his WBC champion status. He's also one-fourth of the team behind 4 Monkeys, a relatively new roastery in San Salvador that supplies 5th Element as well as local Salvadoran cafés and restaurants.
In a sense, 5th Element boasts a vertical integration model that is largely unprecedented in the upscale specialty coffee retail world. But for Mendez and his partners, the model is more about quality control, sustainable relationships with producers and ambassadorship of Salvadoran coffees than it is about maximizing efficiencies.
"I'm thrilled to have Alejandro as a partner in the coffee business for obvious reasons. I get how lucky I am — but I don't care if we had a hot dog stand in a park," Allbaugh told Daily Coffee News. "He's just a great guy and it's amazing working with him. He cares about the product so much."
The café itself, designed in collaboration with local firm OPN Architects, maintains an elegant simplicity through the front bar area into an open seating area in the back. Repurposed wood from the lanes of a former bowling alley in nearby Verona finish the custom-made bar and adorn the walls. With the exception of batch brewers that run in the busy mornings, the bar equipment layout dictates that baristas are always facing forward and able to engage with customers. This is naturally a service aspect you want to stress when you have a world champion barista leading the training or pulling shots himself.
Notably atop the bar is a Victoria Arduino Black Eagle espresso machine by Nuova Simonelli emblazoned with the WBC logo. The machine was one of 15 made for the most recent WBC championships in Seattle, and it is one of the three machines used during the competition. On a continuous loop behind and above the machine is video of barista competitions combined with videos highlighting the producers and roasters behind the coffee being served — a kind of running tribute to the seed-to-cup process at play here.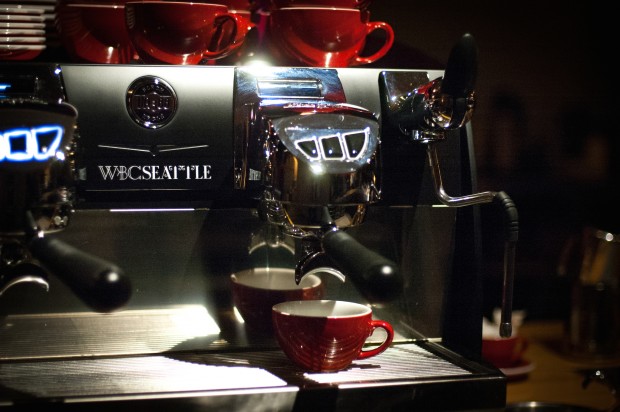 The drinks menu is also intentionally simple, featuring a handful of classic espresso-and-milk drinks and pourovers in the forms of Chemex and Hario v60s — designed to highlight the small selection of single-origin coffees. Two Yama towers have been slow-dripping cold brew at nearly full capacity since the shop's mid-summer opening. Fresh pastry comes daily from beloved local bakery Batch Bakehouse, and local chocalatier Gail Ambrosius provides chocolate syrup for a mocha, as well as a single-origin Colombian chocolate for hot chocolates.
Current coffees include a semi-washed red bourbon from the Marina Cumbre farm in the Cordillera region, and a "black honey processed" pacamara from Santa Rosa Farm in the Chalatenango region. "It's an experimental process — a honey process coffee that is dried under shade," Mendez said. "The drying process is slowed, and the seed soaks in more of the sugars when it's drying." Monroe, Wis.-based Yes Coffee Roasters is currently providing a decaf coffee from the Coopeatenas Cooperative in the Tarrazu region of Costa Rica.
5th Element is located not in the center of town but in a neighborhood on Madison's Near West side, within walking distance of multiple schools on the University of Madison campus, a public high school, several hospitals, a handful of other specialty retailers and hundreds of homes within the eclectic University Heights neighborhood. In short, it is very much a neighborhood shop that, within certain coffee circles, has global appeal.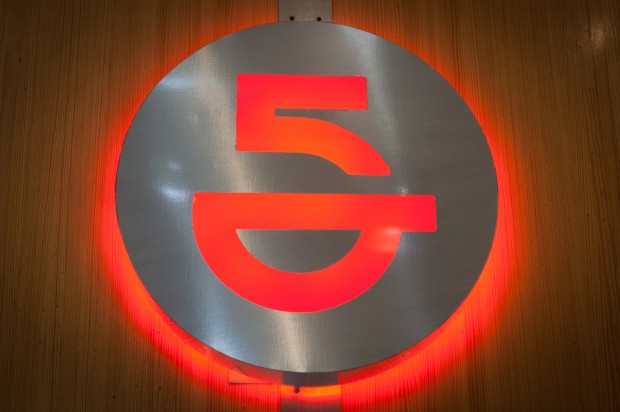 Allbaugh said the shop is currently seeking a beer-and-wine license from the city to add a small selection of local craft beers and about half a dozen wines. He also said the shop may be open to featuring coffees from other local roasters, such as Kin-Kin, the roasting offshoot of local multiroaster cafe Johnson Public House.
"What's great about the Madison coffee community, there isn't this cutthroat mentality," said Allbaugh. "People here seem to believe that the more collaboration we all have the better it is for everybody."
Nick Brown
Nick Brown is the editor of Daily Coffee News by Roast Magazine.