After months of research and experimentation, Atlanta's Taproom Coffee & Beer — whose name says it all — has unveiled the Beerspresso, a nitro-poured Japanese-style iced coffee drink infused with dry hops.
The non-alcoholic drink is a perfect representation of Taproom's dual focus on coffee and beer, drinks that the retailer views as equal but not separate, even complementary. We first reported on Taproom last year with the unveiling of the "Beerspresso" machine, the wacky creation of Taproom founder Jonathan Pascual, who gutted a Linea four-group espresso machine and converted it into a 12-tap beer tower complete with a glass rinser mounted into the espresso drip tray and three extra taps for chilled water, filtered water and sparkling water.
Now flowing through a machine that bears its name, the Beerspresso drink is composed of filtered water and ice-brewed Counter Culture Coffee Apollo blend coffee (the Durham, N.C.-based roaster is Taproom's primary wholesale coffee supplier). Pascual shared with us some insight into choosing the Beerspresso's brewing method, naturally using a beer analogy.
"In the cold brew/Japanese-style iced coffee discussion, I like to make the analogy of lagers versus ales: In beer, lagers are fermented at lower temperatures and result in a smoother, milder and crisper flavor profile — much like the flavor profile you get from cold-brewed iced coffee," Pascual wrote. "Ales, by comparison, are fermented at higher temperatures and result in a more complex, robust, possibly floral/fruity flavor profile — much like the flavor profile you can get from hot-brewed Japanese-style iced coffee. Both types of beer and both types of iced coffee have their strengths and weaknesses, and ultimately come down to personal preference. For us at Taproom, our iced coffee preference falls to the ale-like Japanese-style brewing method."
Taproom used dry hops to further flavor the drink, a strategy beer-makers use to impart some of the floral and citrusy notes of hops, without some of the associated bitterness. Pascual said the addition of hops gave the iced coffee a heavier body and transformed the coffee into an "almost unrecognizable" new kind of beverage. The Taproom team played around with a typical beer CO2/N2 gas blend, but ultimately went with a coffee-friendly nitro delivery system, finding that even the slightest bit of carbonation caused the drink to be too bright and acidic, a function of carbonic acid.
Taproom itself has been steadily growing as both a coffee and beer destination in Atlanta's Kirkwood neighborhood since opening in May 2014. Pascual, who came into the venture as a coffee person by trade, said it's been a blast exploring the somewhat alternate universe of craft beer. "I'm constantly reminded of how much similarity and overlap there is between the specialty coffee and craft beer industries," he said. "I love that Taproom gets to have its feet in both worlds."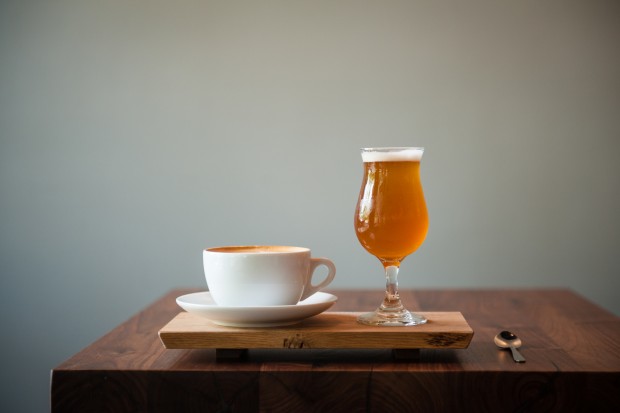 Nick Brown
Nick Brown is the editor of Daily Coffee News by Roast Magazine.