Fair Trade, Direct Trade, Organic, Rainforest Alliance, Bird-Friendly — all these are admirable and the issues they address are critical, but do consumers really care? That's the question at the heart of Question Coffee, a new and experimental brand of coffee reaching grocery store shelves for a trial run in the Portland, Ore., metropolitan area.
Spearheaded by the progressive Portland-based specialty coffee importer Sustainable Harvest, Question Coffee draws upon that company's connection to the burgeoning community of B Corporations, introducing a new and theoretically all-encompassing species of certification to the retail coffee industry: 100 percent B Corp Certified coffee. Every business at every link along the supply chain of Question Coffee is either B Corp certified, or eligible for B Corp certification.
The new and steadily spreading B Corp certification indicates that a fundamentally for-profit business adheres to rigorous standards of social and environmental transparency and accountability. Companies' efforts towards energy efficiency, fair labor practices, anti-discrimination policies, conservation efforts and more are taken into account by the B Corp scoring system.
Companies are required to include in their corporate bylaws — revising them if need be — a clear statement of commitment to addressing these and other progressive issues, explicitly widening the focus of their business beyond the pursuits of financial gain and shareholder satisfaction. Earlier this year, DCN contributor Michael Sheridan suggested B Corp may be the next big certification movement in coffee, and numerous coffee companies have come aboard since then.
The first Question Coffee starts with Rwandan cooperative Dukunde Kawa, which completed the B Corp "Quick Impact Assessment" and proved eligible for certification should they choose to pursue it. The green coffee was imported by Sustainable Harvest, one of the world's first certified B Corporations. The coffee was roasted by the B Corp certified Marin County, Calif.-based Equator Coffees & Teas, and finished its journey onto shelves in 17 locations of the first Certified B Corp grocery store, New Seasons.
"It was really an overnight idea that was 25 years in the making," David Griswold, CEO of Sustainable Harvest, told Daily Coffee News. Griswold explained how issues such as farmer training, the next generation of farmers, women's empowerment in coffee, and other critical factors affecting the future of the coffee industry have long been central to the mission of Sustainable Harvest, as has been the question of whether coffee consumers care about these forward-thinking issues as much as they care about the quality of their cup today. The dual concerns were brought into singular focus at a lunch meeting with Jeremy Ehn, the "mayor" of Portland-based branding and design firm Ideaville. "He said, 'why not create a brand that asks that question?'" said Griswold. "Instead of having all the answers, we can try to ask a lot of questions."
For now the brand is focusing on a three-week trial run in grocery stores that started last week, although another logically conclusive link in the chain would be preparation and service of the coffee by a B Corp-certified café. The problem there is that there aren't many B Corp cafes that exist. Theoretically, though, that wouldn't rule out the possibility of a Question Coffee café account. "We're not asking everybody to become a B Corp," said Griswold. "We're actually asking them a really simple thing. We're asking them, are you willing to measure what matters?"
Griswold characterizes the project as more a matter of drawing attention to critical issues than of racking up certification stamps. Any company that makes an effort to address causes related to the sustainability of the coffee industry, and strives also to be totally transparent about their efforts is on the right track as far as Question Coffee is concerned. Said Griswold, "If you're willing to measure that, and just see where you stand, then you're in with us."
Griswold is optimistic about the brand's prospects among conscientious consumers. "People are excited. They're excited about a brand that's truly sustainable all the way through," he said. Should it prove a success, future products under the Question Coffee brand will extend to other origins as well as potentially other roasters. Griswold said that he could also see the brand as being an opportunity to collaborate with other green coffee importers, although Sustainable Harvest will remain a part of the wide-reaching project either way. Said Griswold, "We want to make sure that what we create on a national level is really authentic and doesn't get watered down, as so many sustainable initiatives often do."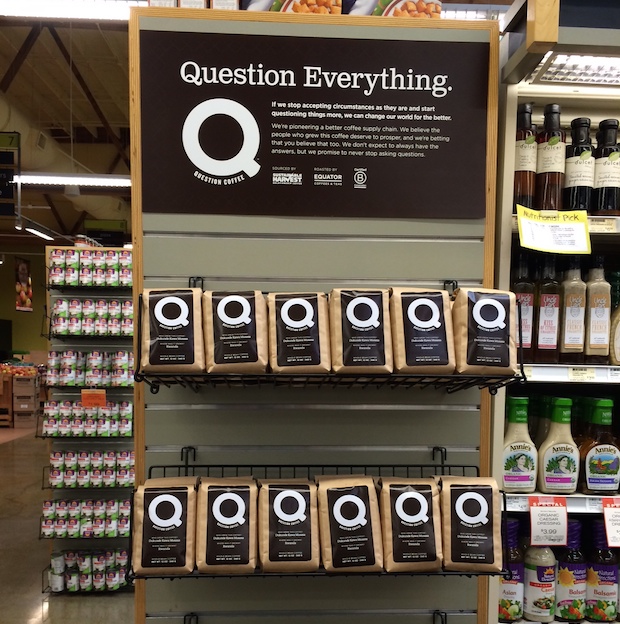 Howard Bryman
Howard Bryman is the associate editor of Daily Coffee News by Roast Magazine. He is based in Portland, Oregon.