Boulder, Colo.'s Ozo Coffee is putting the final touches on a major expansion this fall, bringing to fruition a vision that was years in the undertaking. "We manifested it. It's happening. We're really excited," Ozo CEO Justin Hartman told Daily Coffee News.
Founded by Hartman in 2007, the company now includes 40 employees, three retail cafés and a newly-expanded roastery that supplies all of Ozo's service and retail as well as a substantial wholesale business. The roastery warehouse also contains an education facility, which as of the end of October includes an SCAA-certified cupping lab and classroom.
The warehouse space expansion project started about two years ago, at which point Ozo had officially outgrown the previous café-adjoining space that had been housing its Diedrich IR-12. Upon leasing an expansive warehouse location at 1898 S Flatiron Ct., the first move was to relocate the Diedrich and set up shop anew. Shortly thereafter came the buildout of the 1000-square-foot retail bar at the front of the warehouse building. From there came the training facility and public education center, where Ozo staff members train wholesale clients and offer brewing, cupping and general coffee classes to interested home-baristas as well.  All that's left now are some touch-ups to cabinetry and other purely cosmetic details.
"Once we finished the new café and the lab, we continued the project with getting the new roaster installed," Hartman told Daily Coffee News. This next step was a biggy, involving some demolition to the interior of the existing roastery for the installation of the tool that is fostering a major leap forward in production capacity: A massive, beautiful late-1950's 50-kilo Gothot roaster.
"It's big. Not too big, but big enough," said Hartman of the larger new machine, the roasted results from which have reportedly been excellent. "There's something kind of magical about that old machine and the way it works. There's just a lot more control of airflow." Hartman said he also appreciates the Gothot's particularly effective agitation of the beans within the drum, which also increases the airflow through the mass.
"There's some clarity in the coffee coming out of the Gothot that's unique," said Hartman. "At this point you could blindfold me and I can cup the same coffee off both machines and I can tell you which coffee came off which machine." The IR-12 continues to be integral to the Ozo production line, in use for smaller batches of coffees that sell in lower volumes. Hartman stands by Diedrich as an outstanding US manufacturer of solid roasting machinery, although at the moment it's the new addition that's more of a cause for excitement.
According to Hartman, the Gothot was sitting fully restored and unused in a barn in Oregon for 25 years. It was previously owned by Full City Coffee Roasters of Eugene, Ore., who used the machine for a couple years before sending it off to be refurbished, then found it was no longer necessary for the scale of their business. "I'm pretty sure the way it went down was that he posted it in Roast Magazine's classified ads. We saw it the same day he posted it and got on a plane up to Eugene three days later."
Education has always been central to the mission of Ozo Coffee, which now offers courses on three fronts: Ozo training courses for their wholesale clients, public coffee education for consumers, and SCAA certification track courses for aspiring coffee professionals. "Our roast master, Nolan Dutton, is on the executive council for the Roasters Guild," said Hartman. "And we already teach for SCAA as volunteer work anyway."
For this reason, said Hartman, building to spec and seeking certification by the SCAA was just the natural way to go. Now certified, Ozo's facility offers cupping, sample roasting and green bean defect classes, Level 1 and Level 2 barista classes, and more. "We're hosting our first class in January," said Hartman.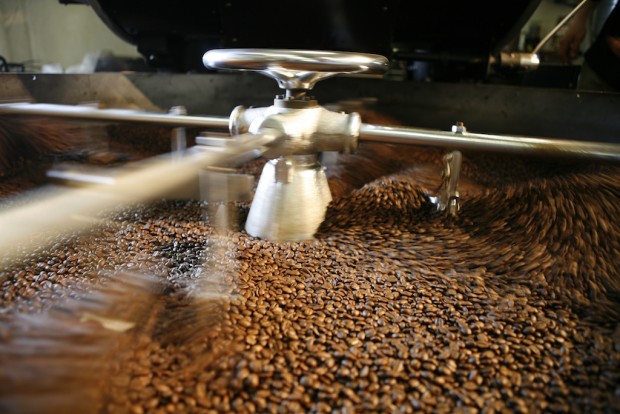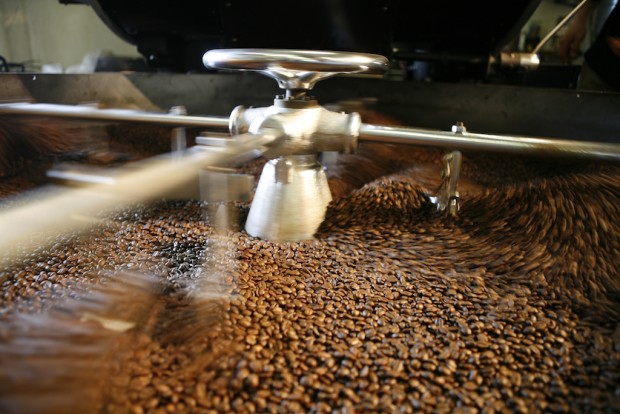 Ozo coffees still come through importers such as Sustainable Harvest, Atlas Coffee Importers and Café Imports, while the company also pursues as much direct trade as possible. "Our goal is to have relationship coffees that the farmer knows that they're growing for us, and that we'll reward them with proper payment and sustainable, rewarding wages for their work," said Hartman. Currently there are roughly half a dozen coffees on offer by Ozo sourced directly from farmers, including one from Peru for which Hartman said they voluntarily paid 20 cents per pound more than the farmer was asking this year. Said Hartman, "We want them to be healthy and happy, and put the money and the love back into the coffee, because we'll be buying it again next year."
The Colorado roaster can make these projections with confidence as there's yet another expansion on the horizon. Hartman reported that plans are underway for a fourth Ozo Coffee café in a 2,300 square foot space in Boulder. Things are still up in the air so Hartman was hesitant to reveal too many details. "I've been working on it for over a month. It's close," said Hartman of the upcoming deal, which he hopes to solidify within the next couple weeks. If all goes well, new doors could open in the Spring of 2016.
Howard Bryman
Howard Bryman is the associate editor of Daily Coffee News by Roast Magazine. He is based in Portland, Oregon.