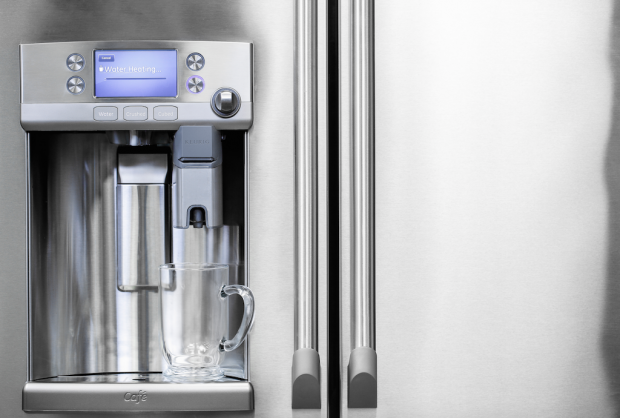 General Electric division GE Appliances today announced the widespread release of the GE Café Series refrigerator, designed to offer a "more convenient kitchen experience" through a built-in Keurig K-Cup brewing system.
The refrigerator, which retails for $3,300, is being made available today in approximately 1,300 Lowe's retail stores in the United States. GE says the fridge has a hot water reservoir with a built-in water filtration system that can be connected via mobile device to set a desired brewing time so water can be heated and ready for brewing coffee, tea, soup, or anything else loadable into a licensed K-Cup.
"No matter how you prefer your cup of coffee, there's no denying the single-serve brewing trend is piping hot," the company said in today's announcement, noting data from the National Coffee Association's 2014 consumer trends survey, which found that 29 percent of coffee-drinking respondents owned a single-cup brewing machine. The announcement notably ignored recent reports of declines in Keurig system sales, and even data from the NCA's 2015 survey that suggested the trend toward automated single cup brewing may be cresting.
The product release comes as GE Appliances, based in Louisville, has also been exploring more craft-focused developments in coffee, particularly through its collaboration with Louisville's FirstBuild to explore development of coffee roasting systems that could be incorporated into GE's standard convection ovens.
Here's more from GE on the fridge features:
Fresh, filtered water every time with no need to refill
The built-in system frees up counter space, something that's a premium in many kitchens, and the Keurig K-Cup brewer is dishwasher safe
First-of-its-kind water filtration system, tested and verified by an independent third party to remove 98 percent of five trace pharmaceuticals from water
GE connected technology, allowing consumers to preset the brew time via their mobile device so the water in the reservoir is ready and waiting
Water-dispensing flow rate and temperature designed to make the optimal cup of coffee, tea or other single-serve beverages
ENERGY STAR® certification, meeting minimum efficiency standards for refrigerators and freezers and using as much energy as a cellphone does to charge overnight
Opportunity to brew over 400 varieties of Keurig K-Cup beverages from 60+ major brands, and the top 10 best-selling coffee brands in America, including: Folgers®, Maxwell House®, Starbucks®, Dunkin' Donuts®, Eight O'Clock®, Community® Coffee, and Peet's Coffee & Tea®.
Nick Brown
Nick Brown is the editor of Daily Coffee News by Roast Magazine. Feedback and story ideas are welcome at publisher (at) dailycoffeenews.com, or see the "About Us" page for contact information.