Spring cleaning is great, although for bigger jobs like a roastery warehouse that supports over 100,000 pounds of roasted coffee per year, the endeavor may stretch through the summer and into the fall. This is essentially what's taken place over at the 8-year-old Pennsylvania company One Village Coffee, which just completed a total remodel of its entire roasting facility, inside and out, just in time to hunker down and invite some friends over for the cold Northeastern winter.
The effort to spiff things up included spreading their equipment out, rearranging the physical flow of production and improving the overall look and feel of the place. "We actually moved from one side of the building to other," licensed Q-grader and OVC Business Development Director Woody DeCasere told Daily Coffee News. "We've redone the whole space. It used to be just kind of an ugly old warehouse, and now it's a very nice, bright, clean area."
Since 2007, One Village Coffee has steadily grown from its basement and garage beginnings to occupy the robust footprint and employ a 10-person staff entirely on the success of its roasted coffee wholesale and packaged retail, without a café component of its own. When the company first moved into its current facility in Souderton, they loaded in their gear and set up shop without much concern for improvements to the barebones industrial building. "At the time we had one 35-pound roaster. Last year we did purchase and install a new Diedrich, a bigger roaster, and we were all crammed in there," Said DeCasere. "The space was just not nice, it wasn't a place where you'd want to bring people, it was ugly and outdated. The new space is just completely redone. Everything is new, which is pretty fantastic."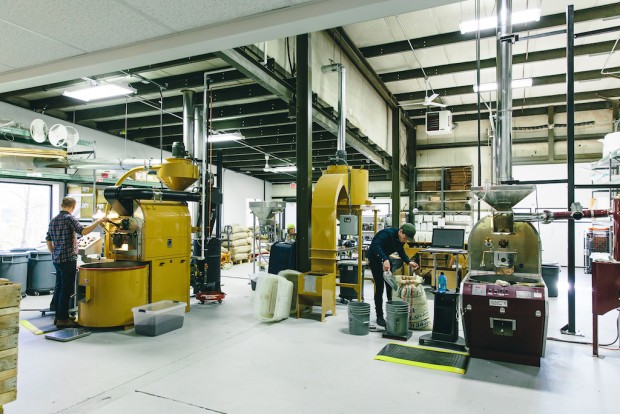 Floor to ceiling, wall to wall, the totally revamped interior includes a new reception area, offices, training classrooms for the public and for wholesale clients, a cupping lab, a brewing gear retail component, and a grab-and-go self-serve drip coffee station. Training gear includes a single-group Synesso espresso machine coupled with a Mazzer Major, and all manner of manual brewers. Minor though they seem — shelved goods being easy enough to sell without a dedicated retail staff, and Fetco batch-brewed self-serve coffee being even more straightforward — these retail activities still constitute a step forward for the company's direct-to-public sales interactions.
Conversations about a One Village café are still the stuff of back burners, although as they bring on more staff members with café industry experience, those fleeting conversations start to carry more weight. "We have more of a barista culture in the staff now," OVC Director of Coffee and Production Steve Hoffman told Daily Coffee News. "So, it's feeling more realistic for the company." Hoffman has been with the company a bit over two years, and includes himself and two other recently-hired production roasters among those with café backgrounds that keep a slightly more open mind to the service component idea.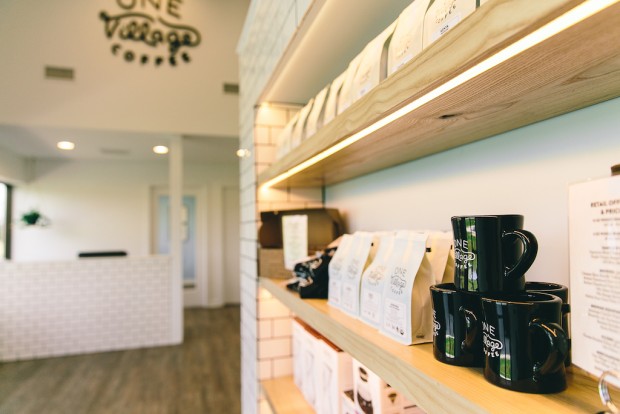 In the meantime, Hoffman remains more keenly focused on keeping OVC's original Primo PRI-35 roaster and their newer, larger Diedrich CR-25 running smoothly four days per week. Greens come from a variety of importers, such as Keffa Coffee, Olam Specialty Coffee, and the fellow B-corp certified company Sustainable Harvest. The brunt of their coffee comes through Royal New York, with whom they've done business since the very beginning. "We still get the majority of our coffee from them," said DeCasere. "By now we have some pretty close friends in the company. We attend each other's weddings and stuff."
The volume of production is likely to stay about the same, growing at about the same rate as it has to this point, albeit in a better organized, more streamlined manner in the new space. For the first week after reopening from the remodel, OVC opened for public tours every day, which will likely settle down into a monthly event. The retail sales area is open from 8 a.m. to 3 p.m. Monday through Friday, and plans going forward will focus on adding value to the brand through educational opportunities for wholesale clients in their freshened-up facility.
Howard Bryman
Howard Bryman is the associate editor of Daily Coffee News by Roast Magazine. He is based in Portland, Oregon.