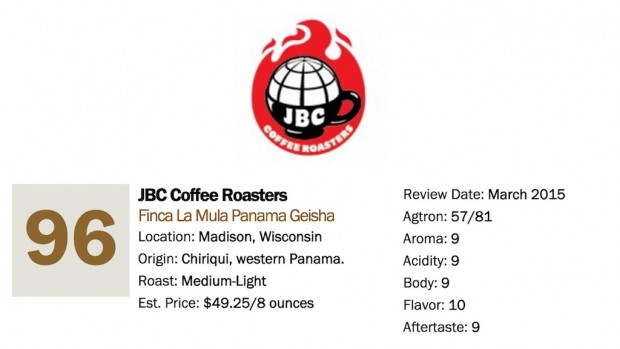 The influential roasted coffee review site Coffee Review has released its annual Top 30 list of roasted coffees for the year, featuring in the top spot a Finca La Mula Geisha coffee grown at Willem Boot's La Mula farm in Western Panama that was roasted by JBC Coffee Roasters in Madison, Wis.
The $120-per-pound Geisha has mostly sold out from JBC's warehouse, but the Coffee Review team described the coffee — which earned 97 points on a 100-point scale — as having "elongated beans and a distinctive floral and chocolate cup," while being immense, sweet, juicy and intricate with aroma and flavor notes of lilac, jasmine, peach, apricot, rosehip and more. JBC has announced that a final release of the coffee will be available in January 2016.
"We selected the top thirty coffees based on quality (represented by overall score), value (reflected by most affordable price per pound), and a ranking of other factors that include distinctiveness and uniqueness of style, certifications such as fair trade or organic, and general rarity," Coffee Review editor and lead taster Kenneth Davids said in an announcement today.
Panama and Ethiopia were origins reflected by six coffees each on the 2015 list, which is dominated by single-origin offerings, with most coffees traced back to individual farms and/or mills. Other origin countries well represented on the list include Kenya (4), Colombia (2) Nicaragua (2), Costa Rica (2) and Sumatra (2). Nine coffees on the list were submitted by roasters based in California.
Since Coffee Review's annual list tends to place a high value on quality found in the most prized varietals or historically elite places of origin, the Coffee Review team also this year released an expanded rankings list to recognize exceptional coffees tasted throughout the year in the following categories: Certified Coffees, Central Americas (Non-Geshas), Single-Origin Espressos, Alternative Africas, Still-For-Sale Best Values, Espresso Blends, Non Espresso Blends, South America, Decaf, Darker Roast and Asia. Three coffees were recognized in each category. See that list here.
Here is the Top 30 list (click on the roaster's name for the CR review):
Old Soul Co. — Nicaragua Pacamara Los Congos Lot #8
Victrola Coffee Roasters — Burundi Kayanza Province Mpanga Washing Station
Giv COFFEE — Kenya Embu Gakui Peaberry
Nick Brown
Nick Brown is the editor of Daily Coffee News by Roast Magazine.