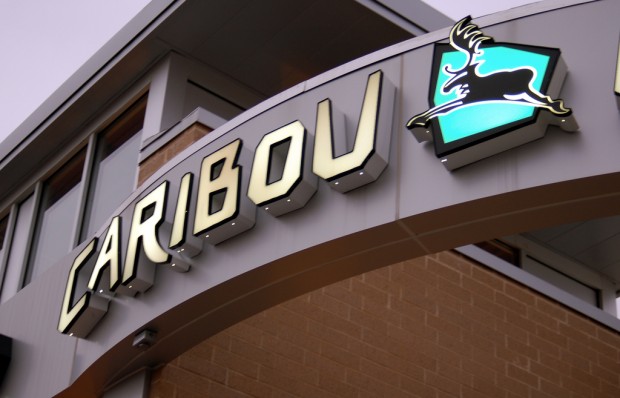 As the final few droplets of 2015 join the great, dark concentrate of time gone by, it's safe to say it was a banner year for coffee served cold. While old-fashioned iced coffee has appeared on menus for decades, this year there seemed to unfold a many-petaled lotus of quirk and craft around the hottest cold drink in town. As cold brew news snowballed down the pike, we learned practically all at once that it's now being kegged, canned, bottled, boxed, hopped, spiced, sonicated, sweetened, oak-chipped, flash-chilled, buttered and distilled.
Nitro cold brew — coffee dispensed beer-style through a nitrogen-pressurized tap — has continued its climb to widespread popularity, becoming de rigueur among offerings by posh shops and pop-ups around the world. There's therefore no more fitting conclusion to the year in cold brew than news that the creamy, cascading nitro-tapped cup is officially graduating out of its indie-darling status with adoption by Caribou Coffee Company.
"Caribou is continuously looking for ways to keep our product offerings fresh and innovative," Andrew Kraus, CCC Senior Manager, Food & Beverage Innovation told Daily Coffee News via email. "We've had nitro at other third-wave coffee shops, but feel with our commitment to quality and consistency we can deliver a brew that is superior to others. Our equipment is one of the factors that makes our technique different and we're excited to be the largest coffeehouse nationwide dabbling in the nitro method."
Cups commenced cascading over Caribou on Thursday, December 17. For the first two months, Caribou's Nitro Cold Press will be offered in two stores — the one attached to Caribou's headquarters near Minneapolis, the other at a St. Louis Park, Minn. drive-through — during which time the company will probably experiment with different custom blends. "We will be testing a variety of options to provide the best-tasting Nitro possible," reported Kraus. In February 2016, the company will roll the product out to an additional 25 stores nationwide.
The timing may seem odd for the testing of a drink served cold, it being the dead of winter in Minnesota. Yet this too seems to follow a cold-brew-related trend set by Starbucks earlier in 2015 when it rolled out its own long-steeped cold brew product in chilly northern and mid-Atlantic US climes at the tail of winter. Either way, the Caribou Nitro Cold Press drink is served chilled, but straight-up, without ice. "Those who have tasted Caribou's Nitro Cold Press in our internal lab have loved it," said Kraus. "It's such a different way to experience coffee — from being dispensed from tap and it's foamy head, to its smooth, creamy finish; we're excited to offer this concept of Nitro Cold Press to Caribou guests."
Howard Bryman
Howard Bryman is the associate editor of Daily Coffee News by Roast Magazine. He is based in Portland, Oregon.