At a Cup of Excellence auction in Brazil earlier this year, an international panel of cuppers gave a coffee a score of 95.18 — the highest individual COE score to date. Exceptional coffees have been scoring higher across the board, and to reflect this improvement while continuing to motivate farmers, the Alliance for Coffee Excellence, which organizes the COE contests and auctions, announced in a letter to its members last week that it is raising the minimum score for official COE designation from 85 to 87.
"When the program first started, an 85-point or 86-point was probably not all that common, and an 89 or 90 was pretty amazing," ACE Director of Training Sherri Johns told Daily Coffee News, adding that the quality improvements relate not only to improved education among producers, but also to the demands of educated buyers and more sophisticated consumers.
"The fact that this year the minimum score for a Cup of Excellence coffee is going from 85 to 87 is huge," said Johns. "It's really huge, because the coffees have gotten better." Also getting better is the ACE's base of operations in Portland, Ore., which has just relocated into new offices on the top floor of a new building in northwest Portland's Slabtown neighborhood. The corner space overlooks the Willamette River, bridges that cross it and the railroads that run along its banks.
The most exciting part is the brand new coffee evaluation and cupping lab, soon to be certified by the SCAA as suitable for cuppings and SCAA Pathway classes for up to 24 people. It's the first lab the ACE has had at its home base, and upon clearing a final hurdle or two, will be the first SCAA-certified lab of its size in the coffee mecca of Portland. "We had our inspection last week, and every single thing is good to go," said Johns. "In fact the inspector said he hadn't seen a lab so well prepared in a while."
Apart from a La Marzocco GS3, a Probatino, two-barrel gas sample roaster and other outstanding gear provided generously by the manufacturers, the soon-to-be-certified lab also has counters and tables of appropriate height, walls of the right color, and lights of the correct lumens. The right amount and proper types of cupping equipment are accounted for; black-out curtains are in place for darkening the room for the requisite sensory deprivation; and the ceiling is equipped with dim red lights that provide just enough illumination for pouring water on the cupping table while masking the color of the coffee in order to keep judges' olfactory and taste senses acute.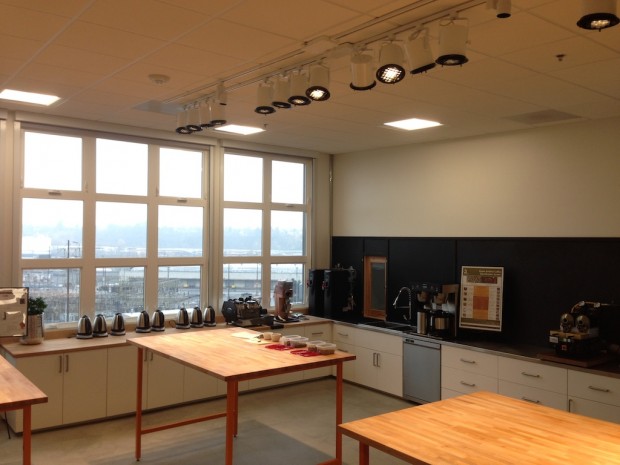 "The only thing is that Portland water is too clean, so I have to re-mineralize it," said Johns, of the one remaining hurdle for certification. That equipment is on its way and its installation is scheduled to be completed swiftly. Johns expects to ring in the new year in the new, fully certified lab.
"It will be like the flagship, or the showcase of equipment that is ideal for Cup of Excellence," said Johns. These ACE infrastructural upgrades will not only facilitate the teaching of Q classes, but will serve as testing grounds for new equipment and processes to be employed by COE teams at origin.
"Our board looks at protocol and certain standards, and this will be a premium test location," said Johns, who also considers the lab as having great potential for hosting COE auction cuppings for US-based buyers, or perhaps special events like a "best of the best of the best" cupping. "Almost anything is possible in this lab."
Howard Bryman
Howard Bryman is the associate editor of Daily Coffee News by Roast Magazine. He is based in Portland, Oregon.