Progress continues in leaps and bounds for the Roast Magazine 2016 Roaster of the Year, Crimson Cup Coffee & Tea.
Back in January of 2015, the company fired up production in a triumphant new 20,000-square-foot headquarters and roasting plant at 1925 Alum Creek Drive in Columbus, about a mile down the road from their former HQ. With their prior 7,000-square-foot premises emptied out, planning immediately began to transform it into an education and training facility. Construction began the following July. With all that work now complete, the Crimson Cup Innovation Lab is open for business and hosting tours at 700 Alum Creek Drive.
"It's hard to believe for us now looking at it, that's where everybody used to be," Crimson Founder and President Greg Ubert told Daily Coffee News. "We used to house our big roasters there. We were extremely cozy, I guess you could say, in that spot."
The equipment Ubert refers to include Godzilla, Little Red, and Hansel — a 325-pound-capacity W. Roare roaster, a 66-pound W. Roare, and a 25-pound Probat, respectively.
Founded in 1991, Crimson Cup now reports being the wholesale roasted coffee supplier for several hundred cafes in almost 30 states. In 2007 the company opened its own flagship café in Columbus not only to further the brand but to take their data beyond the empirical and into the practical, testing its own products first-hand and experimenting with new ideas in an environment they could control and study through and through. "We needed our own space and we needed to walk in our customers' shoes," said Ubert.
As construction started on the Innovation Lab in July last year, the company also opened a second retail location in Upper Arlington, Ohio. Both of these now serve as valuable research and feedback sites for gauging what works and what doesn't in a variety of locations and slightly different markets, in terms of products and strategies Crimson can recommend to its wholesale customers.
"We just wanted to go further and further into that spectrum so that we could be pretty well assured that if we said it would work, 100 percent it would work," said Ubert. A third Crimson Cup retail café is slated to open in Tallmadge, Ohio by midsummer of this year.
Meanwhile, the innovation and training center is perhaps an even greater leap forward for Crimson's goals of providing education and training for their customers as well as the public. The clean, bright and impressive facility includes an Application Lab for barista training, throw-downs and other competitions, a Cupping Lab for QC, roast profiling and analysis, a Roasting Lab for instruction on how to operate a roaster, develop profiles and analyze green and roasted coffees, and an Employee Café for employees as well as guests. The company has posted a videogame-like 3D virtual tour on its website here.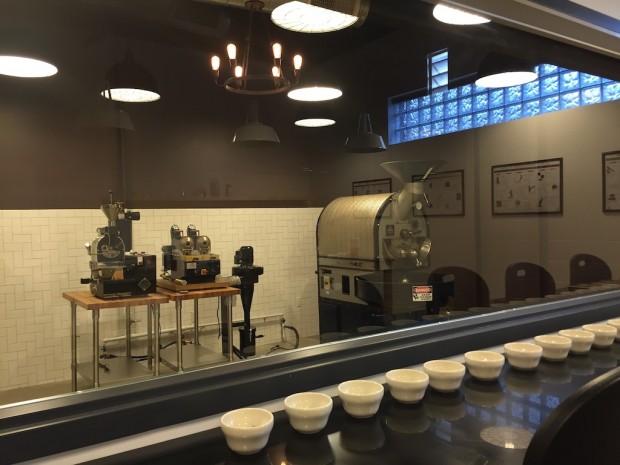 Having built the facility in adherence to rigorous SCAA standards for equipment, lighting, ventilation, and all the rest, the company is awaiting inspection in order to gain official certification. Once that process is complete, the Crimson Cup Innovation Lab will be the first SCAA-certified cupping and training lab in the Buckeye State. Crimson held its first open house at facility in mid-January.
"We wanted people to say, 'oh my goodness, this is really cool,' and we got that," said Ubert, adding that parties from fields ranging from city government to the commercial furniture industry have expressed interest in holding meetings that have nothing to do with coffee inside the new space. "It's a nice space for people to gather. How that looks ongoing, I really can't tell you. Here's what I do know, though. We just want to share it. We just want to share what we do, and have people become excited about it."
Howard Bryman
Howard Bryman is the associate editor of Daily Coffee News by Roast Magazine. He is based in Portland, Oregon.