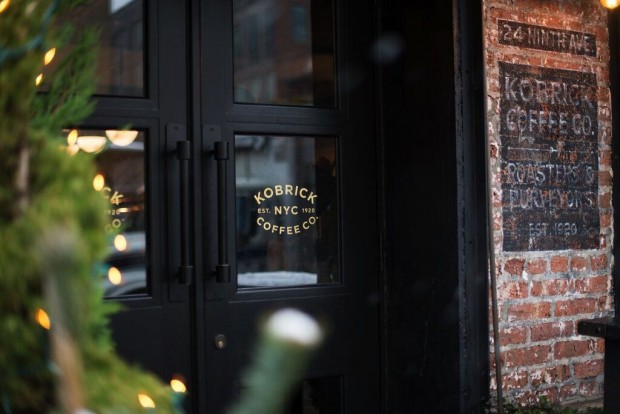 On Jan. 17 of 1920, the year Samuel Kobrick began roasting under the name Kobrick Coffee Co., he might have seen have seen law officers pouring the contents of hundreds of barrels and bottles into the Hudson River, as Prohibition took effect.
Now 96 years later, across the Hudson in Manhattan's Meatpacking District, Kobrick Coffee Co.'s first branded retail café has opened with a dual focus on craft coffee and cocktails, the dueling darlings of Prohibition-era drinking. In the company's own words, it is "transforming the space from an authentic brew house during the day to an inviting, old-world drinking den at night."
The coffee bar at 24 9th Avenue — a notable undertaking for a company that has existed to this point almost exclusively on wholesale relationships with restaurants and cafés — was led by fourth-generation Kobricks Scott and Nikole, who both currently serve as the company's vice presidents.
Scott Kobrick told Daily Coffee News that the bar concept has been closely associated with the company's core wholesale business from its inception.
"We wanted a showcase to present what we offer," said Kobrick. "A new potential wholesale customer would ask us where they can go to try our coffee. We have an amazing training program with our company, we're really proud of it and we're always offering to help anyone with more ideas or training, but it is always a little bit of a struggle. When we're not in control of it, there's the chance the product might not come out exactly the way you would like it to, especially with espresso beverages."
A range of Kobrick roasts are served throughout the day, including some of the company's well-known blends in drip brewers until 4:30 p.m., as well as any number of current offerings on the manual brew bar, which includes Chemex, Kalita Waves, siphons and Aeropress. A three-group, chrome La Marzocco GB5 sits atop the espresso counter, where espresso drinks are available day and night.
As the space transforms into an evening cocktail bar, coffee remains on the menu also as an ingredient in drinks such as a "Three Hour Kyoto Negroni," which incorporates gin, sweet vermouth and Campari with a single-origin Kenya coffee, concocted over three hours in a Yama Cold Brew Drip Tower. Another drink, the "Old Slip," involves a Sulawesi coffee Aeropress with bourbon and orange bitters.
For the cocktail menu, the Kobrick team collaborated with Tobin Ludwig, the founder of New York's Hella Bitters. Alongside the Coffee category of drinks are Signature & Seasonal, and Classic. One example is a "Chemex Bloody Mary" involving an infusion of fresh horseradish, habanero, salt, pepper and Worcestershire in a Chemex filter with lemon and organic tomato juice.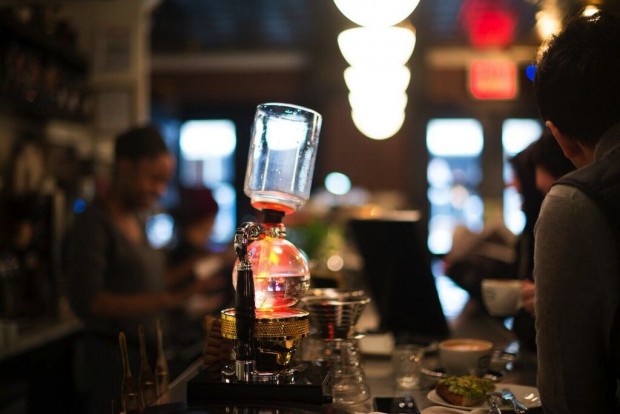 The shop quietly opened last fall, taking over the space previously occupied by a wine bar that was a popular hangout among restaurant and hotel employees in the neighborhood. Despite the spot's reputation, Kobrick said the coffee side of the business came bursting out of the gate, far exceeding initial expectations. "We got a lot of business just by opening our doors," Kobrick said. "There were some new regulars right away and word spread pretty quickly."
Kobrick said it's still too early to tell based on sales figures whether the retail presence has had a noticeable effect on the company's wholesale coffee business, but that it has provided a fresh means of introducing people to the well-established company and the staff currently guiding it into its second century.
We've had a lot of wholesale customers come see the place and they've really been wowed," Kobrick said. "Several times we've brought people to our roasting plant and then we'll come right across the river to the retail location where they can see everything come to fruition — they can see the complete process."
Nick Brown
Nick Brown is the editor of Daily Coffee News by Roast Magazine.