The marketing lore behind the Starbucks brand involves now CEO Howard Shultz being so inspired by Italian espresso and cafe culture that he returned stateside to convince the then fledgling company's owners to introduce espresso drinks to the menu.
While also inspired by an Italian experience, the young brother-and-sister team of Teal and Tristan Cooper is hoping to introduce a quick, convenient, quality-based alternative to Starbucks stores in and around U.S. college campuses. Their concept is called VendiBean, which is being pitched as a 24-hour, quality-focused cafe within a vending machine platform.
Now a senior at San Diego State University, Teal Cooper was studying abroad in Florence when she and her classmates were repeatedly drawn to a vending machine in their living quarters. "Everyone loved it," Cooper recently told Daily Coffee News. "I've never experienced that in the U.S., because vending machine coffee here tastes awful."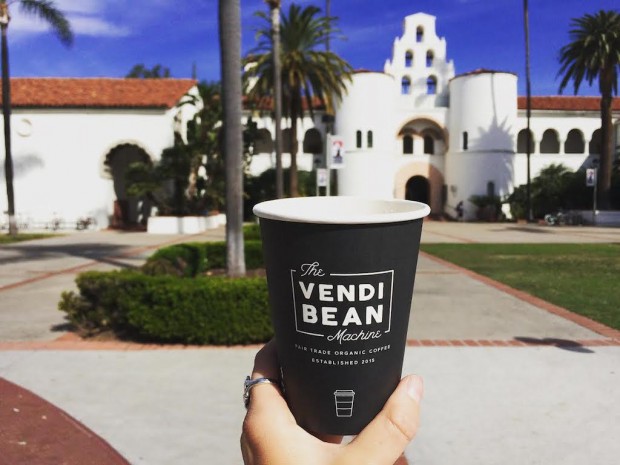 The VendiBean prototype launched last month inside an apartment complex off the SDSU campus, an intentionally controlled, relatively low-profile location for beta testing. It offers a modest menu of drip coffee and espresso-based drinks, including straight espresso, cappuccinos and lattes, with some flavoring options. It provides sugar and Nature's First brand powdered milk upon demand.
While sales have been expectedly intermittent, Cooper envisions the machine concept one day representing a viable alternative to chains like Starbucks, where she routinely sees her fellow students waiting in long lines. Part of the pitch is based on quality.
"It's really high-quality specialty coffee we're working with right now," said Cooper. "Honestly a lot of college kids don't really know the difference between Starbucks and good high-end specialty coffee. But taste is really important to me."
The Coopers — brother Tristan is a student at the University of Texas at Austin — are working with San Diego-based roaster Swell Coffee, which operates two retail locations of its own, in addition to its roasting facility in Mission Beach. Teal Cooper praised the company's coffee expertise in helping develop a blend that they hope can not only achieve the desired quality goals, but also reflect VendiBean's stated commitment to fair trade and organic principles, even if the coffees aren't certified as such.
Many of the challenges in the ongoing development relate to the natural restrictions caused by automated vending. Without wanting to disclose too many of the specifics regarding the prototype VendiBean machine, Cooper said it incorporates a French Press-like brewing system, and that finding and setting parameters for factors such as saturation time and grind size have proven to be challenging to the achievement of a consistent level of quality through all the drink types.
But Cooper said not only does VendiBean accept the challenge, the company is determined to beat it. Said Cooper, "Coffee vending machines have such bad quality coffee, we think that can be an advantage for our vending machine."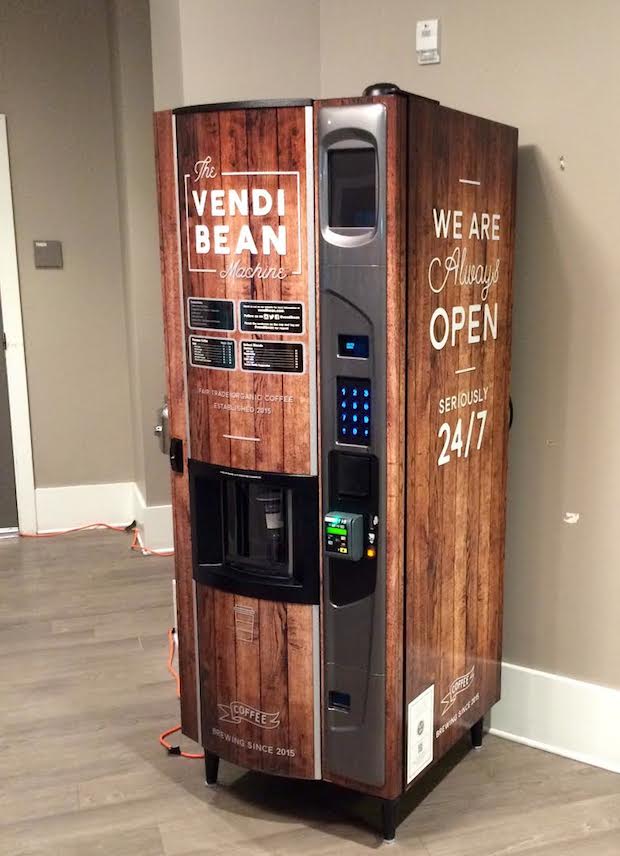 In addition to the product itself, VendiBean is working to engage its core demographic through social media campaigns, launch events and eventually app development. The VendiBean black cups include a blank white space under a printed line reading "Coffee Because…", encouraging customers to fill in the blank and tag VendiBean on Instagram for a repost.
As the social component grows, Cooper hopes the company can slowly grow to include several other VendiBean machines throughout San Diego, with grand plans for the machines to be on college campuses and in college libraries throughout the country.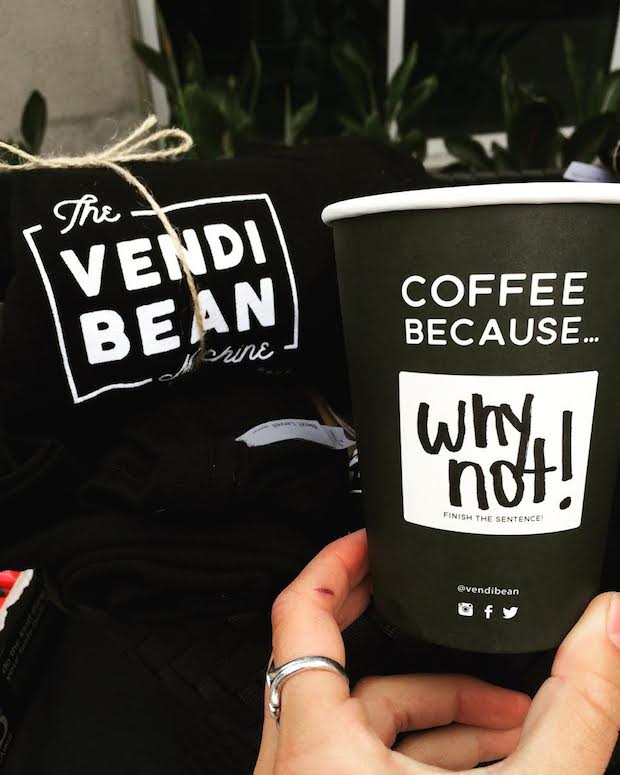 Nick Brown
Nick Brown is the editor of Daily Coffee News by Roast Magazine.