Amarillo, Texas-based Palace Coffee Company is putting the final touches on its third retail location, with plans to open next week.
The approximately 2,500-square-foot space located inside of the 12,000-square-foot Amarillo National Bank Summit Branch building — at the intersection of S Coulter St and SW 34th Ave — will seat about 80 and include both an onsite kitchen and a formal co-working space that connects the new coffee shop to the bank next door. It will be Palace's second location in the city of Amarillo, whose specialty coffee scene is on the uptick with the recent opening of local roaster Evocation Coffee's flagship standalone coffee shop.
Seating will be available on all sides of a rectangular coffee service counter, inside which baristas will need to be on top of their game, in full view of patrons from every angle. "We better have really clean baristas," Palace owner Patrick Burns told Daily Coffee News. "That's something that we've been talking about. You can't hide your style, you've got to make sure you're good at what you do."
While each of Palace's cafés maintains a multiroaster roster, Palace first introduced its own branded line of coffees through a private label relationship with Evocation, eventually winning America's Best Coffeehouse National Championship at Coffee Fest in 2014 while serving Evocation coffees. While they took great pride in their private-label product, they wanted to get even closer to the process — as close as could be, shy of roasting it themselves. This desire prompted the amicable shift over to the older and larger St. Louis-based Kaldi's Coffee, whose established toll-roasting service was a better fit for Palace's ambition.
Currently Palace coffees are curated, profiled and often sourced by Palace staff and then roasted by Kaldi's. "I travel up there, my coffee director's been up there, and they fly down here, and we do cuppings together," Burns said of the collaborative approach that has worked for them for over a year now.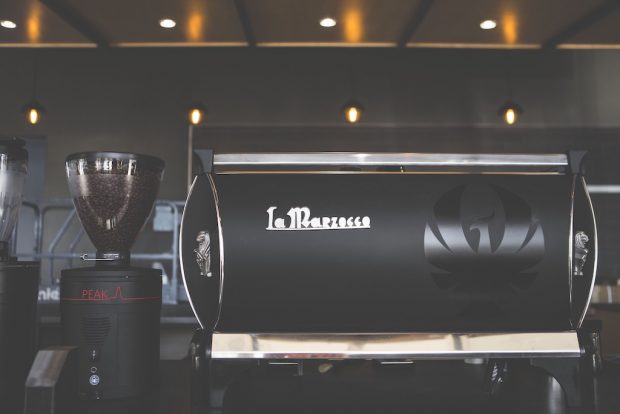 All of Palace's cafés feature 3-group matte black La Marzocco GB5 "beasts," as Burns described them, supported by Mahlkonig Guatemala, Twin and Peak grinders. On the glass Gino pourover bars at the two existing and upcoming third Palace locations, Palace's rotating roster of guest roasters has included and will continue to include coffees by the likes of Arkansas-based Onyx Coffee Lab; Cat & Cloud Coffee from Santa Cruz, Calif.; Denver's Commonwealth Coffee Co.; San Francisco's Ritual Coffee Roasters and more.
Yet as soon as the dust settles after this month's opening, Burns is looking forward to the ultimate move, at long last, of setting up a proper Palace Coffee roastery in Amarillo.
"That's our next step after our new shop opens, to find a warehouse and start moving towards our local roastery," said Burns, adding that a warehouse or other suitable space could be secured within three to six months, although the search has been put on hold while the company settles into its newest digs. "I can only do so much at a time."
The new shop is slated to open sometime next week. Asked whether he feels that competition in Amarillo is heating up or nearing the saturation point for the city of 200,000 people, Burns said he sees plenty of room for everybody.
"I love pizza. I eat pizza all the time. What's great is that I get pizza from everywhere," said Burns. "It depends on my mood, it depends on where I'm at, it depends on how much money I have, but I'll get pizza from anywhere. Why can't coffee be the same thing?"
Howard Bryman
Howard Bryman is the associate editor of Daily Coffee News by Roast Magazine. He is based in Portland, Oregon.