Goat Story, the Slovenia-based makers of the stylishly anachronistic goat-horn-shaped travel mug called the Goat Mug that turned heads in 2015, is plowing ahead in the design-minded development of coffee tools and accessories.
Following the success of a mug design inspired by coffee's "dancing goat" origin story, the company has developed another product that's more inspired by heights of coffee modernity. This is the G-Drip, a sleek glass dripper held by a minimalist stand of wood and copper, for pourover devotees with exacting aesthetic standards.
While the handmade nature of the G-Drip coupled with the copper joints and glass cone lends the product a vaguely steampunk appeal, its minimalist design and elemental materials add up to more of a combination of Japanese design philosophy and an up-to-the-minute Scandinavian aesthetic. At the bottom of the smooth glass cone there rests a copper coil called the "flow spring," which the company says allows a faster extraction. A 250-milliliter (roughly 8-fluid-ounce) erlenmeyer flask-like vessel ships with the G-Drip, whose cone works best with Hario V60 filters, according to Goat Story.
To the uninitiated, the Goat Mug can't help but appear to be a throwback to the Middle Ages or Viking culture, whereas the G-Drip is as current a style as can be. The tie that binds, according to Goat Story, is simply a paired love of coffee and design.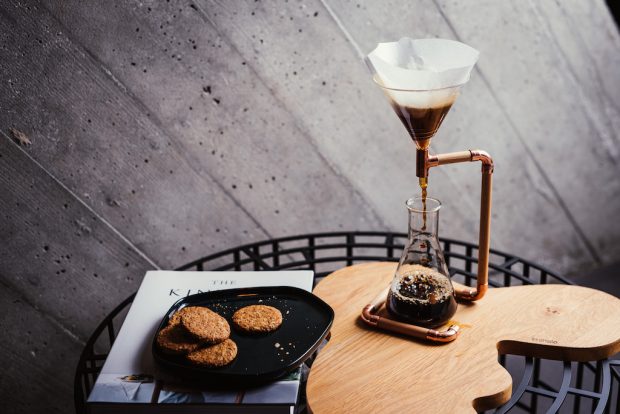 "Our products evoke different users, may they be Viking fans, businessmen, youngsters or bohemes. But they got one thing in common: They're all coffee lovers," Goat Story Content Manager Dunja Kristan told Daily Coffee News, adding, "Here at Goat Story we love coffee, and with every product we want to offer this unique user experience wrapped into an outstanding design."
While the Goat Mug was funded by a Kickstarter campaign that wrapped successfully in January, 2015, the G-Drip was developed by the company independently of crowdfunding. Unlike the mug, which comes in various sizes and materials, the G-Drip is a one-off, limited edition.
"This is a unique piece, one of a kind and most probably it won't further develop," Kristan said. "But we're glad to tell you that we are already working on some really neat coffee makers that will blow your mind."
The first run of G-Drip pourover devices was limited to just 50 pieces, which sold out from the Goat Story online store in just two hours, the company said. The second run of G-Drips will be made available for purchase on the website today.
Howard Bryman
Howard Bryman is the associate editor of Daily Coffee News by Roast Magazine. He is based in Portland, Oregon.