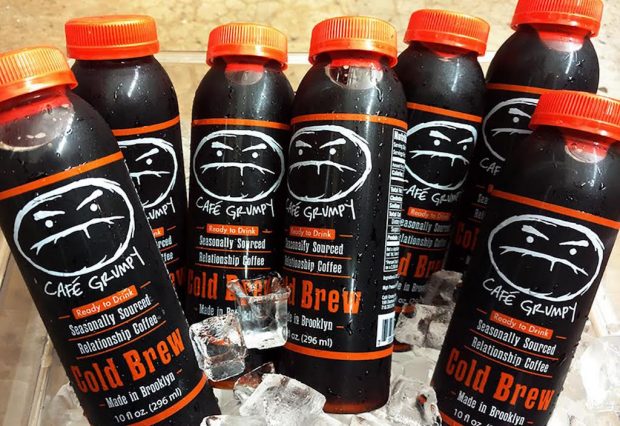 Brooklyn, N.Y.-based Café Grumpy has joined the ever-widening field of contemporary craft coffee purveyors launching a bottled, RTD cold brew product.
The 11-year-old roasting and retail outfit — which was founded in Greenpoint and has since expanded into seven retail locations throughout New York — said its in-store cold-brewed iced coffee is "by far" the number one selling beverage in the summer months, and suggested the new bottled cold brew will offer a similar profile, with no dairy or sweetening additions.
The Grumpy cold brews are being offered in 10-ounce, tall and thin recyclable plastic containers, a notable departure from many of the other recent upscale cold brew products recently hitting the market in glass bottles or cans of various shapes and sizes.
"We wanted to make a product that is portable and approachable," Café Grumpy Co-Owner and CEO Caroline Bell said in an announcement of the product this week. "Customers want to grab a cold brew bottle and take it to the beach or office or gym and be able to carry it around comfortably and easily."
Bell added that plastic bottles also allow for high pressure processing, a natural cold pasteurization technique that the company says does not alter the taste of the beverage as heat pasteurization might.
The Grumpy bottles are available in each of the company's cafés and in select retail locations in New York.
Nick Brown
Nick Brown is the editor of Daily Coffee News by Roast Magazine. Feedback and story ideas are welcome at publisher (at) dailycoffeenews.com, or see the "About Us" page for contact information.