A year after transitioning from hot-brewed over ice to cold brew for cold offerings in its cafés, Peet's Coffee today announced it is launching a line of RTD cold products.
Each of the three offerings — a Baridi Black, Coffee au Lait, and Dark Chocolate — use Peet's East African Baridi blend, which the company says is composed of coffees from smallholder farmers that together create a "bright, juicy, and aromatic profile."
The black coffee offering comes in a 12-ounce glass bottle, while the milk-blended drinks come in 10-ounce milk-style cartons.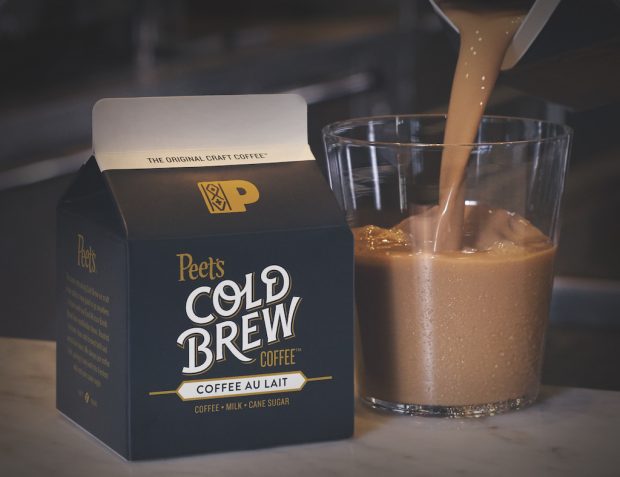 "Ready to drink is yet another example of our commitment to innovate. Last year we fully transformed our iced coffee program by shifting from a hot brew that was chilled over ice to a Cold Brew that was slow brewed," Peet's Senior Director of Innovation Jessica Mitchell said in an announcement today. "This shift drove double-digit growth for our cold coffee business in our cafés, and was among the highest performing product lines in our entire portfolio."
Currently celebrating its 50th anniversary as a business, Emeryville, Calif.-based Peet's was acquired by the European investment firm JAB Holding in 2012. It then made headlines of a similar nature itself in October 2015 when it announced its own acquisitions of both Intelligentsia Coffee & Tea and Stumptown Coffee Roasters within a month. The latter of these is often regarded as a pioneer in the now-crowded field of high-quality RTD coffee beverages for its longstanding line of products that also includes two albeit larger cartons and a 10.5-ounce stubby glass bottle.
Peet's Baridi Black, Coffee au Lait and Dark Chocolate RTD bottles and cartons are currently on their way to select groceries, Peet's stores and other partner locations in the San Francisco Bay Area, with a suggested retail price of $3.99. Distribution to other markets will soon follow.
(Daily Coffee News Associate Editor Howard Bryman contributed to this report.)
Nick Brown
Nick Brown is the editor of Daily Coffee News by Roast Magazine.