Coffee — or, more particularly, an upscale retail coffee experience — is with increased frequency being brought into the fold of luxury-focused brands hoping to expand the reach and perpetuate the perception of their own upscale-ness.
The most recent example that comes to mind is New York's Cadillac House, created to help freshen the iconic automotive brand's image, involving coffee service from Joe Coffee and non-coffee elements such as art installations and olfactory branding.
Coffee's latest luxury lifestyle branding endeavor comes from notebook maker Moleskine, which today unveiled its first standalone café in the company's home city of Milan, Italy, with plans to develop future Moleskine cafés across the globe.
The new café follows a pilot café in the Geneva (Switzerland) Airport, and the company is describing it as "an important new step in our journey to realize the full potential of Moleskine as the lifestyle brand of the creative class."
"We will provide our guests with an innovative retail experience, bringing the socializing dimensions of food, creativity and shopping to a single space designed to reflect the distinctive, clean aesthetics of Moleskine," Moleskine CEO Arrio Berni said in an announcement of the new café. "I believe this vision fully reflects the growing interest people show for retail formats that go beyond the sheer act of shopping and I look forward to validating this concept for global expansion."
The company says the café design — developed in coordination with the international brand consultancy Interbrand — in many ways reflects a Moleskine notebook, with a clean aesthetic complemented by neutral colors, encouraging reflection, socializing, inspiration and content creation.
The café's coffee program also follows the theme of inspired creative content, with each Moleskine-branded bag telling the stories of coffee's journey and roasting traditions, presented on bag wraps with illustrations from a range of artists that the company says is meant to recall book covers. Italian roastery Sevengrams is the coffee partner in the private-label relationship, with two espresso blends and multiple single-origin coffees on offer at any given time.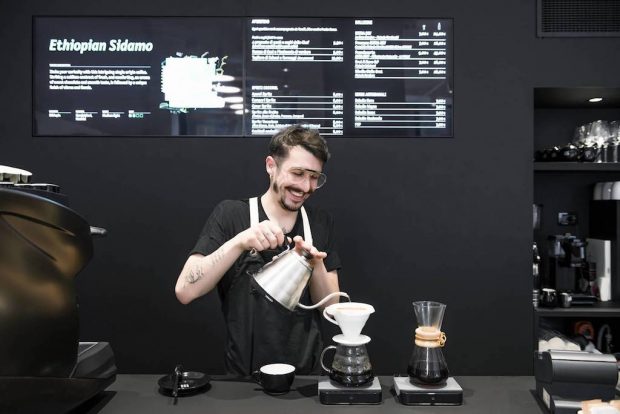 The new Moleskine Café is currently open at Corso Garibaldi 65 in Milan's Brera Design District.
Nick Brown
Nick Brown is the editor of Daily Coffee News by Roast Magazine.