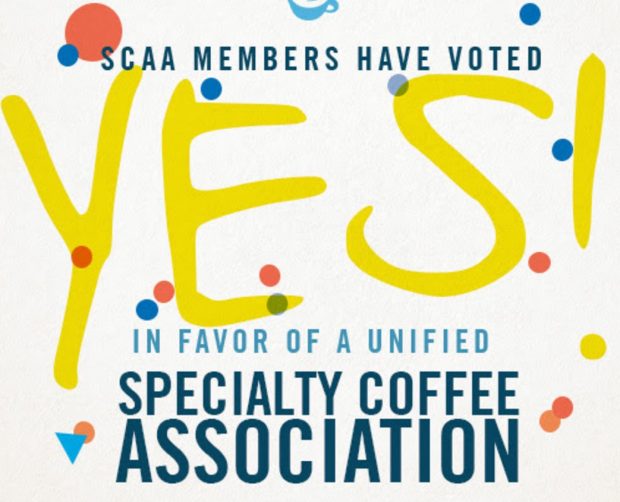 The members of the Specialty Coffee Association of America have voted in favor of merging with the Speciality Coffee Association of Europe. It's a momentous occasion for the global coffee industry at large and for both organizations, who have worked closely over the years in various capacities, while their respective members will now be part of a larger, unified professional specialty (or speciality) organization that is as yet unnamed.
The SCAA vote ran for a month beginning in July, running through last Friday, August 5. An impressive record-high 56 percent of the eligible SCAA membership weighed in, with 62 percent voting in favor of the merger, and 38 percent voting against it. This followed the SCAE vote in which 51 percent of eligible members cast votes, with 86 percent in favor.
"I think from an organizational standpoint, there's not going to be that much day to day change," SCAA Board 2nd Vice President Tracy Ging, of Volcafe, told Daily Coffee News regarding the immediate ramifications of the vote. "But in terms of what it means to the world, I think it drives home that this is a borderless industry."
While an influential group of past presidents of the SCAA publicly argued against the merger, it was widely supported publicly by other immediate past presidents and the current board leadership, who suggested the unification of the two groups represents a natural progression of the increasingly global nature of the coffee trade.
"Speaking just for myself, I think that's a very strong show of support for the board," Ging said of the final tally, which was decidedly in favor of a merger but far less so than the SCAE vote. "There was a very vocal group of past, past presidents, and I think that interjected some confusion."
Those in favor of the merger have suggested numerous potential benefits to members on both sides of the pond, including but not limited to the unified development of standards, increased and improved educational programming, and improved access to programs, events, guilds and networking opportunities. Said Ging, "I continue to think that sustainability is one of the areas where this will really materialize."
According to the merger proposal, the merger will result in a Global Operations Center that will be established in the UK, while the North American office based in Southern California will remain active. SCAE's assets and membership will join SCAA's tax exempt organization, resulting in a single global nonprofit representing more than 8,000 combined members.
A financial pro forma released by both groups projected a combined gross revenue of more than $26 million by 2021, up from just over $15 million this year. Both organizations will continue to operate independently for the remainder of the 2016 calendar year, with no currently scheduled changes to upcoming events.
The SCAA Unification site will remain intact and updated as more organizational information becomes known.
Nick Brown
Nick Brown is the editor of Daily Coffee News by Roast Magazine.