In the midst of the never-ending geyser of cold coffee products currently flooding the market, there are critics that contend that the cold brew method falls short in highlighting the subtler and brighter details of a given coffee's character. Others lament the cases in which coffee is practically an afterthought to the convenience or added flavorings of the many ostensibly coffee-based products that dilute the marketplace and undermine the specialty coffee industry's effort to differentiate itself and create more discerning consumers.
It therefore might surprise some and comfort others that quality-forward Seattle-based company Slate Coffee Roasters has tossed its hat in the ring.
Slate has in the past taken flack for its unabashed pursuit of the most intimate, transparent and flavor-focused coffee experiences possible, such as serving lightly-roasted EK shots in stemware for the same reason wine is served that way — to highlight the body and texture of an extraction while concentrating the aroma under the nose. They also serve tasting flights, "deconstructed" drinks, and anything else they feel drives a customer's attention deep into the heart of what makes each coffee unique.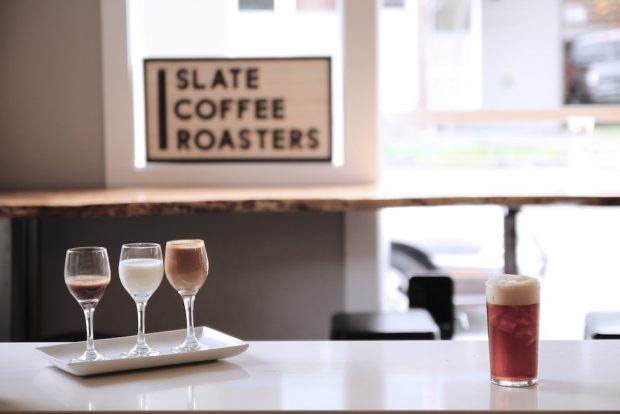 Now Slate has rolled out a full line of canned cold brew products, include two single-origins and two iterations of their All-Nighter blend, one with and one without nitro. Following very soon are a canned espresso-and-tonic and a canned espresso-and-soda, both of which are based on their Under Pressure blend and will be available on tap at the company's Pioneer Square and University District coffee bars.
"We roast our coffee for cold brew and brew at a local brewery, actively completing every step of the process," Slate co-founder Chelsey Walker-Watson recently told Daily Coffee News.
"As coffee is a seasonal fruit, like our roasted coffee offerings, the single origin canned cold brew will rotate among different cooperatives and producers," said Walker-Watson, adding that while the "intentionally classic" brown sugar and chocolate-noted flavor profile of their All-Nighter blend will remain consistent, the component single-origins they combine to achieve it will rotate with the seasons.
All of the single-origin coffees featured in the new cold brew line will also remain available for consumption via any of the hot brewing methods available in their stores, as their roasts will not be tailored to cold brewing specifically. Said Walker-Watson, "Our roasting varies to expose the inherent nuances of the individual coffees rather than being customized to the brew method."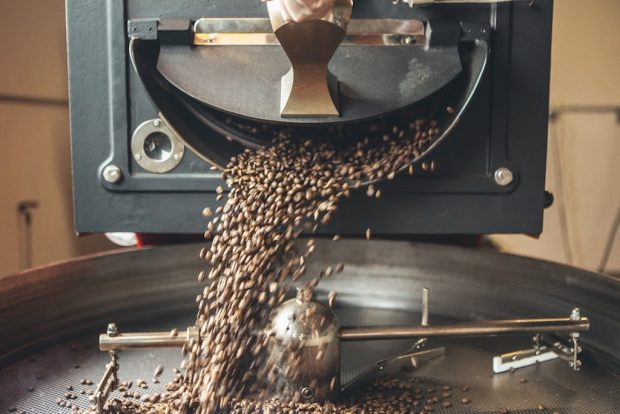 The rollout comes on the heels of Slate's recent burst of retail expansion, having opened two new cafes simultaneously in September of last year, and their fourth café in partnership with urban athletic gear-maker Chrome Industries in downtown Seattle in May. The RTD cans are rolling out to all Slate locations currently as well as select wholesale partners, with distribution as a goal in development.
"Slate does have the intention of ramping up production and extending distribution, ideally nationwide," said Walker-Watson, adding, though, that growth of that scale will take time to achieve.
Howard Bryman
Howard Bryman is the associate editor of Daily Coffee News by Roast Magazine. He is based in Portland, Oregon.