When is a nitro cold brew not exactly a cold brew? When it's Bona Fide.
"It's kind of a different profile than 'cold brewed.' There is a hot step," Bona Fide Craft Draft Brewing Company Co-Founder and Creative Director Spencer Weiner told Daily Coffee News, adding, "I think coffee beans need to touch hot water. They need it. They want it!"
Goleta, Calif.-based Bona Fide Craft Draft Brewing Company launched last year as an off-shoot of Caribbean Coffee Company, a California wholesale roastery that celebrates its 30th anniversary in business this year. Having developed a proprietary oxygen-free vacuum brewing process using patent-pending equipment of their own design that offers a cold-brew-style nitro coffee experience that's also refrigerator stable for at least 90 days, CCC wanted to share their technological breakthrough with the industry by providing brewing and kegging services to other roasters.
Yet what they discovered amid their early efforts to spread their science was a reluctance among their peers when it came to collaborating with another coffee roasting brand. "Roasters really like their own dealio," said Weiner. "So we founded the brewery, and we've had zero resistance. It's like somehow there's a switch that goes off. Roasters are willing to work with a brewery that offers them solutions for their scaling."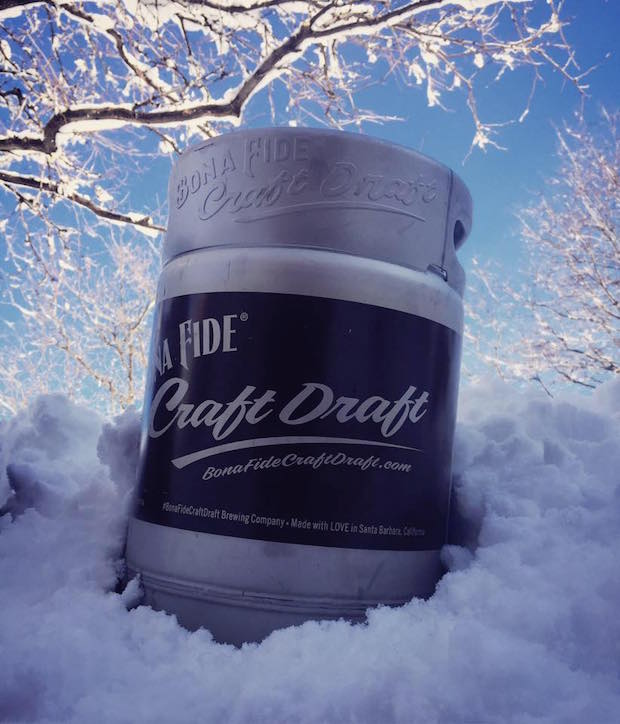 Subsequent clients have ranged from upstarts like Los Angeles nano-roaster Warbler Coffee Roasting to the longstanding Taylor Maid Farms in Sebastopol, Calif. Yet at the same time, beyond the brewing and kegging services provided to the roasters that prefer to send them their own roasted coffee, Bona Fide also provides toll-roasting or private label bean-to-keg services for other clients that either send them house-sourced green coffee or choose from among coffees sourced by Bona Fide, through supply lines established by Caribbean. An admitted fanboy, Weiner is proud to count Aerosmith drummer Joey Kramer's Rockin' and Roastin' coffee company and restaurant in North Attleborough, Mass., as a client in the latter category.
Of course after all the work of sourcing, roasting, brewing and kegging, Bona Fide also assists in ensuring that the product is served in a way that maximizes potential both for the seller and the consumer. "About two years ago I started rolling out nitro coffee trikes, and I just got my first one in L.A.," said Weiner, who reported having landed about seven cargo tricycles outfitted with cold kegs and tap systems in Santa Barbara county and one in Florida so far. "I want to be able to lay claim to the first L.A. County certified bike!"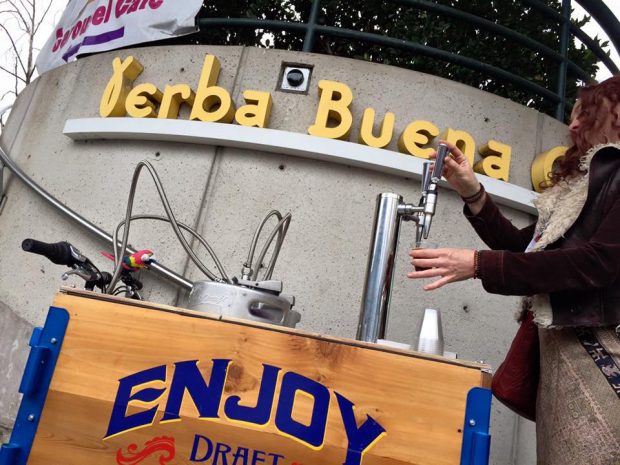 Recently Daily Coffee News reported on the Cold Bruja Coffee Co. coffee trike, which currently remains poised to hit the streets in the coming days or weeks after having persevered through the county's stringent permitting process. In that report Cold Bruja discussed being aware of another local company — Warbler — also going through the process at the same time for a near-simultaneous coffee trike launch. Warbler is Bona Fide's first Los Angeles client, and it is now known their food cart permits were stamped on exactly the same day, July 26, 2016.
For the record, Cold Bruja's blueprints were approved in mid-April of this year, roughly seven weeks before Warbler's early-June approval. However, the good-natured race to start actually serving customers is at press time ongoing.
Both the Bruja and Warbler bike chassis were built by the Portland, Ore.-based Icicle Tricycles company. Bona Fide then customizes the coffee storage and service system for their carts, building it out themselves to accommodate their preferred stainless steel kegs with the same Sankey D fittings used in the beer and wine industries. Yet the hottest path ahead for Bona Fide Brewing is not necessarily in cold drinks, but their exclusive hot tap system.
"We've got the exclusive license to this technology. There's three machines in the world," said Weiner, who said the first public view of their hot tap was on display at CoffeeCon in Los Angeles. Of the three existing Bona Fide hot taps, one is at their own facility in Goleta, one is in a restaurant in Santa Barbara and one is currently being installed in a restaurant in Manhattan Beach, Calif..
Weiner said Bona Fide is currently engaged in talks with numerous high-volume retailers. "We're working with large-scale purveyors that are looking for solutions," said Weiner. "We're talking to Soldier Field in Chicago, they currently pour 15,000 cups a day and they brew it 24 hours in advance. So they're very excited about the potential of pouring very good coffee out of kegs, without any of that."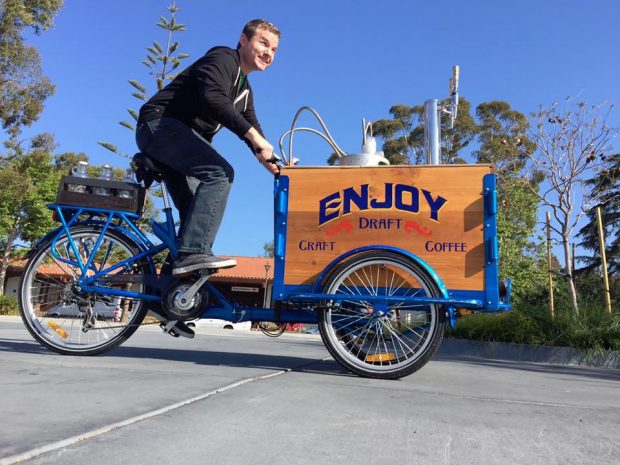 Weiner considers the trademarked Bona Fide Craft Draft offering to be potentially transformative for the entire industry, both for cold and hot coffee, across the board. Apart from their striving only to partner with quality-focused roasters with ethically sound green sourcing practices, and their intention to develop as many direct trade relationships as possible with growers for their own greens going forward, the environmental impact of preventing the waste of 80 ready-to-drink packages by the volume of a single keg is, according to Weiner, equally inspiring.
"When you think about maybe six days, ten days on a cold brew keg, and then you throw it out? Starbucks throws out their hot coffee every 35 minutes. It's average 60 percent waste in specialty coffee," said Weiner. "We have machines that come out 46 degrees from one tap, 200 degrees on the other tap, and there's no waste because it's on demand, and it's stable."
Howard Bryman
Howard Bryman is the associate editor of Daily Coffee News by Roast Magazine. He is based in Portland, Oregon.