Longtime Seattle coffee company Fonté Coffee Roaster yesterday opened its second brick-and-mortar café, in Bellevue. The new shop is located in the Bellevue Collection shopping center, presenting another highly public face for the nearly 25-year-old roasting company, which has thrived over the years as a wholesale supplier to the hospitality industry.
"We were approached by the Bellevue Collection to come to Bellevue and if the right opportunity presents itself we would be open to expanding to more cafés," Fonté Marketing Director Joyce Monaco told Daily Coffee News before the opening. The company will be celebrating a grand opening at the Bellevue location on Friday, Sept. 15, from 4-6 p.m.
Fonté's other retail bar is downtown across from the Seattle Museum of Art, while its production roastery hums away in the Industrial District.
While Fonté maintains relationships with upscale hospitality clients including Four Seasons Hotels, Ritz Carlton, Wynn Las Vegas, Peninsula Hotels, The Phoenician, and Montage Resort & Spa, creating and staffing a café all its own is an exciting and relatively new venture for the company, which only in recent years began selling packaged coffee direct to consumers.
Along with a full traditional espresso, coffee and tea menu in Bellevue, Fonté is serving beer and wine, as well as salads, breakfast and lunch sandwiches, and a range of pastries.
Atop the bar sits a 4-group La Marzocco Linea customized in-house with PID, brew caps, and a matte-finished, Fonté-branded, stealth-black paint job with LED barista lights. Batch brewing will be supported by a 1-gallon Fetco brewer, and the grinder setup includes a Mahlkonig EK43 along with a fleet of four Simonelli Mythos Clima pros.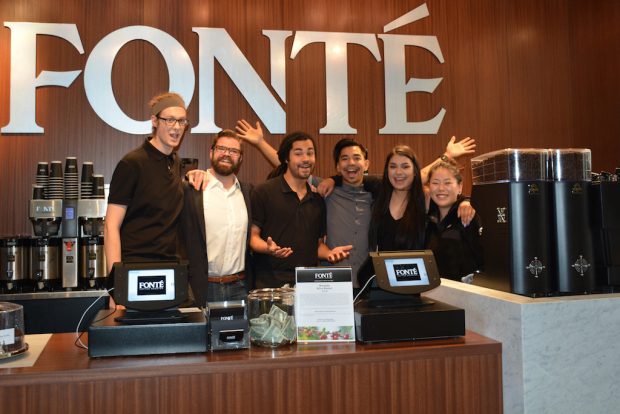 In following with its reputation in upscale hospitality, Monaco said the guiding principles behind the interior design are clean, modern and classic, including a painted black-and-white floor, along with black-and-white tile finishes, and wood and marble finishes.
"Bellevue is aching for some great new coffee," Fonté Founder Paul Odom said in a company announcement of the opening. "We've had huge success with our downtown Seattle café and now we are excited to bring our custom crafted coffee to the East side."
Nick Brown
Nick Brown is the editor of Daily Coffee News by Roast Magazine.