At long last, decaf is getting some respect.
For ten days in October last year, the Swiss Water decaffeination company made headlines by offering the New York City public a high-quality coffee pop-up, complete with live music and contemporary art, that served expertly prepared brews and espresso drinks, all for free, all decaf.
Team Swiss Water will be at it again in Los Angeles this fall, and yet at the same time there's another salvo in decaf's ongoing battle for proper service and recognition poised to launch in early October: Decaf Depot, an entire internet marketplace devoted solely to the finest in fresh-roasted stimulant-free specialty coffee.
The Depot, based in Brooklyn, New York is a product of the father-son team of Bill and Chris Turney. The former is a serious coffee lover whose doctor recommended he lay off the uppers, the latter a tech-savvy entrepreneur who shared his father's love of the bean and agreed with his vision in the potential of a business that catered specifically to the decaf-drinking market.
"People who like decaf and drink decaf are people who truly like the taste of coffee. Anyone who says 'death before decaf' would be perfectly happy if they just dissolved a caffeine pill in water," Chris Turney told Daily Coffee News. "I do like the taste of coffee, so finding a good decaf is like, 'oh, this is great, I could drink this literally all day.'"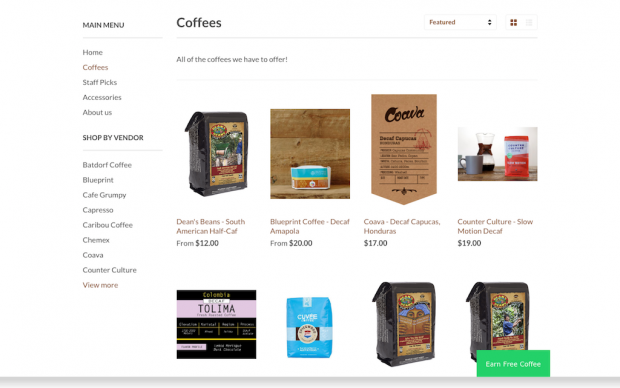 Turney comes to the decaf business armed with a wealth of coffee industry connections from his previous venture that specialized in solutions for prepaid membership programs, such as loyalty systems for coffee shops.
"I have a pretty extensive network of people that are competing baristas and some very high-quality roasters in the Boston and New York regions," said Turney, who will draw upon this network not only in curating the decaf coffees to be sold via Decaf Depot, but also in the inclusion of expert reviews and recommendations to assist consumer's selection process. One such participating expert Turney mentioned is Danny Shannon, winner of the 2014 Ultimate Barista Challenge in New York City.
Decaf Depot will keep a small percentage of the retail price paid of each coffee in much the same way as any other third party retailer does. Turney mentioned that Dean's Beans is one early roaster that's formalized a relationship with the Depot. The website also lists a range of almost two dozen high-quality roasters large and small, including Coava, Madcap, Cuvee, La Colombe and Intelligentsia, among others.
"We want to be the platform for finding good decaf coffee. We think that we can bring a huge mass of new consumers to high-quality small roasters," said Turney, whose press release states that while the domestic market for decaf coffee amounts to nearly $4 billion annually, it is dominated by Folgers, which the release says routinely gets poor reviews for flavor.
Turnkey thinks decaf drinkers deserve better, and while brewed options are usually available in shops, not only do many people not necessarily have regular access to the best coffee shops in the U.S., but top-quality whole bean decaf products for brewing at home are often harder to come by both in shops and in stores. When they do appear in stock, it's possible that they may languish on shelves for longer than their caffeinated counterparts.
Considering that, fast and effective fulfillment is another top priority for Decaf Depot. "Right now we're taking a heavy hand in the fulfillment because in the very beginning, our big concern is the customer, and making sure the customer gets the best possible experience and service that they can," said Turney.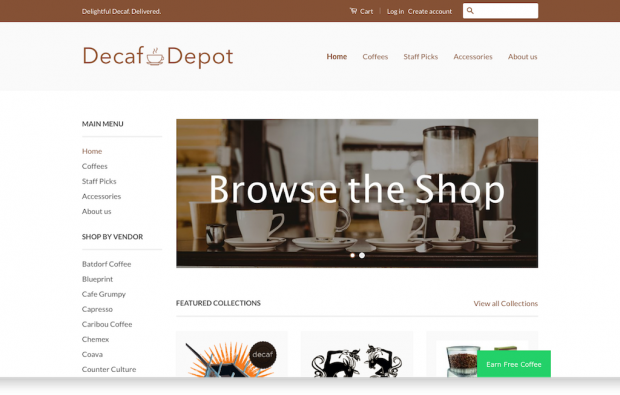 The Depot will box and ship coffees in the roaster's branded bags as quickly as possible, while also including materials related to their own brand and company to further educate consumers about their offerings. Turney hopes that in time, as sales numbers grow, they can leverage their volume into shifting fulfillment services back to the roasters themselves.
All decaffeination methods will be represented in their selection, or at least no decaf will be refused a spot at the Depot due solely to its method of decaffeination. While most of their offerings are Swiss Water decafs, there are a couple that are decaffeinated in the chemical-inclusive method, which Turney contends has no negative effect on flavor when done correctly on a high-quality bean.
"It's not an unsafe process, it doesn't degrade the quality of the bean in the way that many people think that it does, and there are some coffees that really shouldn't use the Swiss Water process," noted Turney, who ultimately defers to the wisdom and expertise of the roasters. "We do our research on it, and so long as the roaster has a good reason for doing what they do, we definitely will give that our stamp of approval."
Once the site launches in October and settles into a groove, Turney said the next step would be to formalize and arrangement with a bigger fulfillment company, such as Amazon.
"The biggest hurdle in selling coffee online is making sure it's fresh when it hits the door of the customer," said Turney, whose goal is to get the turnaround time down to the quick two days that Amazon customers have grown accustomed to.
Beyond that, he hopes someday to be able to persuade some first-rate roasters to offer unique beans and blends for the Decaf Depot audience.
"I think there's a big opportunity to do some kind of subscription, where we send customers exclusive blends every single month," aspired Turney. "I think there's a lot of great things we can do with that, that would help customers discover different types of decaf coffee and discover new roasters."
Howard Bryman
Howard Bryman is the associate editor of Daily Coffee News by Roast Magazine. He is based in Portland, Oregon.