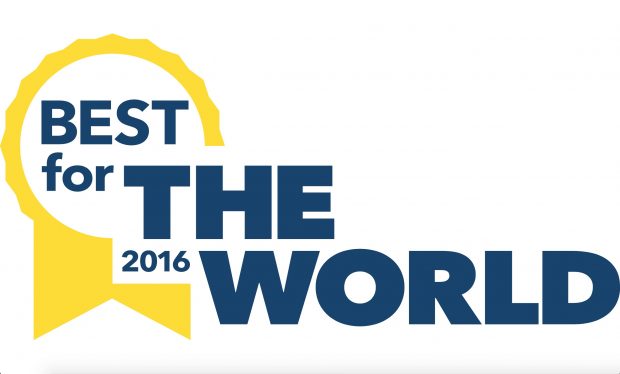 Not that doing good is a competition or anything, but at least eight coffee roasting or trading companies — including seven in the United States or Canada — were honored yesterday as being "Best for the World" in 2016, in an inaugural celebration event held by B the Change Media.
B Media is majority-owned by the nonprofit B Lab, the certifying organization behind B Corporations, the corporate certification program that maintains standards for social and environmental performance, accountability, and transparency. Of the more than 1,600 registered B Corps, coffee is well-represented, and the annual Best for the World program was designed to honor those companies who graded out in the top 10 percent of all B Corps, as audited by B Lab.
In short, it's the best of the B's. B Media describes it as "honoring companies whose groundbreaking business models are best for workers, best for communities, and best for the environment" — hence, best for the world, rather than in it. As the number of certified B Corporations has grown over the years, so too has the "Best for" list, with only two coffee companies making the cut last year.
In coffee, the short list of companies with North American roots honored yesterday in Berkeley, Calif., included trading companies Caravela Coffee and Sustainable Harvest, along with roasting companies Thanksgiving Coffee (Fort Bragg, Calif.), Salt Spring Coffee (Richmond, B.C.), Larry's Coffee (Raleigh, N.C.), Grounds for Change (Poulsbo, Wash.), and Conscious Coffees (Boulder, Colo.)
While companies received distinguishing honors in various categories — including community, environment, customers and workers — Caravela Coffee and Grounds for Change notably scored among the top in the "Overall" category.
(Update from the editor: We regretfully failed to mention the Ontario, Canada-based Grosche company — makers of coffee and tea wares, as well as sellers of fresh-roasted coffee products — as part of this list. Grosche was also a top-scoring company in the "Overall" category.)
Nick Brown
Nick Brown is the editor of Daily Coffee News by Roast Magazine.