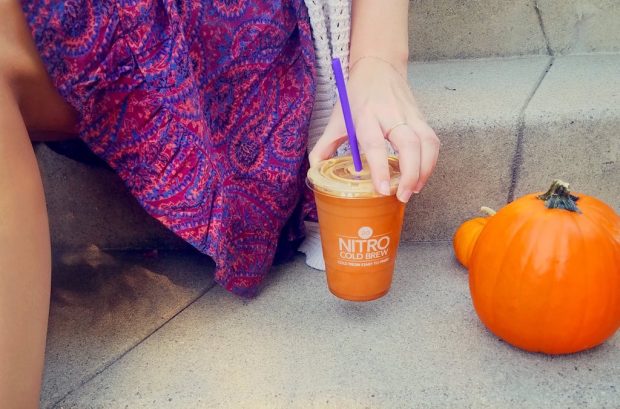 Welp, it happened — today, on the first official day of fall.
From the ongoing race to capitalize on drink trends, the world now has a nitro pumpkin latte — a somewhat confounding concoction that combines coffee drink trends new and old.
The beverage comes courtesy of the Coffee Bean & Tea Leaf, which has launched a PR campaign to promote the drink as a secret, off-menu beverage item — a paradox in itself.
CBTL added nitro cold brew to its menu in July, including a latte version and a vanilla latte version. Little is known about this 'secret' drink other than what its name implies, and its striking orangeness. Here's a short description straight from the source:
The Pumpkin Nitro Latte isn't on the menu, but it's too good to keep a secret. The festive drink uses Coffee Bean's innovative Nitro Cold Brew paired with everybody's favorite Pumpkin Spice – does it get any better than that? Substitute almond or soy milk and you have a delicious, dairy-free and vegan drink!
Have a wonderful autumn, everyone.
Nick Brown
Nick Brown is the editor of Daily Coffee News by Roast Magazine.