There's no shortage of variety these days for pourover, cold brew, and immersion-style brewing options. All three are fundamental brew methods that any coffee lover or coffee shop might cycle regularly in experimenting with in different styles, although the clutter of so many brewers is the enemy of efficiency and tidiness.
Coming soon to market is The Trinity One, a versatile single device with a minimalist design intended to give its users a multitude of brewing options as efficiently and cleanly as possible.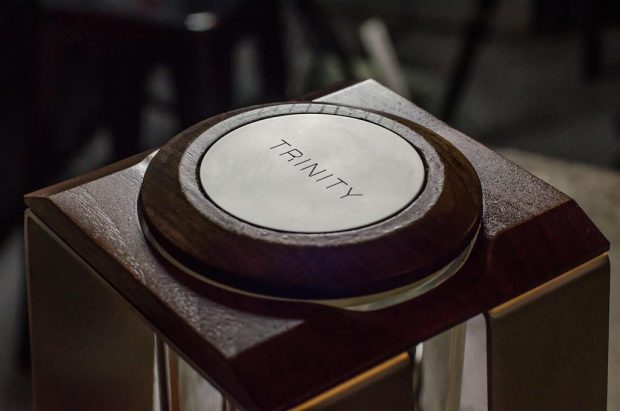 The clearest point of differentiation of the Trinity One, which roped in over $80,000 through Kickstarter last year, is its Aeropress-like immersion chamber with pressure-generating stopper. The central brew cylinder is indeed the same diameter as an Aeropress and accepts the same variety of filters, though Trinity Coffee Co. founder Mark Folker points out there are key differences.
"The filter housing is very different to Aeropress and does not have a bypass," the inventor told Daily Coffee News. "This basically means you get a much cleaner filtering result and very different TDS profile. The cylinder also adds a new dimension by offering repeatable pressure and brewing results."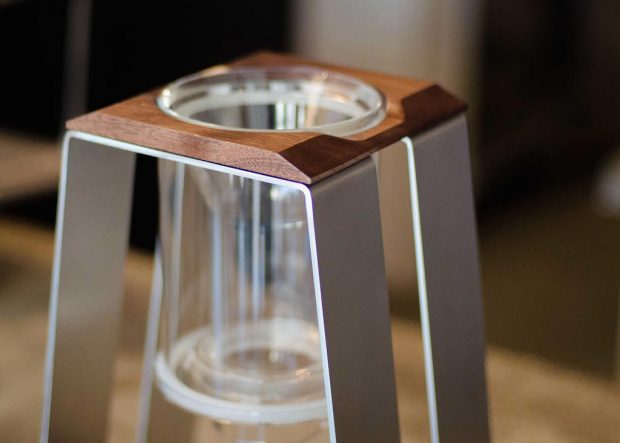 The repeatability Folker refers to is the result of the device's 2.25-kilogram weighted stopper, engineered in a sort of "Russian Doll" method that will allow for planned additional accessory stoppers to be of different weights. The user places the weighted stopped at the top of the cylinder and gravity pulls it down with equal pressure every time, providing consistency, brew after brew, assuming other variables remain constant.
Users can also push the stopper down by hand if they see fit. "Additional force is no problem if manual pressure is desired. I have been able to rate the strength of the brew chamber and filter housing to around 40kg of pressure, which is more than the average person can press manually," said Folker, adding, "In saying this, I do not encourage people to stand on it so don't get any ideas."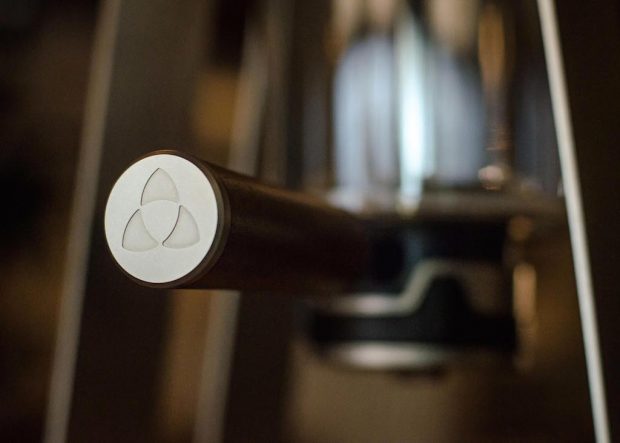 Folker attributes this structural strength to the device's geometry, the sturdy walnut and stainless steel construction, and the ultrasonic welding of the brew chamber. Meanwhile, rounding out the threesome of methods implied by the name, the conical opening at the top of the brew chamber is designed to hold either two-cup V60 or six-cup Chemex filters, and a shut-off valve inside the portafilter-inspired bottom piece allows for immersion brewing, including extended-time brewing at room temperature or colder, for cold brew.
The dual spouted T1 portafilter was originally designed with the intent of filtering brews directly into two separate cups, espresso split-shot-style, although the design ended up being more crucial to functionality than convenience. "The major function of the two-holed design became enough flow through the filter to prevent a backpressure buildup that causes the weighted cylinder to stop," Folker explained.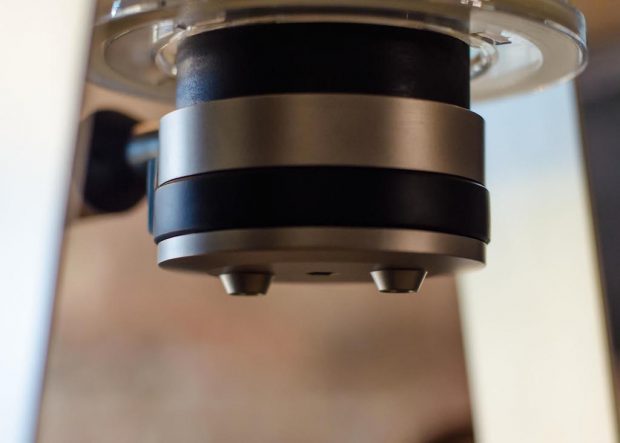 While the brewer would seem primarily aimed at a consumer audience, Folker considers it as having significant commercial potential as well. "Trinity ONE is a fantastic alternative to the conventional brew bar that involves a permanent timber and copper fixture in a bar or café," he said, contending that the quick removability of a row of lightweight T1's is beneficial to freeing up bar space as needed, while its multi-functionality is also a space-saver. "For a very small footprint on the counter, you are able to brew pour over, press and immersion method with the same theatre and aesthetics as a full fit-out, however also with better consistency thanks to the weighted cylinder function."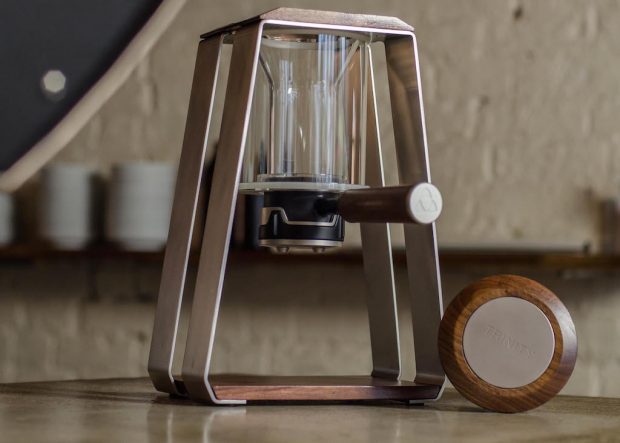 The pre-order price for a single Trinity One brewer is about $260. "We are actually now just weeks from factory shipments," Folker reported in the midst of recent travels between the factory and his home in Brisbane, Australia. Kickstarter backers and pre-order customers are expected to receive their orders before the end of November depending on the location of the delivery. After that, Folker simply hopes for enough patronage to do another production run, and then expand from there.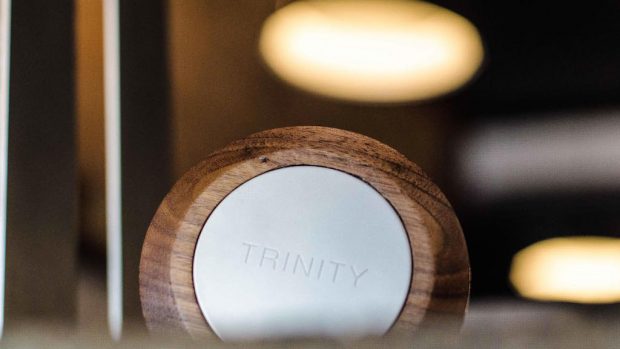 "The investment has been absolutely huge, and I'm certainly hoping we find our market to push forward for the product and get it as far and wide as possible," Folker said of his product that's been three years in the making. "In terms of new accessories and products, there are already concepts on the cards."
Howard Bryman
Howard Bryman is the associate editor of Daily Coffee News by Roast Magazine. He is based in Portland, Oregon.