It was roughly 10 months ago that Lyn Weber Workshops, the makers of the HG One manual grinder, unveiled the EG-1, an innovative and robustly engineered grinder designed specifically for single-dose grinding in a commercial environment. Now another brawny but compact single-dose grinder has commenced shipment of its first proper production run: The Monolith, by new Seattle-based manufacturer KafaTek.
The Monolith is available either in Conical or Flat models. The 68-millimeter conical burr edition, priced at $1,950, shipped in late July, and was followed a few weeks ago by its 75-millimeter flat-burred counterpart, which sells for $2,450.
Both are titan-class grinders designed and manufactured entirely in Seattle and comprised of as few parts as possible, in an effort to maximize longevity and ease of maintenance, and both are designed to send coffee down the shortest exit path possible to minimize inaccessible spots where grinds might accumulate.
"Conical burrs expel coffee on the bottom of the burr, so the Conical is vertical for shortest exit path," KafaTek founder and designer Denis Basaric told Daily Coffee News. "But flat burrs expel coffee on the side, so I had to angle the grinder to get direct exit of ground coffee from burrs into the portafilter."
The grinders also feature a unique locking system that provides an even grip on the adjustment funnel to prevent any deviation from a designated grind setting, as well as a magnetically attached exit chute, easily detachable for cleaning. The motor speed of the Conical is fixed at 144 RPM, whereas the Flat is adjustable from 22-800 RPM, and includes a digital real-time RPM speed readout.
"I noticed that grinding speed affects particle size," said Basaric, noting that equal doses ground at a fixed setting yet different speeds will flow differently, with accompanying taste changes ensuing. Basaric characterized the RPM variable as a potentially new territory for "profiling," as it were.
"The idea was to provide all these tools to the community, with hope that we come to consensus about what grinding speed does to espresso taste, if anything," he said. "Sometimes I increase or lower the grinding speed instead of making very small changes to grinding size, which is something totally new."
While the EG-1 is positioned as a tool for professionals in the café setting, the Monolith is geared towards home use. "Many people don't realize, but the quality of equipment used in many homes exceeds what you would find in most retails shops," said Basaric, who found inspiration in the simplicity, longevity and impeccable quality of Swiss-made classic Olympia Cremina manual lever espresso machines, many of which still work perfectly 50 years after coming off the production line. His goal was to make a grinder of equivalent simplicity, quality and performance that would last just as long if not longer.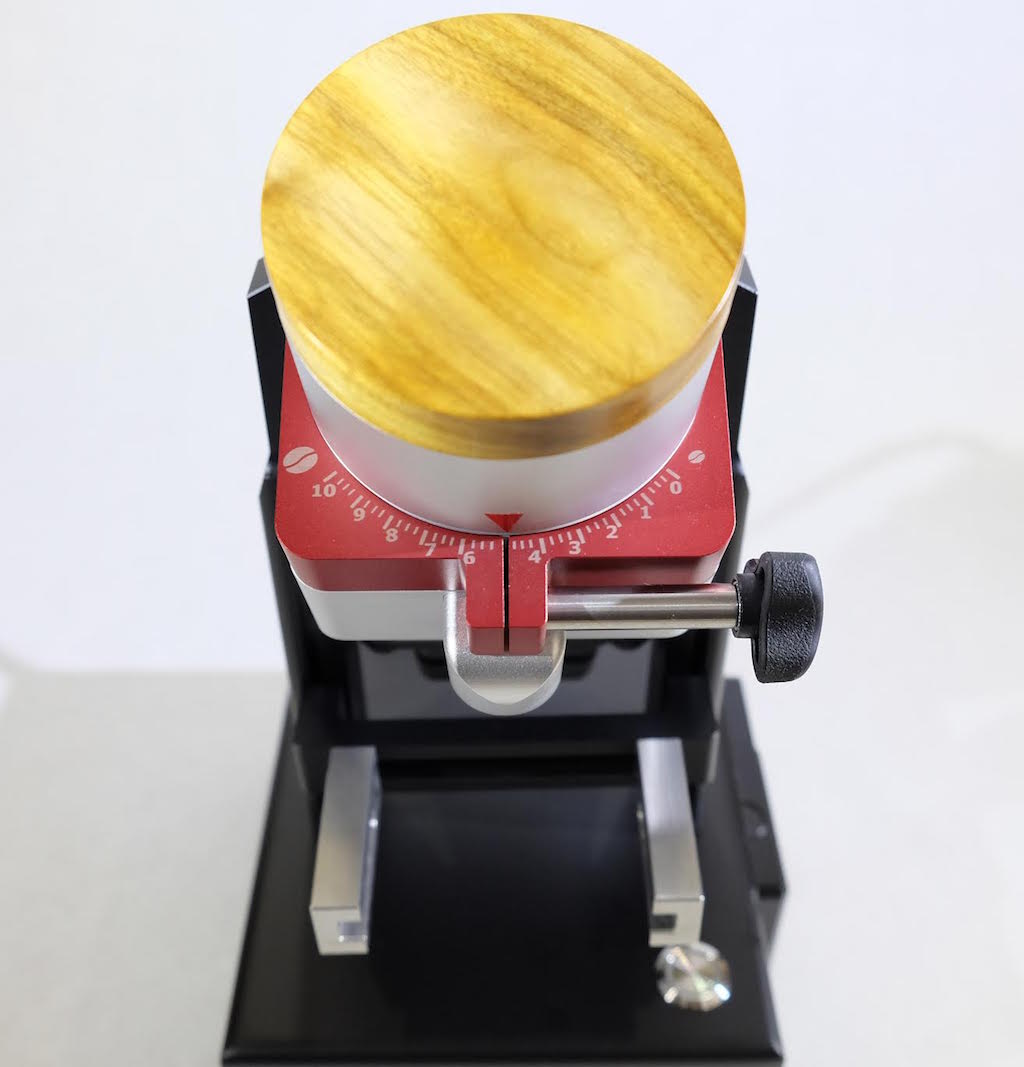 "What I wanted is a perfect single-dosing, stepless, highly aligned, rigid construction grinder for the home barista," said Basaric, adding that the single-dosing aspect was crucial not just for the convenience of being able to switch coffees with each dose. "I think that coffee will only get more expensive due to climate change (exclusive coffees even more so), and it pains me to waste the hard work of a lot of people throughout the chain by purging and throwing away old coffee from a grinder and keeping it in a hopper to decay."
Thus the Monolith is comprised of only 14 parts machined specifically for it. "I believe simplicity in design is in direct relationship to durability," said Basaric, who sources premium motors and bearings, precision CNC machining, the best burrs he could find and painstakingly precise burr alignment. He also dials in and tests each individual machine prior to shipping.
Basaric is essentially the one-man show behind KafaTec. A software developer by trade, he's also an avid lifelong maker, particularly of things he's personally needed along the way. "I started drinking espresso at home, and ended up making my own grinders, he said. "Let it be a warning for anyone that considers getting into espresso."
Yet no man is an island. For KafaTek, Basaric depends plentifully on the support and assistance of his wife as well as a network of trusty Seattle-area machinists to realize his visions. Prototype testing, feedback and refinement has been essentially crowdsourced among fellow coffee aficionados and prosumers over the course of a development process that started in the spring of 2012.
"It takes a community to get something like this off the ground," Basaric said. "I am extremely proud that everything I make is manufactured and designed here in the Seattle area."
After several privately shared iterations over the course of four years, the Monolith has finally advanced to the point of worthiness of open retail to high-end espresso consumers worldwide, by Basaric's exacting estimation. The grinders are made in small batches, and according to the KafaTek website, will never be mass-produced. Going forward, KafaTek is working on developing a self-leveling tamper product called the LevTamp, while also collecting feedback for further refinement of both Monoliths as their use spreads around the world. This includes the professional sphere, where Basaric said there's already been a couple commercial adopters.
Howard Bryman
Howard Bryman is the associate editor of Daily Coffee News by Roast Magazine. He is based in Portland, Oregon.