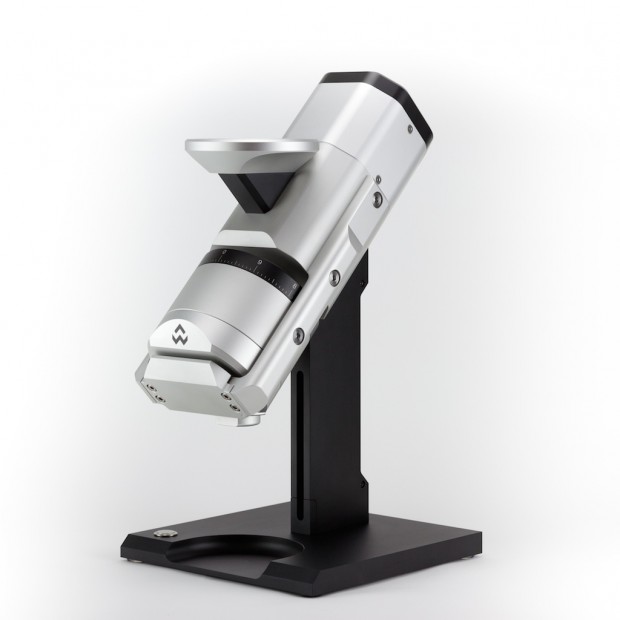 Recent years have seen significant advancements in the field of high-end grinding, such as Nouva Simonelli's Mythos One with Clima Pro temperature control technology, and this year's release of the Peak and EK43 Barista grinders by Mahlkonig. These machines are titans of the industry in terms of innovation and performance, and for all their fortitude and features, they are not exactly compact.
It is therefore likely that major waves will be made by the tiny new company called Lyn Weber Workshops, a small cohort of people with some impressive specs themselves, as it currently introduces the EG-1, a compact and robustly engineered grinder designed specifically for single-dose grinding in a commercial environment, with longevity, precision, and flexibility in mind.
Lyn Weber is named for its founding duo of Douglas Weber and Craig Lyn. Weber was a member of the original iPod Product Design team, and was chiefly responsible for executing Steve Jobs' last-minute impulse to swap the nascent device's plastic screen to one made of glass. Weber speedily made the technological and design modifications and then oversaw the manufacturing process that revolutionized not just one groundbreaking product, but arguably the entire smartphone design industry. "He doesn't like to talk about himself, but I'm allowed to. I'm allowed to brag about him," Lyn told Daily Coffee News.
No slouch himself, Lyn previously made his living in the film industry, developing computer-generated imagery for Industrial Light + Magic, the special effects company founded in 1975 by George Lucas. Between that and some freelance visual effects supervisory work, film credits under Lyn's belt include work on two X-Men movies, two Harry Potters, Star Wars: Episode I The Phantom Menace, and more. He later switched gears to partner with Paul Nahhas, a classical violist for the San Francisco Opera, in pursuit of the best imaginable manual home coffee grinder. Together they built the HG-One company around the HG-1 grinder, an impeccably sturdy and precise manual grinder built of "heirloom-quality" materials.
Nahhas has since moved away from the grinder-making game while the HG-1 lives on, now under the Lyn Weber brand. From the same design sensibility comes the EG-1, which shares the HG-1's emphasis on strong materials, precise fit and finish with a striking appearance, and intuitive use and maintenance.
There are several benefits of the single-dosing method either in a commercial setting or at home. By not storing coffee in a loosely-covered hopper, the beans stay fresher for longer in a better-sealed container. A single grinder also thereby remains available for any number of different coffees at any given time, rather than devotion to just one coffee due to a full hopper inserted at its top. Yet for a grinder to be truly effective at switching beans or methods with every dose, it has to have as close to zero retention as possible, in order not to mix coffees or particle sizes and to reliably deliver the designated dose into the next drink-making stage.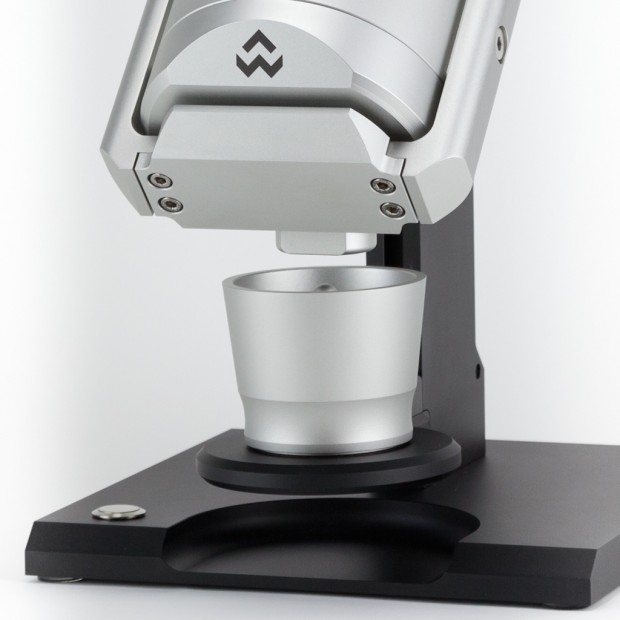 Various points in the EG-1's design contribute to what its makers purport is a dependably negligible retention rate of plus or minus one tenth of a gram. The straight, concise paths into and out from the grinding chamber cut down on opportunities for retention; the static conductivity of materials was carefully considered; and several more contributions come in the form of titanium carbo-nitride (TiCN) coated unimodal 80-millimeter burrs. LWW contends that the TiCN coating increases hardness and lowers friction, thus reducing buildup of the static electricity that typically causes fine particles to accumulate. The uniformity of particles created by unimodal burrs also helps to reduce fines, thereby reducing retention.
A unimodal burr set for espresso is a bit of a departure from tradition, which holds that a certain measure of incorporated fines are important to the process of extraction under pressure. Yet when the famed barista Matt Perger popularized the use of the EK43 for espresso, it ushered in a new school of thought that the greater consistency of particle size from unimodal burrs contributes to a greater clarity of flavors in a shot. The EK43 has long been heralded for its grind consistency and its low retention. Mahlkonig's new Peak grinder also has 80-millimeter unimodal burrs that are coated in titanium.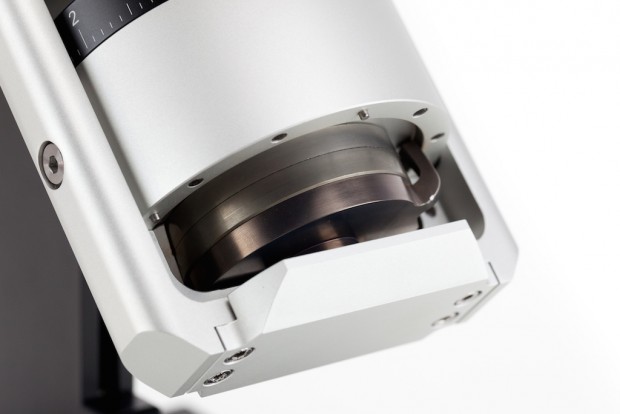 Yet those are relatively imposing machines, while the EG-1 is comparatively dainty, taking a form akin to an old-fashioned microphone. "As some of my customers have put it, you're not putting a fire hydrant on your kitchen countertop," said Lyn. Its 45-degree angle assists steady and even bean-feed into the grinding chamber down from its aluminum bean dish — or hopper, in more conventional grinder-speak — which holds an estimated 60 grams while standing still, and more can be poured in as the grinder is running. No lid is needed, because the angled feed into the grinder naturally prevents anything from popping out.
Another innovation is the user-adjustable RPM speed of the EG-1's motor, which can be set anywhere from 200 to 1,500 RPMs via an external control unit with an LCD readout. Lower RPMs generate less heat and less vibration, which preserves flavor and generates less static, which again reduces retention. Baristas are free to determine for themselves what RPM best balances the results in the cup with the speed they need for efficient workflow.
Along with its goal of near-zero retention, another goal of the EG-1's design is to simplify routine cleaning and maintenance procedures. "After having kids, I'm really fanatical about keeping things clean," said Lyn. "It kind of grosses me out to think that you have a food service product that some of the best cafés only clean once a week if you're lucky." According to Lyn, the EG-1 can be thoroughly cleaned in under three minutes. "If I tell you that it will take you literally five minutes to change the burrs on this, I really mean that. And that's down to design," he said.
A speedy, tidy maintenance procedure is not only for hygiene, though, nor even its own satisfaction, both of which are worthwhile rewards. It also plays into the ecosystem of products LWW has designed to support the EG-1, specifically their Bean Cellars. These are test-tube-like containers, available in plastic for the rough-and-tumble café setting or in more refined borosilicate glass for the home user. Both ship with their own tailored loading funnel and come fitted with air-tight o-ring seals and caps with integrated silicone one-way degassing valves, intended to store individual doses of whole-bean coffee for use with the EG-1 or any other grinder.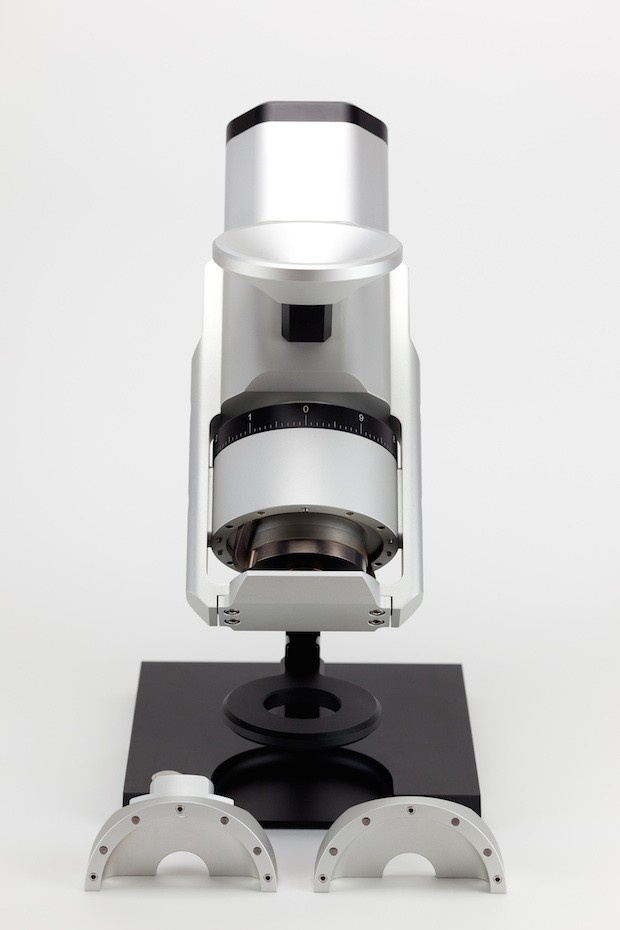 The pitch is that baristas in slower moments behind the bar — perhaps in the time they save through simplified grinder maintenance — can pre-portion individual doses into Bean Cellars for quick and convenient use later. Even if portioned out the night before, the small, air-tight, machine-washable containers will keep the beans fresher than a larger container would with more air trapped inside. Each dose then remains sealed until it is used, as opposed to being inside a large bag or bin that's frequently opened, or in a loosely-lidded hopper. "I don't have to open a closed bag, and I'm not taking out that damn scale all the time," said Lyn of the Bean Cellar process. "I can just open it, dump it into my grinder and be done with it."
Many coffee bars already do some amount of pre-portioning for batch brewing, single-cup pourovers, and in some cases even an espresso for single-dosing into an EK43. But beyond the bar, should the EG-1 eventually be adopted by enough home users as well, Lyn hopes the Bean Cellar could someday grow into a sort of mini-growler system for retail coffee.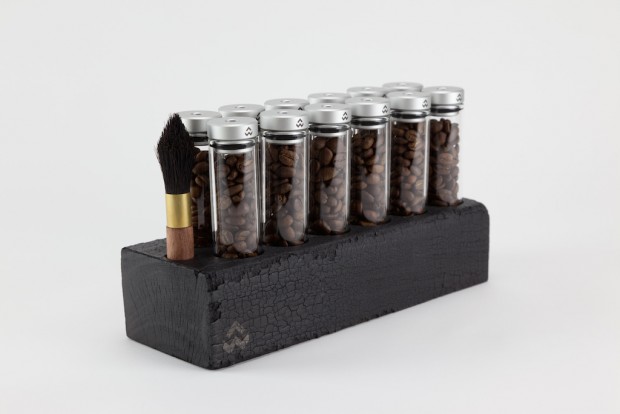 Lyn envisions consumers bringing their own empty Bean Cellars to their favorite roastery for a refill or simply swap them out for clean, prepared Cellars filled with a variety of coffees. "Instead of having these triple-ply vacuum bags that are constantly filling a landfill or something, or even these paper bags, we're using a reusable plastic container," said Lyn. "Yes, it's a plastic container. But on the other hand, what is your usage for it? If we're using this instead, aren't we doing a little bit better?"
Lyn is motivated by the idea that small victories add up. The entire ethos of Lyn Weber Workshops is driven by this idea, that by carefully considering even the tiniest of details, their summary is not only one remarkable product or a remarkable line of products, but a system that contributes every day to the vanquishing of much larger issues. The EG-1 will ship with the Ring Funnel, for example, which neatly funnels larger doses into a portafilter basket to avoid spillage, which cuts down on waste, as does the grinder's low retention rate. Anyone that's worked in commercial coffee can attest that no matter what fraction of a gram is spilled or retained in the course of individual drink-making, it certainly adds up over the course of a shift, let alone months and years.
Another new and clever waste-saver from LWW is the adjustable Steam Dial, which threads onto the end of a steam wand and opens or closes an aperture according to graduated markings on its outer edges. Commercial espresso machines generate powerful steam, which can be hard to control particularly in a fast-paced, hectic environment. Baristas making macchiatos and other small drinks often must add more milk to the pitcher than is required by the recipe, because at too little a volume, steam wands generally blast too much air too quickly into the milk even at their lowest setting. The variable aperture of the adjustable steam tip allows baristas to tame the flow of steam for much smaller quantities of milk, therefore cutting down on the waste of an expensive and environmentally taxing ingredient. The adjustable tip may also allow baristas to fine-tune their technique on alternative non-dairy milks, or milks of varying fat content.
"We're not just selling the grinder. We've got this big picture kind of thing," said Lyn. As for the unimodal versus conical or whatever-other-burr debate, or whether the EG-1 is better for pourover than espresso or better at lower speeds than faster, Lyn is prepared to let the pros and aficionados decide. Said Lyn, "I'm going to build the tools. You guys can figure out how you want to use them."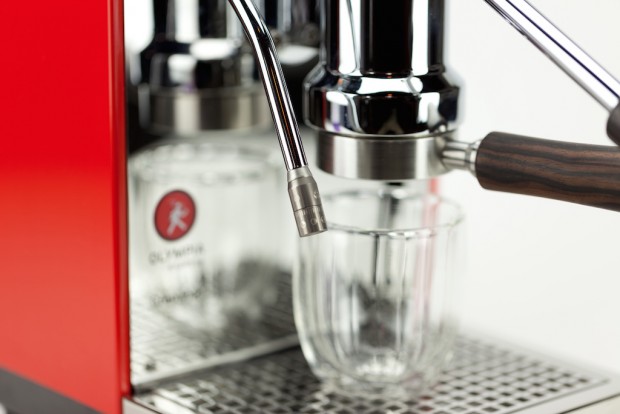 Prototypes are currently in the hands of a select few professionals for feedback. This extremely short list includes Honey Coffee in Japan, the Norway-based company Fuglen, and Kyle Glanville and Charles Babinski of G&B Coffee in Los Angeles. Therefore while LWW intends to ship the first production-line EG-1s within the first quarter of 2016 no matter what, it's possible that there could be a change to what burrs actually do wind up in the finished product. "From a flexibility point of view, changing the grinder itself to support a different burr size would only mean changing two parts," said Lyn of the EG-1's streamlined, modular design. This leaves open the possibility of offering a variety of burr carriers for meticulous users to swap into their machines in order to accommodate a variety of burrs. However, it's unlikely that the company would pursue that option. Said Lyn, "At a certain point I honestly believe there's going to be a law of diminishing returns."
In the meantime, should there need to be a last-minute change to a crucial component of what's poised to be an industry-rocking device, Lyn is very confident that Weber can pull it off come crunch time. "Doug's a Jedi when it comes to these sorts of things," said Lyn. And he should know.
Howard Bryman
Howard Bryman is the associate editor of Daily Coffee News by Roast Magazine. He is based in Portland, Oregon.