When your beloved local bakery serves lackluster coffee, you could just keep quiet about it, enjoy the pastries and look elsewhere for a satisfying cup. Or you could convince the owners to raise their coffee to the level of their baked goods, fly with them to the Diedrich factory in Idaho to learn to roast, and spearhead an in-house roasting program that elevates the coffee there to the upper echelon of quality.
The latter is essentially what Jack Babin set to work on last year. Babin has been a customer of Three Brothers Bakery off and on for about 15 years, though he also has about 20 years of experience in coffee under his belt, including responsibilities from barista to management, catering to roasting.
"I would work for a coffee shop up until I felt that I'd learned as much as I could, and then I'd move on, up until a few years ago when I saw a 'now hiring' sign at Three Brothers Bakery," Babin told Daily Coffee News. "The rest is history."
Babin landed a barista position with the local institution and quickly recognized the many opportunities for improvement. Babin presented owners Janice and Bobby Jucker with the quality disparity between the coffee and their other products by way of a blind taste-test, pitting their existing coffee against six other blends by four other roasters. "Each one we picked was not the roasters that we were buying our coffee from," Bobby Jucker conceded to Daily Coffee News. "We were kind of shocked."
From there Babin presented the option of not only switching coffees, but bringing roasting in-house, which took a visit to a suburban roastery café just outside of Houston to win them over. "We were shocked on how busy this coffee store was at one o'clock in the afternoon," said Jucker, "and they're roasting their own coffee."
A few months later, the transformation was complete. Babin, now roastmaster at the helm of a Diedrich IR-3 behind the counter at the bakery café at 4036 S Braeswood Boulevard in Houston, roasts greens sourced through Walker Coffee Trading and InterAmerican Coffee to supply all three Three Brothers locations. Espresso stations in all three shops now feature Mahlkonig K30 Twin grinders paired with La Marzocco GB5 espresso machines, and demand since the November 1 rollout has rocketed.
Babin said that while the norm prior to the revamp was to run through about 30 pounds of coffee per week, this week he's coming up on 175 pounds served and sold. "Every week, it's a little more at a time," said Babin. "It feels great."
Babin said he strives to present the best of each bean at a variety of roast levels, rolling out each iteration as its own product, but one after at the other so as not to overwhelm or confuse. The aim is not only to stretch each bean's appeal to a wider audience but also to provide a demonstration of the differences a roast profile can make.
"I have several different profiles for one bean," said Babin. "To just assume a coffee only tastes good with this profile, to me, you're really limiting yourself, you're limiting the bean, and you're limiting your customer."
Said Jucker, "We're really doing this for our customers. We want them to have a really good coffee experience, and we feel it's a real complement for the bakery itself."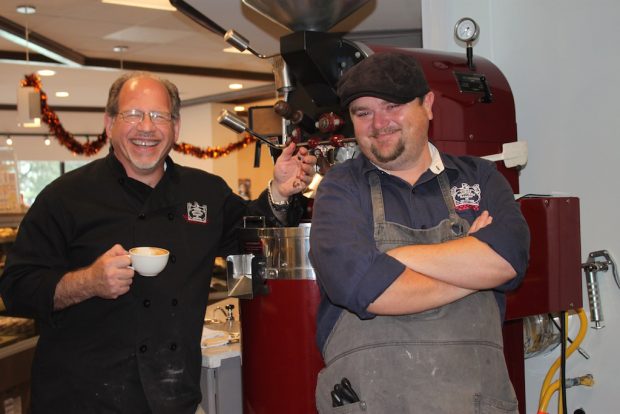 The flexibility and willingness to make what some suggested was a risky investment is a testament to Three Brothers' commitment to quality, particularly given the sheer age of a business whose roots and heritage extend all the way back to a shop called Morris Jucker's Bakery, founded in Chrzanow, Poland, sometime between 1825 and 1841, by the family's best estimate.
The foundational recipes, heart and soul of the business were preserved despite the family's imprisonment in concentration camps during the Holocaust, after which, with the incredibly good fortune of having survived to be among the liberated, they moved to Houston and brought their Eastern European scratch baking traditions with them. Jucker's three sons, Sigmund, Sol and Max, returned to the family occupation in the Lone Star state in May of 1949, and since then the Three Brothers company has won numerous accolades and recognitions for the quality and creativity of its products.
Fifth-generation baker Bobby, who spent three weeks with Babin at the Diedrich facility to learn the basics of the roasting business, is pleased to extend the spirits of freshness, quality and hands-on artistry to rest of the menu. To that end, along with the major upgrade in coffee, Babin has introduced a line of handmade syrups to replace the off-the-shelf products they'd been using previously. "In our bakery, we don't use any preservatives in our products," said Jucker. "We wanted to keep that tradition."
As the coffee business continues to grow exponentially, plus a likely holiday boom right around the corner, Three Brothers anticipates an expansion to the coffee program sooner rather than later. "The demand is there. It's very high," Babin said of the imminent need for a larger production machine, although the choice as to whether to keep it on site or move into an offsite facility has yet to be made.
Howard Bryman
Howard Bryman is the associate editor of Daily Coffee News by Roast Magazine. He is based in Portland, Oregon.