Particularly where espresso is concerned, it's a rare device that effectively straddles the line between travel and home use, speed and craft, with the former typically meaning flimsy and unattractive (if functional at all) and the latter of course tending towards heavier, bulkier, counter-dominating equipment.
The Flair espresso machine, coming soon to market from the launch pad of a nail-biter of a successful Kickstarter campaign, endeavors to bridge this divide: An appealingly minimalist, robustly constructed espresso-maker with no electronics that assembles and disassembles quickly for easy transport and stowing.
Produced by California-based Intact Idea LLC, The Flair is comprised mainly of three fairly simple components: A base and a hinged lever made of die-cast aluminum, and a solid stainless steel brewing cylinder "group head." The complete package also includes a light plastic cup-holder plate, a silicon mitt for handling a pre-heated brew cylinder, a plastic dosing funnel and a plastic measuring cup that doubles as a tamper.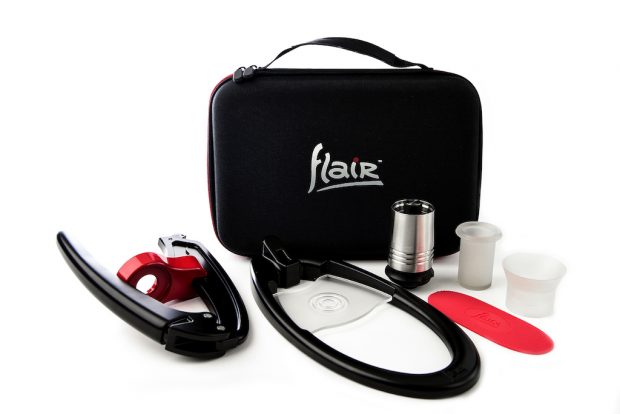 A handle-less basket/portafilter that's 40-millimeter in diameter and 31 millimeters deep receives coffee through the included funnel and is tamped by the measuring cup tamper, or a solid stainless steel tamper that can be purchased as an additional accessory. An included custom screen is placed on top of the tamped bed to prevent disruption later. The prepared basket attaches to the steel cylinder, which retains plenty of heat from a 30-second pre-soak in water fresh from the boil.
Placed into the brew-group position on the body of the machine, the user raises the lever, pours in water of the desired temperature, and places the piston on the surface of the water. The piston is pressed downward by a roller and disc made of hardened stainless steel as the lever is manually lowered to pull the shot.
Flair inventor and Intact Idea CEO Sergio Landau told Daily Coffee News that while he didn't consider heat loss during extraction to be a major concern in his experience, based on interest from aficionado Kickstarter backers, heat retention will be reinforced through the standard inclusion of a custom silicon insulation sleeve now in development for subsequent production runs.
"I developed this product first for myself six years ago," said Landau, who has recently retired after working nearly 40 years as a mechanical engineer in the medical device industry. Landau's professional background provided abundant experience and connections in manufacturing, including plenty of work developing precision parts, injection molding, machining, die-casting; everything needed for the swift production of a relatively simple machine like the Flair.
Coffee-wise, his experience is lifelong, although not professional. "I'm an older guy," said Landau, currently age 65 and Brazilian by origin. "When I was growing up, kids used to drink coffee and milk every day. That was our breakfast. Four- or 5-year-old kids would drink coffee; this is common practice, there was nothing wrong with that."
Now decades later, and through Landau's extensive network of connections in the manufacturing world and experience guiding products through the process, the Flair is actually already in production, with more than half of the initial run on track for delivery to backers by Christmastime next month. "This is my forte. I don't know, marketwise, how we're going to do, but to make the products, I have the knowledge, the background and contacts because I've been doing this for four decades," said Landau.
The Flair espresso machine, which stands about 10 inches tall, weighs under five pounds and pulls a shot of up to 50 milliliters from a dose of anywhere between 17 and 28 grams of coffee, will ship with its own branded, foam-interior hard-shell carrying case to backers in December and January. The Kickstarter campaign will end this Wednesday, after which time an online store will go live at the company's website for taking additional preorders to be delivered in January.
Come January the Flair will also be for sale through Amazon for an expected retail price of $159.99. Landau said that while there may come additional accessories, different colors or subtle tweaks to the design, there's no intention at this point to develop an extensive product line beyond or around the Flair. Rather he looks forward to keeping parts and service available in perpetuity, and simply continuing to bring this one passion project to long-lasting fruition for as many consumers as are interested.
"It's something that I made to be a durable product, and I'm not saying durable like in two or three years," said Landau. "I'm saying durable like for generations."
Howard Bryman
Howard Bryman is the associate editor of Daily Coffee News by Roast Magazine. He is based in Portland, Oregon.