Two otherwise unrelated organizations utilizing specialty coffee as a means to support U.S. military veterans and their families announced major new products and initiatives surrounding the recent Veteran's Day national holiday.
Coffee Vets "22 Heroes to Zero"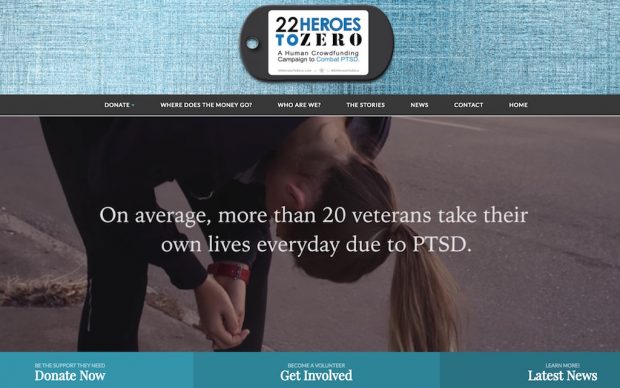 The veteran-owned roastery Coffee Vets last week launched "22 Heroes to Zero," a crowdfunding campaign raising money to combat Post Traumatic Stress Disorder in military veterans. The group cites statistics showing that PTSD is responsible for the loss of life of more than 20 military veterans per day and it is seeking to raise at least 220,000 in 51 days, with the money going to 22 organizations currently involved in PTSD treatment and research.
"In the next few months, our mission is to raise money and awareness to help America's veterans battle this staggering illness and to help them find the best care possible," said Kip Nicely, president of Coffee Vets. "As a Veteran myself, we are proud to sponsor a campaign that will help generate hope and financial assistance for PTSD — an illness that is difficult to accept and is often overlooked."
Donors to the campaign giving $22 or more are eligible to receive bags of Coffee Vets' coffee, which is sourced from highlands in the the Bosawás Biosphere Reserve in Nicaragua, and roasted in Burke, Va.
Founding Fathers Coffee Line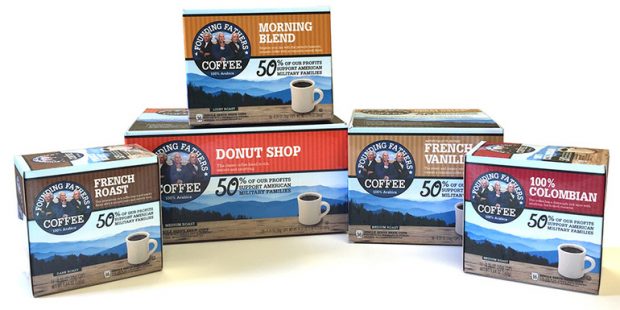 Minnesota-based Founding Fathers, which has to this point primarily focused on scaling up its core beer line under the Founding Fathers Brewing Company name for national distribution, launched a new coffee line just before Veteran's Day.
As with its beer, which is now distributed in at least eight states, 50 percent of all profits from the sale of Founding Fathers Coffee products will go to organizations supporting military veterans and their families. The company's primary donorship partner is The American Legion.
The company says it has focused its coffee line primarily on the single-serve pod segment — which it estimates is still growing — while bagged blends are also available with certifications such as USDA Organic, Fair Trade and Rainforest Alliance.
Also like its beer — which attempts to share market space with the Anheuser-Busches and MillerCoorses of the world — the coffee line has a more "macro" focus, with blends including Morning Blend, Donut Shop, French Roast, Colombian and French Vanilla.
"I founded the company to produce superior American made products that support our American military families with what I consider to be a heroic level of giving" said Phil Knutsen, CEO. "We hope Founding Fathers will become the coffee of choice for patriotic, main stream coffee drinkers."
Nick Brown
Nick Brown is the editor of Daily Coffee News by Roast Magazine.