At roughly 1.5 years old, Austin-based Greater Goods Coffee Roasting has already been earning high marks for quality, with multiple coffees scoring in the 90s on CoffeeReview.com, plus three silver and three bronze medals at the Golden Bean North America event in 2016. Yet while their goods stand tall among those roasted by their peers, that alone is not what makes them "greater."
Each bag of Greater Goods coffee is color coded to let patrons know which of four key charity organizations their purchases support: Austin Pets Alive, the Autism Society of Central Texas, the Central Texas Food Bank and the Boys & Girls Club of Austin. All four are close to the company founders' hearts, and in order to bring customers closer into all things Greater, GGCR has opened a retail tasting room at their roastery, with full-scale coffee houses also currently under construction around Austin.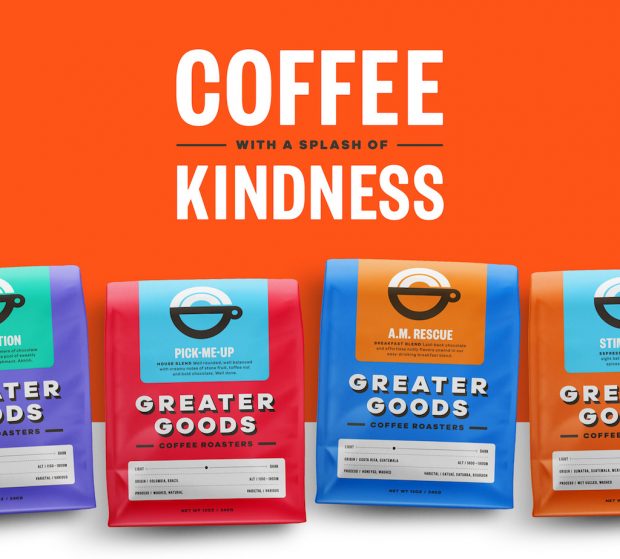 The first of the two upcoming standalone shops will be the company's official flagship. Slated to open in May in the Holly neighborhood of Austin, the café will also house an SCA-accredited training campus and events area. The second, presently projected to open this summer, will be inside a multi-use development in the Chestnut neighborhood. That one will be a smaller, speedier grab-and-go type coffee shop.
At their 3,500-square-foot roastery at 160 McGregor Lane in Dripping Springs, a 30-minute drive West of Austin, the new tasting room area occupies about 1,000 square feet of space and offers a light menu of pastries and tea along with espresso drinks ground on Nuova Simonelli Mythos Clima Pro grinders for preparation on a La Marzocco GS3 machine. Hario and Chemex pourovers are conducted on a Marco SP9 precision brewing system.
Looming in the warehouse through a tasting room side door is the company's 35-kilo Loring roaster, turning out the praiseworthy goods for wholesale clientele and, now, retail customers. Cofounder and head roaster Trey Cobb said that while high scores and ribbons are not the point, they do help in terms of marketing as well as in gaining perspectives from knowledgeable critics.
"We like getting professional feedback so that we can improve what we do as roasters and as tasters," Cobb told Daily Coffee News. "It helps from a marketing point of view to some degree, but we also really like it from the perspective of our own growth as a company. Competitions help us to really hone in on our craft and what we're doing."
Greater greens reach the warehouse through a combination of direct sourcing and buying from importers. Companies they've worked with in various capacities so far have included Café Imports, Mercanta, Royal Coffee and Serengeti Trading.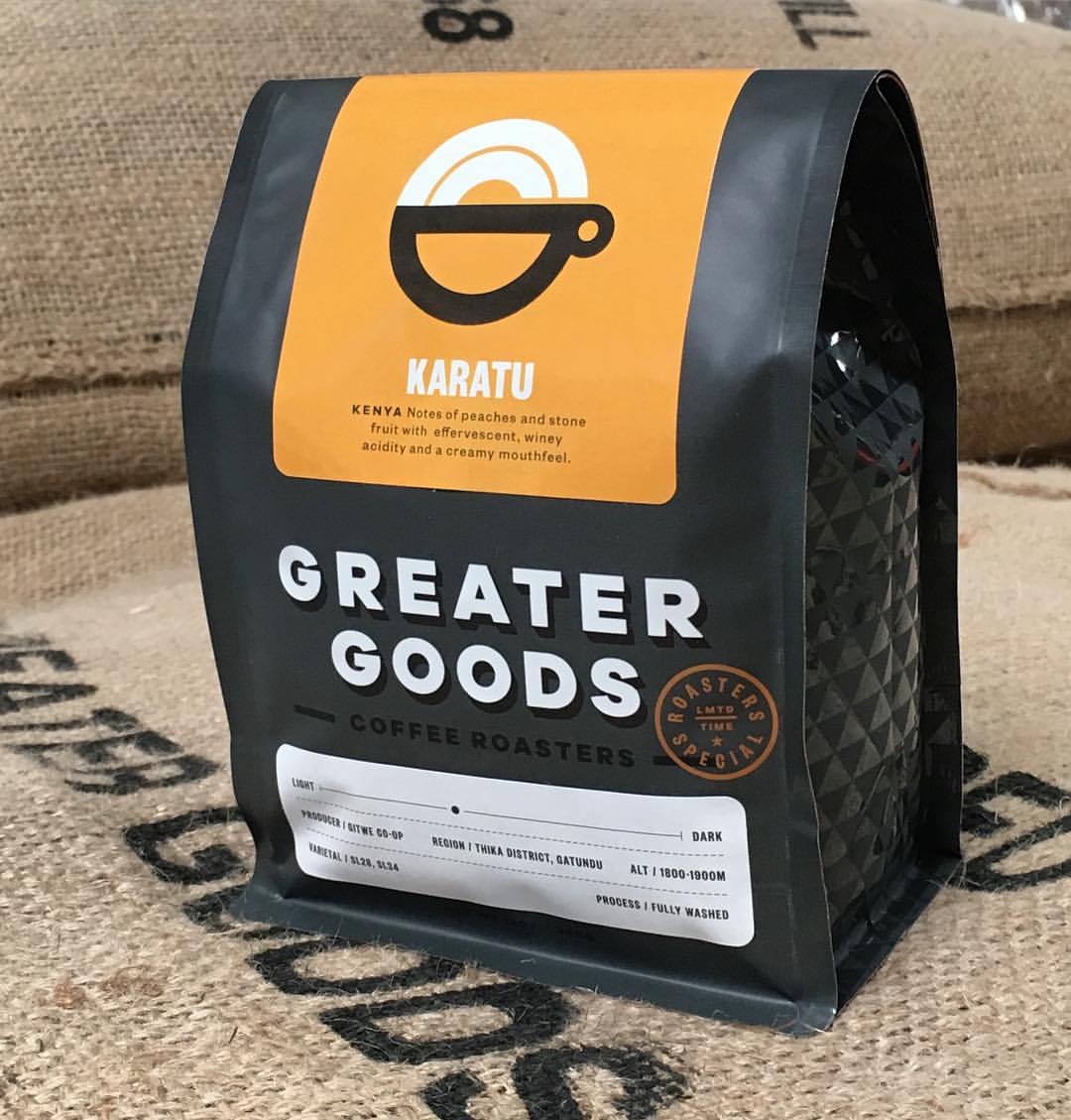 "We look for quality first and foremost, so we strive to achieve that in sourcing," Greater Goods cofounder and coffee program director Khanh Trang told Daily Coffee News. "We're constantly looking not only to source better beans but looking for partnerships with farmers. We're new, so we're still trying to figure out farmers and such, but that's the route we'd like to take."
Trang's current route at the end of this month takes her to Colombia and then Guatemala after that. She reported that Cobb recently returned from a trip to Kenya, and they both traveled to Costa Rica together last year. In between these stints of coffee-belt-trotting, Trang aims to bring the best of their spoils to the fore through the Loring.
"We like a developed coffee, with a balance of acidity, sweetness and aroma. That's our goal," said Trang, who trained under Mike Perry of Klatch Coffee before pursing her the company of her own.
"Not in every case, but often, we know that coffee needs to appeal to nice range of customer types, so we'll try to balance it out," elaborated Cobb. "For every coffee we can't have a fruit bomb. Not to say we don't have fruit bombs, but not every coffee is the same."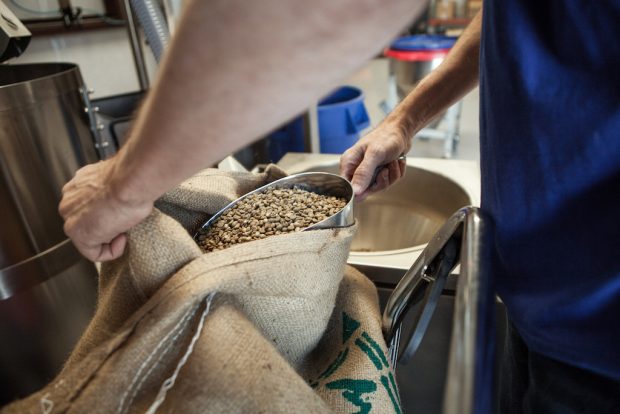 That wide-ranging appeal helps the other guiding mission of the company, which is to support their four core charities. Both Trang and Cobb wanted to use their business to give back to the local community, and as they've both, over the course of their lives, been the recipients of support from these particularly well-run and responsible organizations, it made these choices easy.
Cobb and Trang, a married couple, love their rescued four-legged companions, and so the no-kill shelter Austin Pets Alive was a no-brainer. They both also have extended family members on the autism spectrum, for whom institutions like the Autism Society of Central Texas have played crucial roles. Cobb had experience with the Boys & Girls club himself growing up, and for both he and Trang, food scarcity is another issue that has hit home in the past.
"As a kid, we had some struggles from time to time," Cobb said of his own background, adding that Trang especially faced serious challenges growing up as a refugee of the Vietnam war. Said Cobb, "She was born in Vietnam but her family fled, and came to the United States with nothing. They had to build up from scratch. Food banks serve a very important purpose, in a lot of communities."
To help their customers experience the act of giving in as real a way as possible, Cobb said they eschew such terms as "a portion of the proceeds," in favor of quantifying their donations in more tangible terms describing the actual thing or service provided. For each purchase of a certain coffee, for example, four meals will be served by the food bank. One full day of behavioral rehab will be given to one dog, or one full day of club membership will be subsidized for a kid in need.
Said Cobb, "It feels good to be able to give back to some of the things that helped to get us where we are."
The Greater Goods Roasting Co. roastery tasting room is open at 160 McGregor Lane in Dripping Springs, Texas. 
Howard Bryman
Howard Bryman is the associate editor of Daily Coffee News by Roast Magazine. He is based in Portland, Oregon.