Habitual cyclists know well the thrilling moment of opening the garage and rolling on out. In Fort Collins, Colo., Peritus Coffee Roasters now knows that thrill in a number of ways.
The company was founded by avid cyclists in a home garage built out for certification as a commissary kitchen, and the Peritus production roaster has just moved out of that garage for installation into the company's first retail café, which happens to share a space with Source Endurance cycling training gym.
"I have a lot of friends in the cycling community," Peritus founder and head roaster Quinn Schultz told Daily Coffee News. Schultz has a history of mountain bike endurance races himself, and his son-in-law, a professional cyclist, is the owner of Source Endurance. Whitney Allison, Schultz's daughter, is also a professional cyclist when not doing business development and marketing for Peritus, although Peritus does not consider itself a cycling-specific brand.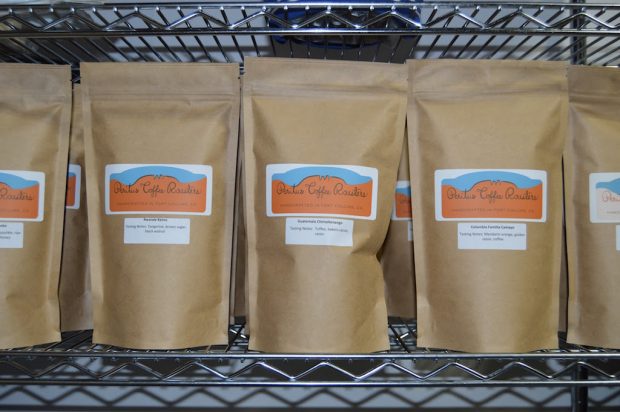 The word "peritus" is latin for "expert," something both Schultz and Allison have been working towards in coffee. Schultz has achieved levels 1 and 2 certification by the Roaster's Guild, and Allison has attained Level 1, while hoping to soon add roasting to her official staff duties. Allison said the company's ties to the cycling community have offered some advantage as a roasting startup.
"It's really hard for businesses when they get started if they don't have a core group that they're involved in. I think cycling offered that initial customer base instead of trying to do the shotgun approach and appeal to anybody and everybody that you can get your hands on," Allison told Daily Coffee News. "It allowed us to have that nice base, and we've been able to expand from there."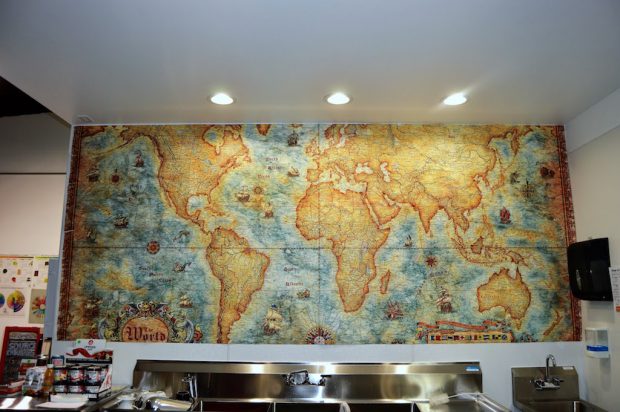 "Probably about 80 percent of our customers the first year and half or so were from the cycling community," Schultz said, explaining that the company in the past year has branched out to the broader community and sought more of a balance of patronage by selling and serving at farmer's markets and other means of spreading the word.
Of the 2,000 square feet inside the newly split facility, about 800 square feet is now devoted to all things coffee, including the retail service counter and roasting production area, plus a separate room for bagging and green storage. The company's original 6-pound San Franciscan roaster is in the shop, where it will be joined by a 25-pound San Franciscan later this month.
At the bar, Peritus focuses on V60 pourovers and Curtis G3 batch brews, all ground on Baratza Forte grinders, though later in the year Schultz said he's considering adding espresso one group head at a time by way of professional-grade Decent Espresso machines. "This might be a really good model for that," Schultz said of the Decent Pro pitch of several self-contained machines in lieu of the expense and risk of a single multi-group machine. "We could add modules as volume dictates."
Peritus currently sources through Red Fox Coffee Merchants and Café Imports, and roasts generally into the medium-light range, preserving origin-indicative nuances with a balance of sweetness.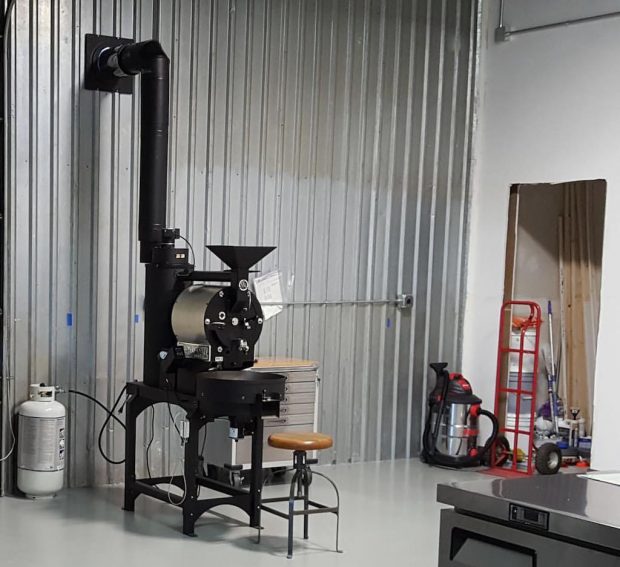 "I don't really like something that's super light and bright," Schultz said. "I like to have just a little bit more development in our coffee, to bring in a little bit more of the sugar development. I appreciate more of a multi-dimensional coffee."
Down the road, Peritus aims to grow by way of online retail and local wholesale, including shelf presence in select nearby specialty grocery stores. The goal is not to become a major regional player, per se, but rather to achieve slow, sustainable growth locally and perhaps a bit beyond.
"Unless the weather dictates otherwise we'll deliver by bike," Schutz said of their retail to consumers, illustrating the company's priorities. "This past December we bought an electric vehicle, the Chevy Volt, so at least I won't feel bad if I can't ride my bike."
Howard Bryman
Howard Bryman is the associate editor of Daily Coffee News by Roast Magazine. He is based in Portland, Oregon.