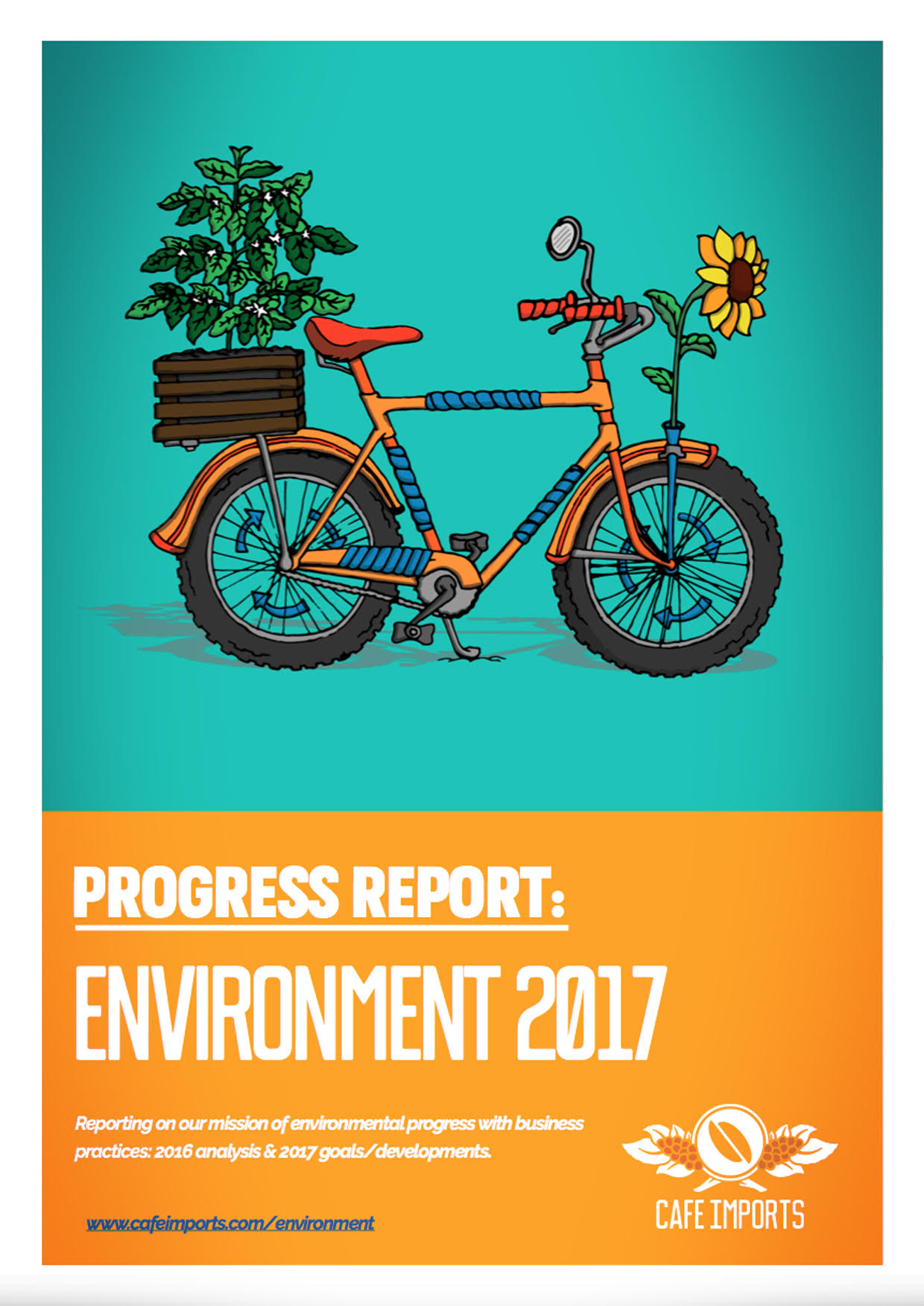 Minneapolis-based green coffee import company Café Imports has re-upped its in-house environmental sustainability efforts, originally enacted in 2005, while engaging in a partnership with the nonprofit Trees, Water & People to ensure all its coffee business operations reach carbon neutrality this year.
The company today publicly released a progress report for the 2017 year, while publishing a new "Environment" page on its website. There, CI outlines some of the specific ways in which a green coffee import company, by virtue of operational necessity, contributes to the world's greenhouse gas emissions. The company writes:
As a specialty coffee importer,  we realize that the foundation of our business relies heavily on travel and coffee transport.  We know that the transportation industry accounts for nearly 30 percent of global greenhouse gas emissions. We know that the production of electricity to power our four offices on four continents has a significant environmental impact.  We know that 43 people driving to work, 20 miles per day puts carbon monoxide in the atmosphere. So we have large polluters like employee travel around the globe, ocean cargo, and trucks and trains to bring our coffee from one end of the earth to the other.  We also have less substantial polluters like utilities, employee commutes, and garbage services.

Once we begin to examine these footprints individually, we are able to assign value to them in terms of their carbon output. Only then can we begin to calculate the costs and effort necessary to offset them completely.
In the 2017 report, the company's emissions are represented in pie charts showing what percentage each area of its footprint is contributing to total CO2 emissions.
It's worth noting that the company's total calculated emissions dropped from 1,673 metric tons to 1,502 metric tons from 2015 to 2016. With shipping and travel representing approximately 75 percent of the company's output, CI attributes much of the year-to-year reduction to moving a majority of its inbound trucking to railroad, and to a 10-kilowatt solar display installation in the parking lot of their Minneapolis office facility.
Other in-house energy reduction efforts include recycling and composting programs, the use of energy-efficient lighting and a cash rewards program for employees using public transportation, carpooling, walking or biking to work.
The partnership with Trees, Water & People — an organization that has been planting trees, building cook stoves and facilitating other quality-of-life improvements to communities in Central America for nearly 30 years — will involve improving farmer livelihoods and replenishing the forest canopy. CI says it will be working with approximately 220 families in 12 coffee-producing communities in the Department of Comayagua who have suffered from coffee crop leaf rust devastation.
The project will involve planting 7,500 canopy fruit and nut trees, as well as 7,500 pine and oak trees in forests that have been decimated by pine beetle infestations.
"It is important to note that we refer to this TWP project and all of our carbon offset projects as a necessary cost of doing ethical business," CI said in its Environment 2017 progress report. "They are base-line investments from Café Imports and are not connected to or reflected in the premiums of our coffee offerings."
Nick Brown
Nick Brown is the editor of Daily Coffee News by Roast Magazine.