"He's Comin to Chicago" reads the reddish-orange banner of the newly-erected Facebook page for Red Beard Coffee Traders, the logo for which implies that "he" is a long-bearded fellow in a baseball cap with a Bodhi Leaf Coffee Traders logo on it.
The same endearing sketch adorns banners covering the windows of a retail location at 1948 W. North Ave in the Wicker Park neighborhood of Chicago, and anyone that's ever met or done business with Bodhi Leaf founder Steve Sims will recognize that character instantly.
"That's me on there, obviously," Sims both confirmed and dispelled to Daily Coffee News, adding, "I'm not that guy. It's funny because I'm the guy that wants to hide in the back of the room when I first walk into the room… I'm more like the quiet guy in the back until I have two beers."
Even more recognizable to the general public meanwhile is Sims' partner in the venture: Marcus Lemonis, host of CNBC reality show "The Profit."
"Marcus is a great guy, well-loved in Chicago. I feel like Bodhi and what I've done with coffee, people respect, I feel like we have a decent reputation. So I feel like it's going to be a good situation," said Sims, describing his work with Lemonis so far as "an amazing experience."
The financial terms or percentage stakes of the partnership were not disclosed.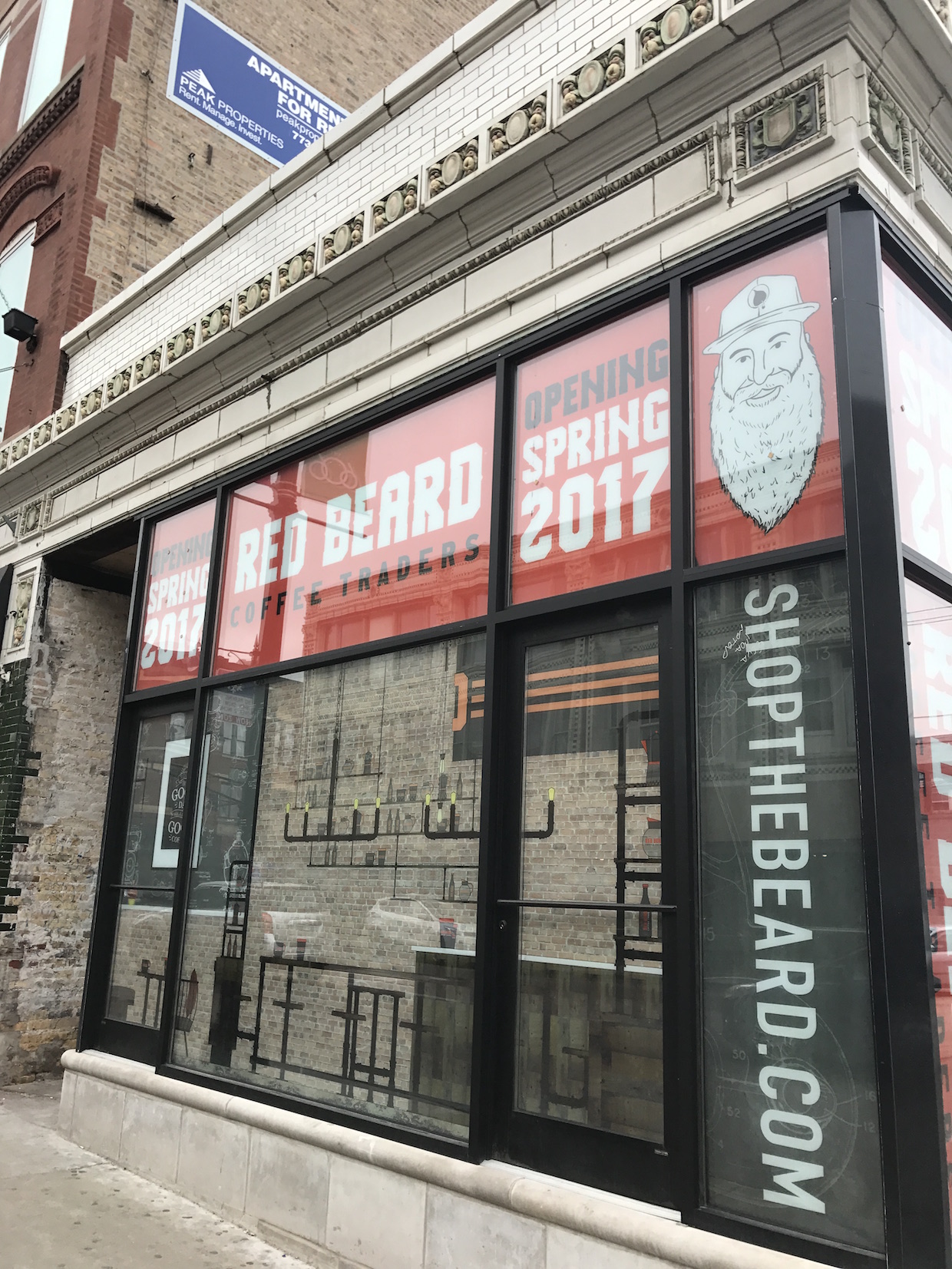 Behind the beards at Wicker Park's busiest intersection will soon be a 2,000-square-foot roastery café. Elsewhere in Chicago is an approximately 15,000-square-foot production roastery and green coffee warehouse, out of which Red Beard will be launching a regional wholesale business for both green and roasted coffee. The green coffee business will also cater to home roasters, including a selection of home-roasting equipment and small portions of green coffees for sale in Red Beard retail locations around the city.
"We're going to be bringing green coffee to the Midwest. Just like I do here with Bodhi, we're going to be doing it over there with Red Beard," Sims said of the business that will deal only in sustainable, direct trade, "high-end" specialty coffee. "We're going to be selling green, roasting, having some cafes, the whole coffee scene."
The structure and layout of the upcoming shop are planned and the buildout is underway for a projected opening of sometime this summer. "It's a bitchin' café, it's amazing… It has a great feel to it," said Sims, stopping short of making any promises regarding equipment or firm launch dates, yet saying that the operation may resemble that of the Bodhi Leaf expansion model he has pursued of late in California.
"Different shops will have different things depending on size, but it's all about quality, like we do here," said Sims. "We do pourovers, we do Steampunks. We might do some Modbars in some of them. It depends on how we're setting up each thing, but the best way we can serve coffee, we're going to serve it."
Also coming this summer is an episode of "The Profit" featuring Bodhi Leaf as the focal business in which, as indicated by the Red Beard development, Lemonis ultimately gets involved. Lemonis confirmed to Chicago Eater last week that the episode will air in June.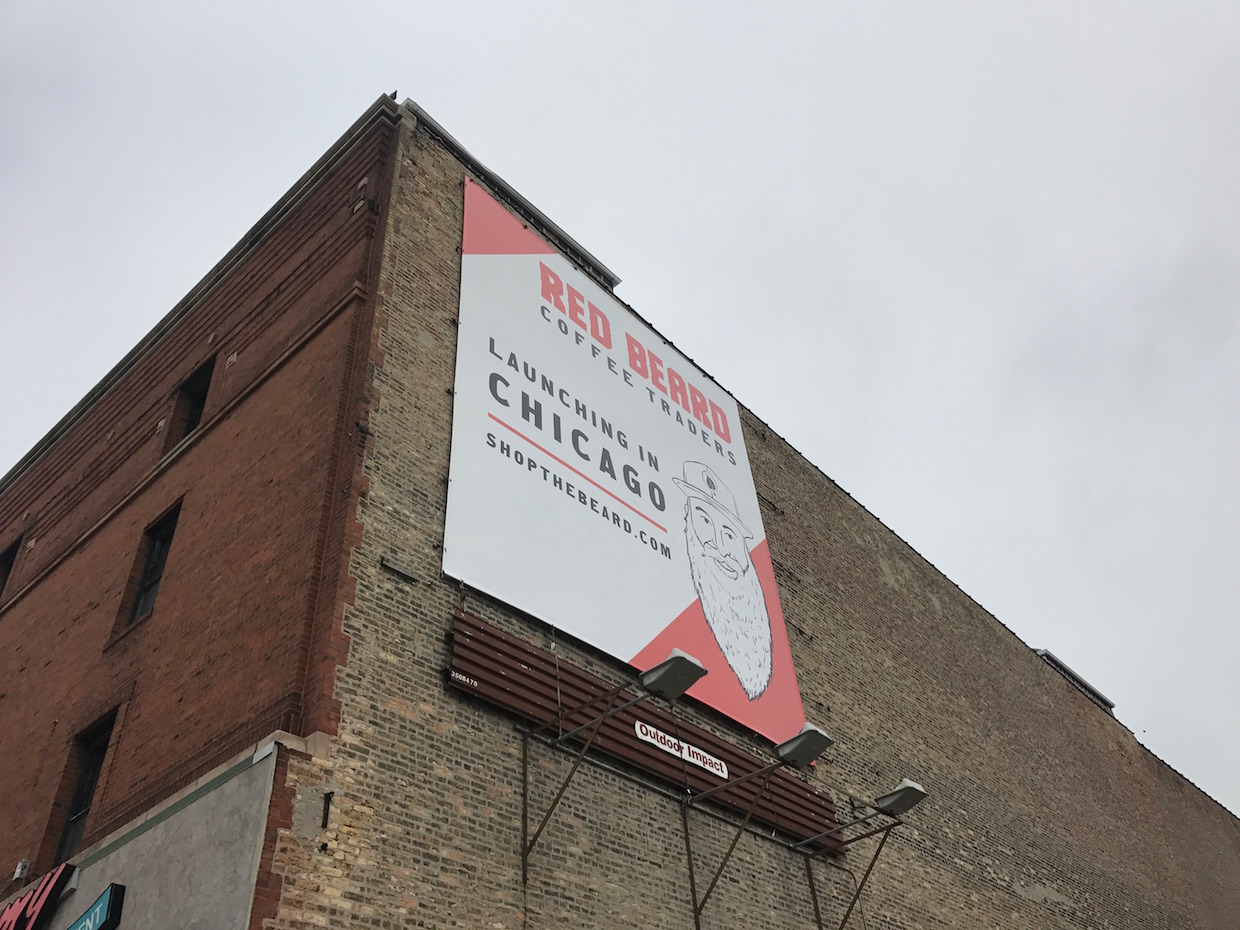 "It's been very emotional. This whole filming process has been very different from what I ever thought it would be. It took a toll, for sure. But all in all, when it's all said and done, it's very positive," Sims said of the making of the episode, adding that despite the celebrity cachet, Lemonis is also a real-life person, and a solid business partner. "It's so weird. He does go around fixing businesses, but he has a very sincere, genuine side to him, where he really does want to help people. And along the way, he started to really get into coffee and learn it. He was doing cuppings with us and learning the different coffees. He definitely is much more knowledgeable about coffee and specialty coffee than when I first met him."
Lemonis told Eater that the North Ave Red Beard is the first of what the company hopes will be seven or eight Red Beards in the next 12 months, all in the Chicago area.
Followers of specialty coffee or Chicago business news will recognize Lemonis also for his derailed prior involvement with beleaguered Chicago roasting and retail coffee company Bow Truss Coffee Roasters, lawsuits from which are ongoing. The former dentist's office on North Avenue that's now transforming into the first Red Beard café was actually originally slated to be the home of a new Bow Truss café — an element of background in which Sims is not interested.
"I don't want to know," said Sims. "I don't want to be involved in any of that drama at all."
The name and branding theme for Red Beard was also a late-breaking bit info that came to Sims as a surprise only upon a recent visit to Chicago.
"I didn't know that's what they were naming it. I didn't know they were going to use a cartoon version of my mug," said Sims. "Do I like it? Yes. I just want it to be in a humble way, I definitely don't want it to ever be perceived as arrogant. It was more to be fun with branding and have a good time with it. As long as it's perceived in a good, humble way, I'm ok with it."
Howard Bryman
Howard Bryman is the associate editor of Daily Coffee News by Roast Magazine. He is based in Portland, Oregon.