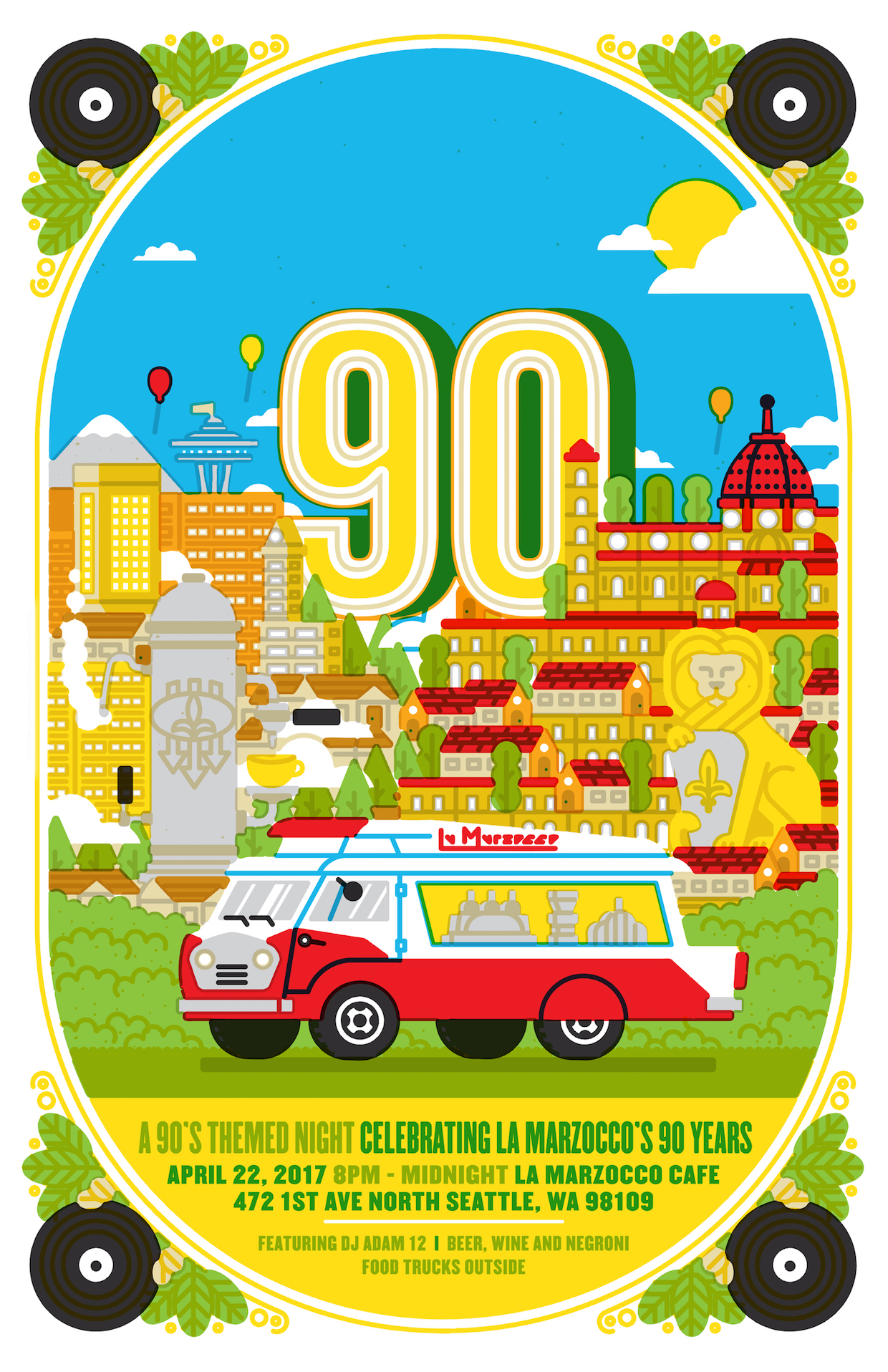 La Marzocco has been celebrating its 90th year in business in style, with a global five-stop pop-up installation tour. The first two installations took place simultaneously in Melbourne and Shanghai late last month, the former being in the latest territory to which La Marzocco's Home division now ships. The third pop-up took place at The London Coffee Festival in early April, while the U.S. stop will take place at the La Marzocco Café and Showroom in Seattle this week, coinciding with the SCA Expo. The final stop will be in Italy in October, at HOST Milan.
Each pop-up has provided interactive displays commemorating the company's history and heritage as well as its technology and design. A centerpiece of the pop-up is a replica of the company's very first machine, the Fiorenza, situated in a detailed 1920s-style café environment, complete with a host in period-specific barista garb providing information.
"From 1927 until today, while pursuing excellence in specialty espresso equipment, we've stayed true to our artisan philosophy — and that's the story we want to tell and share," LM Managing Director Guido Bernardinelli stated in an a press release earlier this month. "The La Marzocco 90th Anniversary World Tour format, including the evocative Fiorenza-focused exhibit, will allow us to convey such narrative in a compelling, memorable way."
Meanwhile at LM's booth at the Expo, the company's very latest design will also be on display: The Strada AV, a new Strada model with built-in drip-tray scales that feed into the same Auto Brew Ratio technology that originally rolled out into the Linea line two years ago. Cutaway machines will provide glimpses of the inner workings of various other espresso machine models, and artwork will be featured by artists from Songwa, Tanzania, in connection to the Songwa Estates project, a coffee farm jointly owned by La Marzocco, Probat and Mahlkonig.
Yet it's not just the passage of time and advancement of tech that the company is celebrating. In recent press releases the company has proudly announced its 2016 revenue of over $127 million, up 26 percent from 2015. That's also an increase of 1,500 percent over its 2009 revenues of $8.5 million, back when the company employed about 40 people. Today, with eight branch offices operating around the world, including a new one that opened in Stuttgart, Germany, last month and an even newer one that opened in Shanghai just in time to host the Anniversary Tour pop-up, the company employs about 330 people.
Roughly 200 of those workers are in La Marzocco's Mugello, Italy, manufacturing plant. As the company looks forward to continued growth around the world and especially in China, La Marzocco has also announced an investment of over $1 million in upgrades there. The focus is in digitization of its old paper-based systems, and enhanced connectivity with branch offices around the world.
Meanwhile about 25 kilometers south of the factory, at the old industrial headquarters of La Marzocco in Fiesole just outside Florence, the company is investing another $5.3 million into transforming the facility into a LM history museum and coffee academy, to train professionals in all aspects of specialty coffee. A representative of the company told Daily Coffee News that while the particulars of the upcoming museum and training center are under wraps for now, more information about the project, which they hope to finish next year, will be coming soon.
Also at LM's Expo booth will be their "True Artisan Café," which will host 40 different U.S. roasters over the course of the conference and serve as a fine conceptual precursor to the launch of Year Two of the Roasters in Residence program at the La Marzocco Café.
The roster for the program's second year was announced last month, notably including Oregon-based drive-thru chain Dutch Bros. Coffee, which has over 270 locations in the Western U.S. and was described by a LM representative as one of their "top customers."
The full Roaster in Residence schedule for the year to come at the La Marzocco Café and Showroom in Seattle is below:
Toby's Estate Coffee, Brooklyn, NY: 5/2/17 – 6/5/17
Madcap Coffee, Grand Rapids, MI: 6/6/17 – 7/10/17
Four Barrel Coffee, San Francisco, CA: 7/11/17 – 8/7/17
Coffee Supreme, Wellington, NZ: 8/8/17 – 9/11/17
Olympia Coffee, Olympia, WA: 9/12/17 – 10/9/17
La Fontaine de Belleville, Paris, FR: 10/10/17 – 11/6/17
Quills Coffee, Louisville, KY: 11/7/17 – 12/4/17
Caffe Umbria, Seattle, WA: 12/5/17 – 1/8/18
Kickapoo Coffee, Milwaukee, WI: 1/9/18 – 2/5/18
Dutch Bros. Coffee, Grant's Pass, OR: 2/6/18 – 3/5/18
ONYX Coffee Lab, Springdale, AR: 3/6/18 – 4/2/18
George Howell Coffee, Acton, MA: 4/3/18 – 4/30/18
Howard Bryman
Howard Bryman is the associate editor of Daily Coffee News by Roast Magazine. He is based in Portland, Oregon.