Coffee shots fly in the face of the specialty coffee industry's accepted brewing practices. The method's pioneer, Matt Perger, said so himself in the manual he wrote that was published by Mahlkonig about four years ago. Similarly, a ghost note flies in the face of what most people understand about music; a musical note, annotated on the staff, yet played so softly as not have any discernible pitch.
While these concepts are entirely different, it nevertheless makes sense that a new shop in Seattle serves brewed coffees solely by way of coffee shots, and very enthusiastically.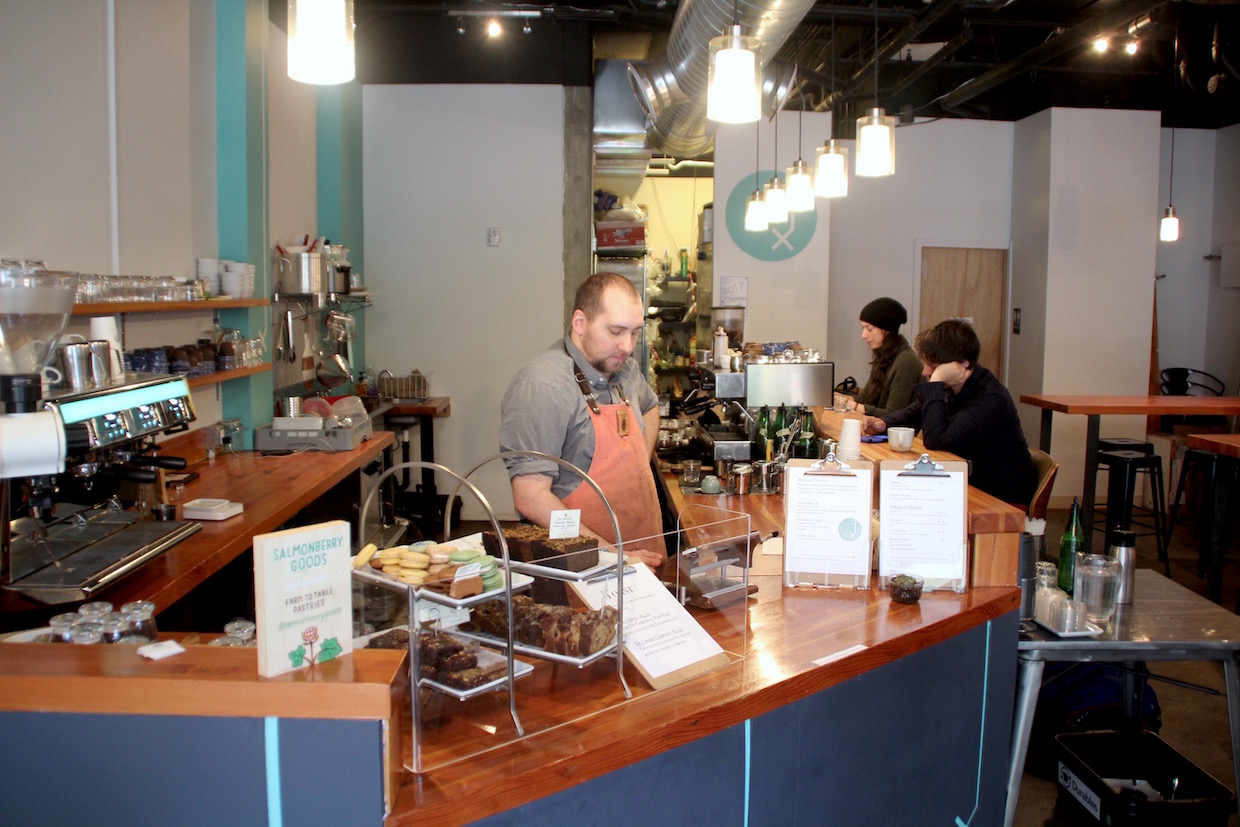 "I've been working on our specific method of it for probably close to two years now," Ghost Note Coffee owner Christos Andrews recently told Daily Coffee News. Using a customized Unic Stella di Café espresso machine that was tweaked by the manufacturer in collaboration with Andrews, the owner/barista sends 203.5-degrees-Farenheit water at 5.5 bars of pressure through EK43-ground coffee at a 13:1 ratio over the course of 90 seconds using auto-volumetric controls, dialed in for an extraction yield of 19-20 percent, which he confirms with a scale and refractometer for each new coffee.
"We have pressure transducers on the pump that restrict the flow almost in the way that a Slayer does," Andrews said of the modification he uses to the generate cups, which he described as having flavor clarity on par with top-of-the-line Fetco batch brew but more body and sweetness. "The acidity tends to be really nice and juicy, and I just love how as it cools the sweetness develops in a really nice way. It started as a way just to be efficient, to be totally honest with you. And then the more I explored the brew method, the more I was like, beyond efficiency, this is just one of the tastiest ways to make coffee that I know of."
Andrews' background in coffee has included stints at a variety of Seattle specialty coffee institutions, including Neptune Coffee, Tougo Coffee, and three-time James Beard Award-winning bakery Colombia City Bakery, whose coffee program he revamped to match the quality of their baked goods. Ghost Note's coffee was originally intended to come from a multitude of roasters, but it wound up satisfying its sourcing needs entirely through local roaster Broadcast Coffee Roasters, which was the previous occupant of the café space Ghost Note now inhabits at 1623 Bellevue Avenue in Seattle's Capitol Hill neighborhood.
Broadcast moved out in order to bring roasting and a café under one roof in a larger space. Ghost Note, meanwhile, has no plans to bring roasting in-house or necessarily to branch out with offerings by other roasters, although with growth there may come opportunities for either. "We definitely are going to grow, for sure," said Andrews, "but I think for our first year, we're going to note really make any plans."
Andrews and his friend and business partner Lee Hampton see Ghost Note expanding to numerous locations in time, both within and beyond Seattle, while also perhaps transcending coffee to grow in other ways.
"We're always going to be a specialty coffee shop, but we're going to try to be innovative. There's also a lot of other creative arts that we're interested in," said Andrews, citing creating a record label or collaborations with fashion designers as possible directions the brand may go.
"We have a few ideas brewing," said Andrews. "We definitely want to make Ghost Note more than just an amazing coffee shop. We want to be something that represents creativity and uniqueness in the arts and crafts and that sort of thing."
Howard Bryman
Howard Bryman is the associate editor of Daily Coffee News by Roast Magazine. He is based in Portland, Oregon.