Hikers and other outdoorsy types have a strange, new portable tool for providing themselves with the reward of freshly brewed coffee while basking in the farthest reaches of the wilderness. Weird though it may seem, the Bripe Coffee Brew Pipe is the product of verifiable coffee people, and it comes in a kit complete with its own heat source and grinds canister that altogether weighs less than 340 grams.
The co-founder of Almonte, Ontario's Equator Coffee Roasters (not to be confused with California's Equator Coffees & Teas) Craig Hall is one half of Bripe Inc.'s co-founding duo, and the other half is the device's inventor, Tim Panek, who lives in Costa Rica. According to Bripe marketing "storyteller" Nathan Rudyk, "Craig is the 'understated Canadian' and Tim is the 'enthusiastic evangelist.'"
To brew coffee in a Bripe, users load water and grinds into the Ibrik-like pipe then heat it with the included blue flame torch, using the included thermometer at first to stir and then to monitor the brew. Instructions then call for removing the heat at around 180ºF degrees, letting it cool to 140ºF, blowing a bubble or two through the straw to agitate and clear any stray liquid or grinds from the straw, then sipping through the straw.
The thermometer is held in place by a clip attached to a steel filter screen that nests inside the otherwise copper Bripe, while an insulating cork wraps the straw for safe handling. The device is designed to brew coffee in an espresso-like water-to-coffee ratio, utilizing about 30 milliliters of water and roughly 5 to 7 grams of coffee, although the screen plate can be rotated to place different filter sizes in front of the hole, to experiment with different grinds or for tea brewing. Cleaning the device is done with a pipe cleaner, soap and water.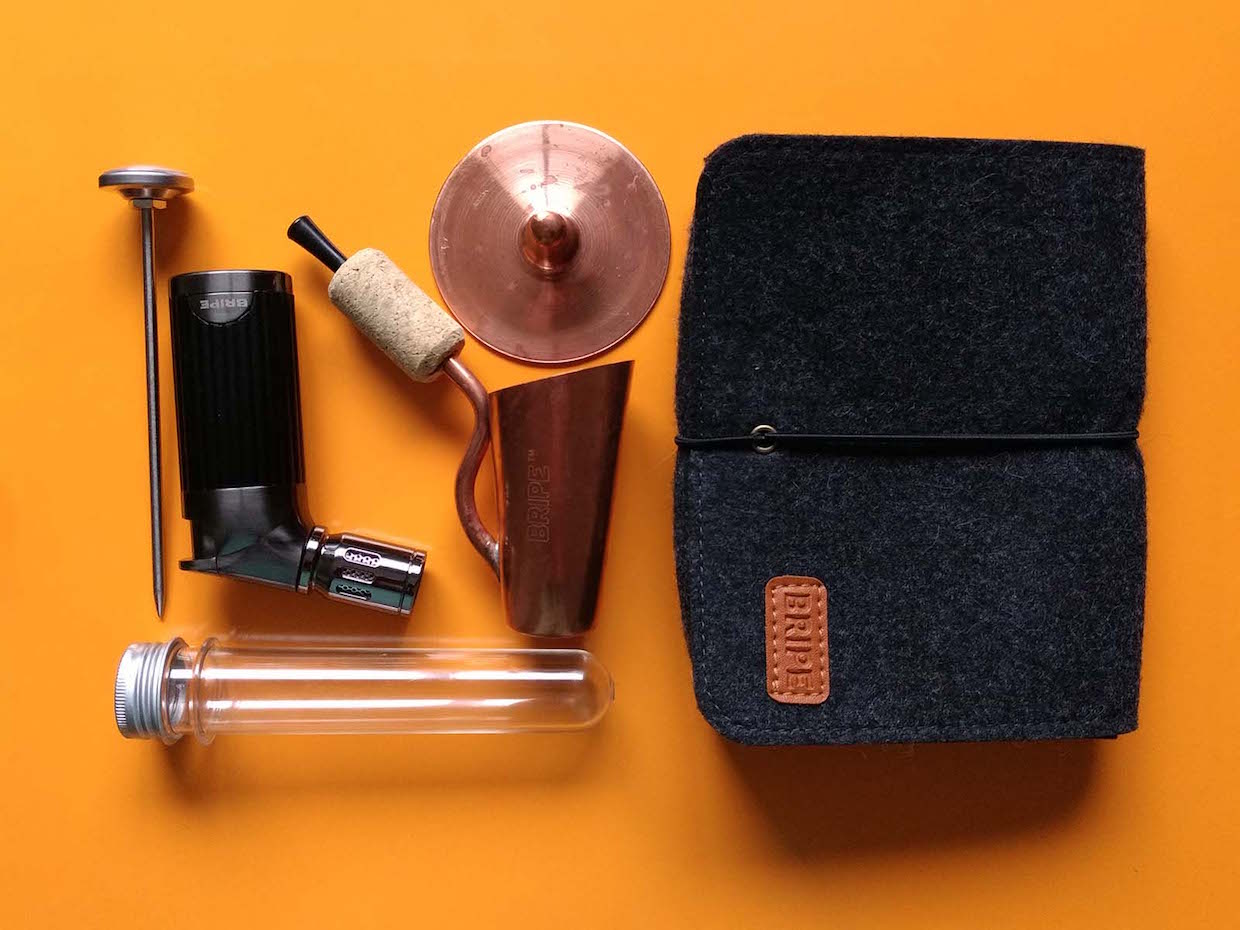 "The Bripe​ ​allows for custom cof​fee preparation. It is most like a French press, as it has a stainless steel filter that allows a little more of the bean in the coffee versus a device that uses a paper filter," Hall told Daily Coffee News. "By adjusting the variables — the amount of coffee, water and temperature — you can brew all coffees in a profile that you like best. It just takes some experimentation to perfect your own preferred taste."
Panek said he uses different techniques and coffees for different times of day or activities. Beyond straight coffee or a dash of milk and/or sugar, Panek also recommends experimenting with adding other ingredients during the cooling phase, just for fun. "I like rum, my buddy Craig likes gin," said Panek, reminding users that the flame should never be used around alcohol. "It is flammable and you want to keep your eyebrows."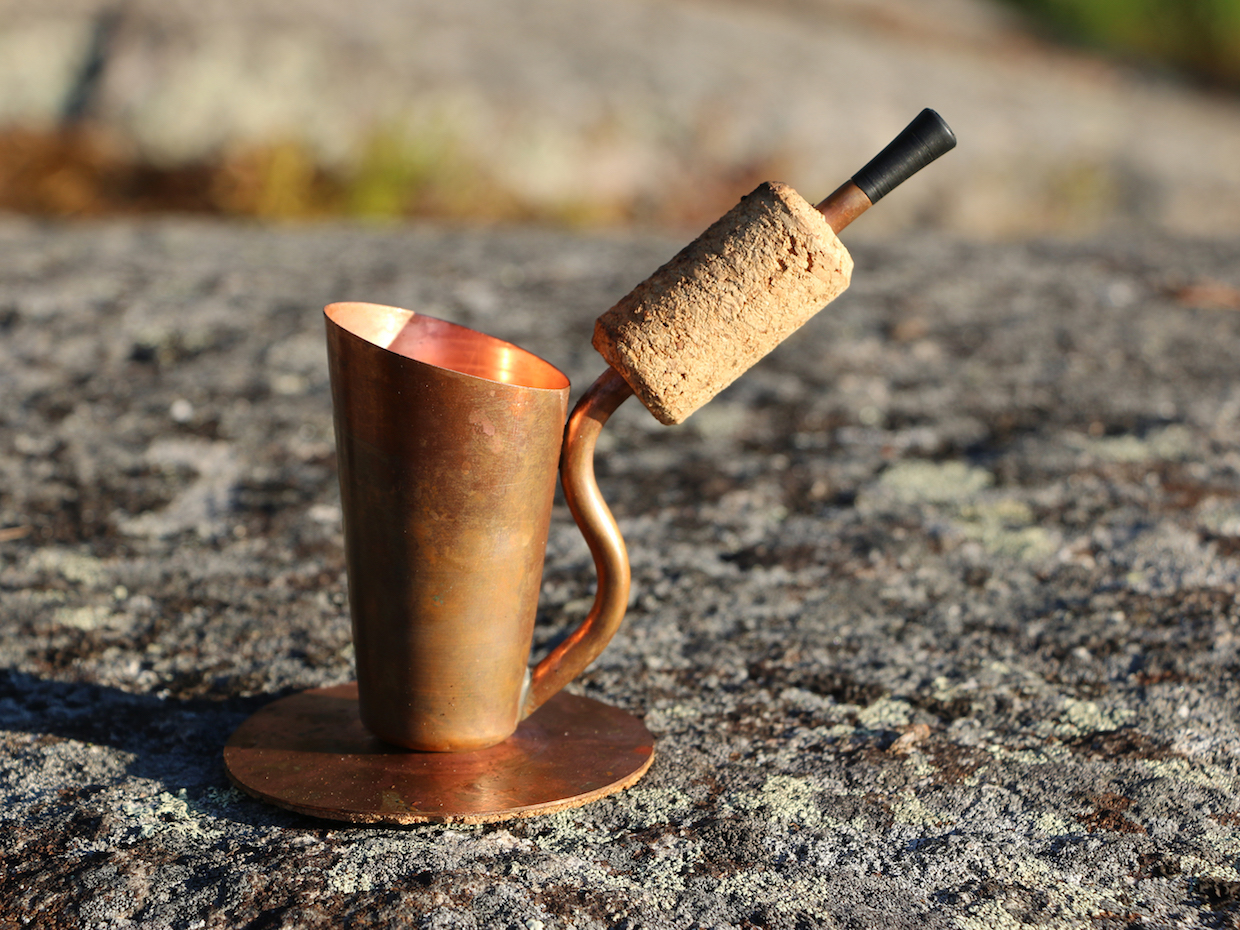 While the small volume of the Bripe binds the ratio to some extent, the upside Hall focuses on is that one needn't worry about absolute precision for a tasty shot. "The Bripe is unique in that you can practice a couple of times and then make a decent shot of coffee without worrying too much about being exact," he said. "It all depends on your preference."
The Bripe achieved its first brick-and-mortar retail shelf presence roughly a month ago, in New York City's Paragon Sports. Panek is currently on what he called the "Bripe Across America tour" leading up to the company's presence beginning today at the Outdoor Retailer tradeshow in Salt Lake City, where the product display will be hosted by the booth of Bripe's USA distributor, Summit Distribution.
While Bripe, Inc.'s focus to this point has been the US market, Equator Coffee locations in Almonte and Ottawa, Ontario, where Hall performed demos of the product for its official launch last week, have also carried Bripes since then. Panek said that progress has been swift in finding additional US retailers as well. Said Panek, "Summit has sent me to meet with their top store chains across the USA, and out of the dozen or so I've met with so far, we have a 90-percent success rate of them stocking Bripes."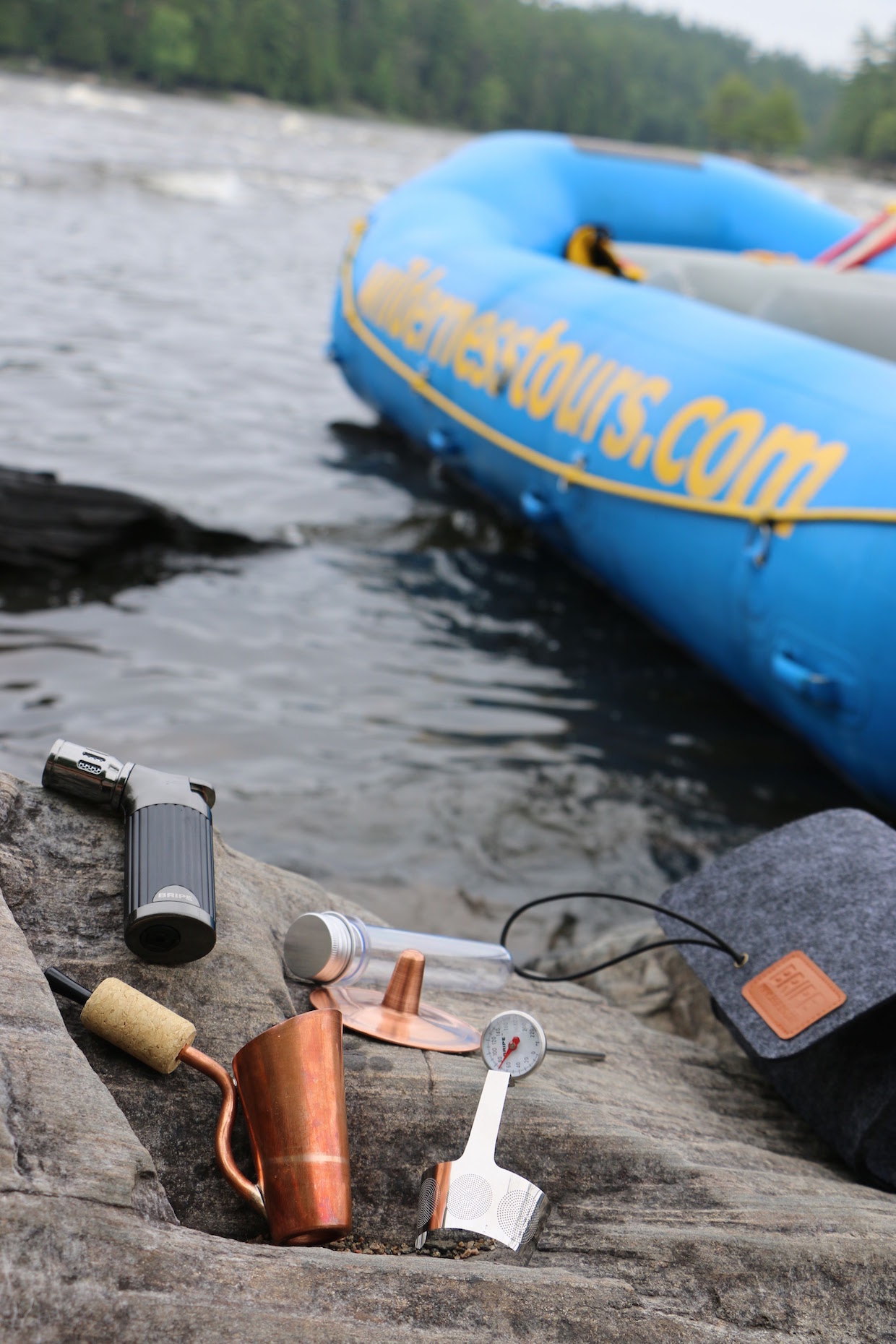 Including the Bripe, a stand, a filter and thermometer, a quad jet torch, a test-tube-like container for coffee, and a carrying case, the complete Bripe kit currently retails for $84.95. Hall said that the product line could eventually be fleshed out with functional add-ons that would further integrate the Bripe into the ecosystem of popular camping supplies.
"We would like to add a couple of accessories to the Bripe — a stove stand for butane single-burner camp stoves, an adapter for refilling the lighter from butane camp fuel canisters, a variety of colors and co-branding opportunities with companies that want to offer 'camping packs' with their own products," said Hall, who naturally also sees the possibility of a pre-ground coffee product specifically for inclusion in a Bripe Coffee Brew Pipe kit.
Howard Bryman
Howard Bryman is the associate editor of Daily Coffee News by Roast Magazine. He is based in Portland, Oregon.