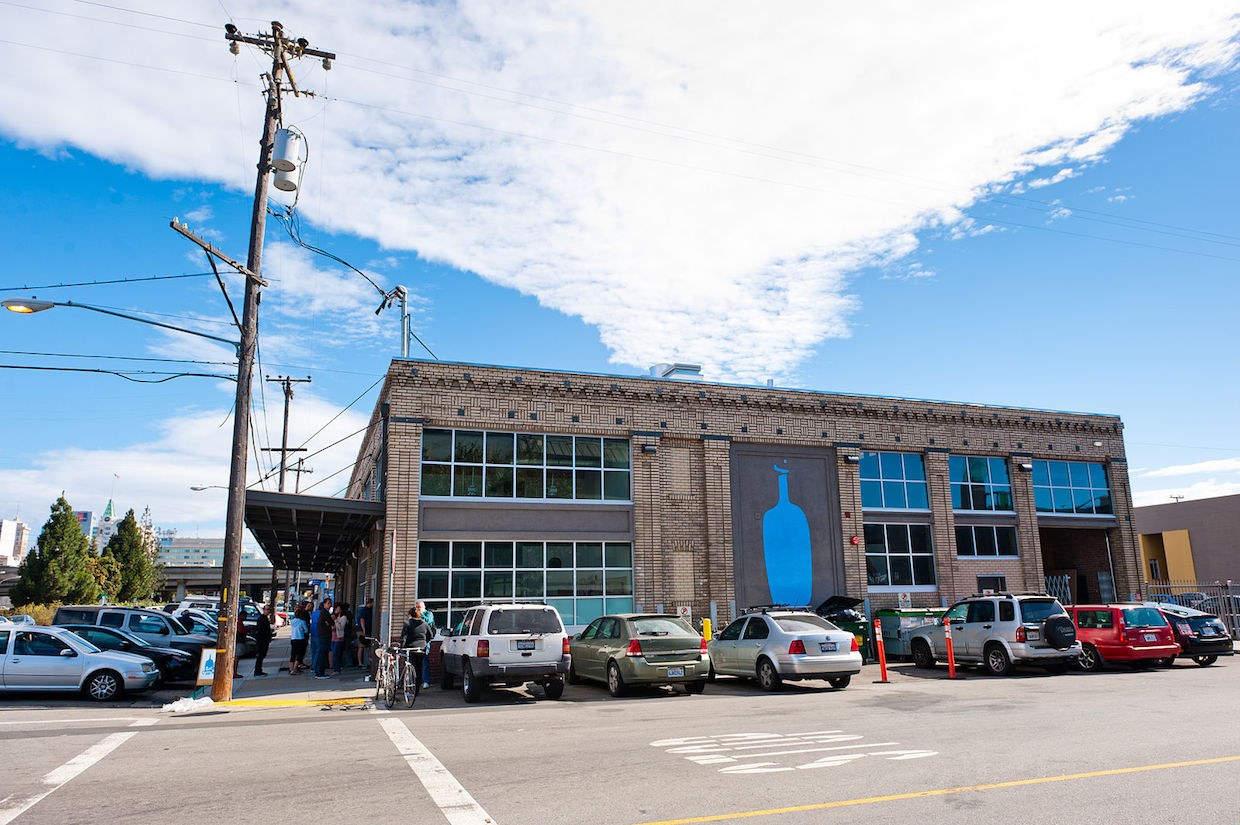 Switzerland-based multinational food giant Nestlé is acquiring a majority stake in Oakland-based Blue Bottle Coffee, one of the pioneering coffee companies of the quality-focused "third wave" movement.
Nestlé's investment equates to an approximately 68 percent stake in the company, at around $500 million, according to a Financial Times report. Neither Blue Bottle nor Nestlé have disclosed the financial terms of the deal, though both announced today that Blue Bottle's current management will stay in place.
That management includes Bryan Meehan, who will remain as CEO, and founder James Freeman, who launched the roastery 15 years ago in his Oakland garage and is now chief product officer.
The company — which first changed ownership in 2012 with a $20 million investment that saw Meehan come on board — has since expanded to include nearly 30 locations in the Bay Area, New York, Southern California, Washington D.C. and Japan. The company expects its retail store total to be up to 55 by the end of this year, including openings in Miami and Boston.
"Our decision to become a part of Nestlé was complex, of course, involving many discussions, considerations, questions — but it was also easy," Blue Bottle's Meehan and Freeman wrote today, in artful prose that has become characteristic of the Oakland company's marketing efforts over the years. "The concept of 'Nestlé' as a figment, or symbol, was one thing — Eiffel's dictum 'there is an attraction in the colossal' comes to mind. But standing on the banks of Lake Geneva, meeting one worldly, genuine person after another was a different thing altogether. The colossus of our imaginings crumbled. We found kinship."
Nestlé, meanwhile, painted a less flowery picture of the transaction. "This move underlines Nestlé's focus on investing in high-growth categories and acting on consumer trends," Nestlé CEO Mark Schneider said in an announcement today. "Blue Bottle Coffee's passion for quality coffee and mission-based outlook make for a highly successful brand."
Nestlé's acquisition of Blue Bottle is merely the latest example of increased consolidation in coffee through strategic acquisitions of upscale brands that helped define the "third wave" movement for many loyal patrons through the late 2000s to today.
JAB Holding Company has been leading the way in that regard, with its 2015 acquisition of longtime Bay Area roaster Peet's Coffee, which has in turn acquired both Intelligentsia Coffee and Stumptown Coffee Roasters.
"With the acquisition of Blue Bottle Coffee, Nestlé is entering the fast-growing, super premium coffee shop segment with an iconic brand for discerning coffee drinkers," Nestlé said in today's announcement. "Blue Bottle Coffee allows Nestlé to strengthen its position in the US coffee market, the largest in the world, as well as internationally, building on success in Japan. It also offers opportunities to grow in super premium ready-to-drink and roast and ground coffee, largely through online subscription."
Nick Brown
Nick Brown is the editor of Daily Coffee News by Roast Magazine.