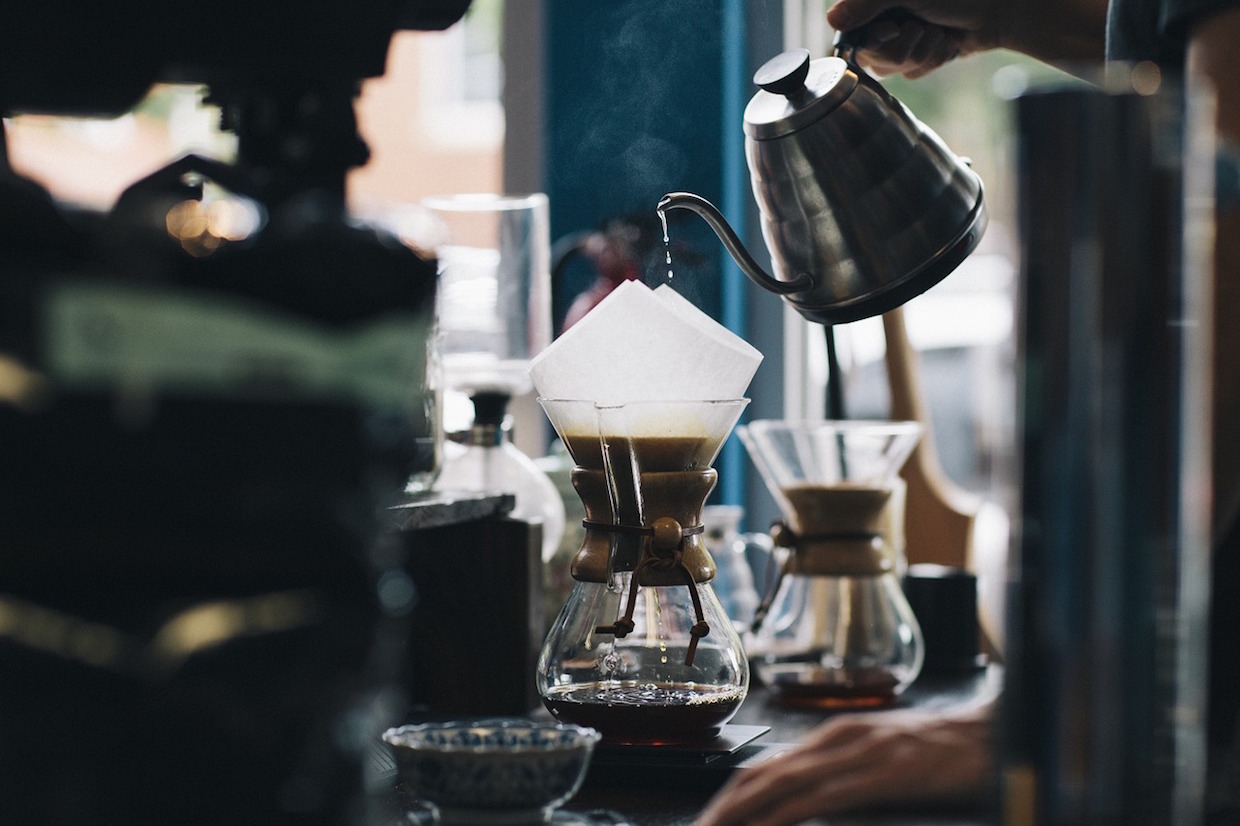 There's an adage in the publishing world that goes something like: "Any headline that asks a question can be answered by the word 'no.'"
Of course, that doesn't always hold true. If, for example, we ask "Is it Geisha or Gesha?" the answer "no" doesn't make any frigging sense. Regarding the headline above this story, you be the judge. This week, a paywall-protected Wall Street Journal story that's been widely circulating brings the old adage to mind:
In the piece, sources suggest various ways in which coffee machinery has evolved to replicate popular manual pourover brewing methods and recipes, achieving improved consistency, efficiency and time savings. These things are actually true.
Of course, anything having to do with coffee — which has been roasted, ground, combined with hot water and filtered from hot water leaving a drinkable brown liquid for millennia — runs in cycles. It's as if to say, "Pourovers and manual brewing are good, but the coffee industry has just discovered something even greater: Coffee machines!"
For many people over the past decade or so, the first vision of a barista holding a gooseneck kettle over a simple pourover cone lined with paper and filled with a fragrant bed of fresh grounds was a revelation, a "new" way for coffee preparation that involved advanced skill and artistry while the industry assured consumers that this was the only true way to achieve peak quality.
Add that to the parallel popularity of single-origin offerings, and you create a cutting counterpoint to the quick-serve model of the big chains: One coffee, one cup, handled with care, just for you. It was a concept that resonated deeply enough that the pourover truly did become for a time the symbolic indicator, at least for a certain subset of consumers, that a coffee shop took coffee quality seriously.
Commercial equipment manufacturers took notice and began engineering fantastic machines with the goal of automating the precious pourover yet with greater efficiency, offering the same or better quality in a repeatable way while freeing up baristas' limbs and minds in the process. Thus, the narrative has switched.
There's one quote in the WSJ piece that jumps out as particularly reflective of the specialty coffee retail industry's current predicament regarding high-end filter coffee brewing equipment selection.
"We realized that a lot of customers loved getting a cup brewed for them, but in today's day and age they're not willing to wait five to seven minutes to get it," Intelligentsia Chief Executive James McLaughlin told the WSJ.
Key phrase: "brewed for them."
Today's conversation about the place of the pourover is not about quality or repeatability or obsolescence; it's chiefly about efficiency. More specifically, it's about how to maintain the perception of uniqueness and individuality that the pourover symbolizes among consumers while still shuffling them in and out as quickly as possible.
If you have the cash, there are more machines than ever to help you do that — until, many years from now, some new generation of bootstrapping coffee professionals discovers this wild, ancient, artistic method of brewing known as "the pourover."
Nick Brown
Nick Brown is the editor of Daily Coffee News by Roast Magazine.