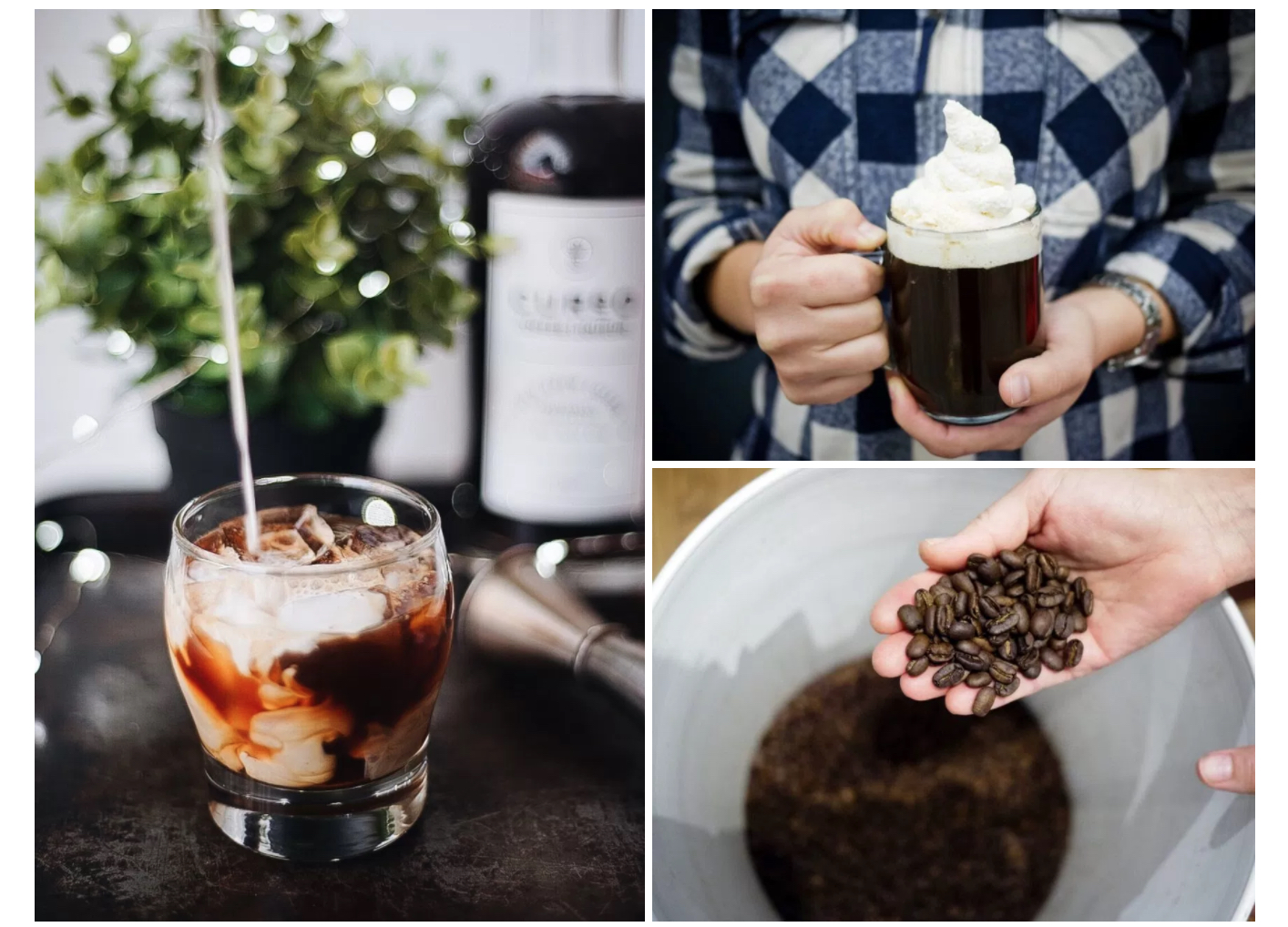 Winter may be cold, but coffee and booze is hot right now. It seems with each passing season that more small-batch distillers are finally taking coffee as seriously as they do their spirits, resulting in some creative coffee liqueurs that lend themselves to fireside sipping.
Some are made with brandy, others with rum, vodka or neutral grain sprits. Some try to keep the blend of coffees the same while others revel in the differences between different roasts, processing methods and origins.
Here we present recipes inspired by nine coffee liqueurs in which the coffee shines:
St. George Spirits NOLA Coffee Liqueur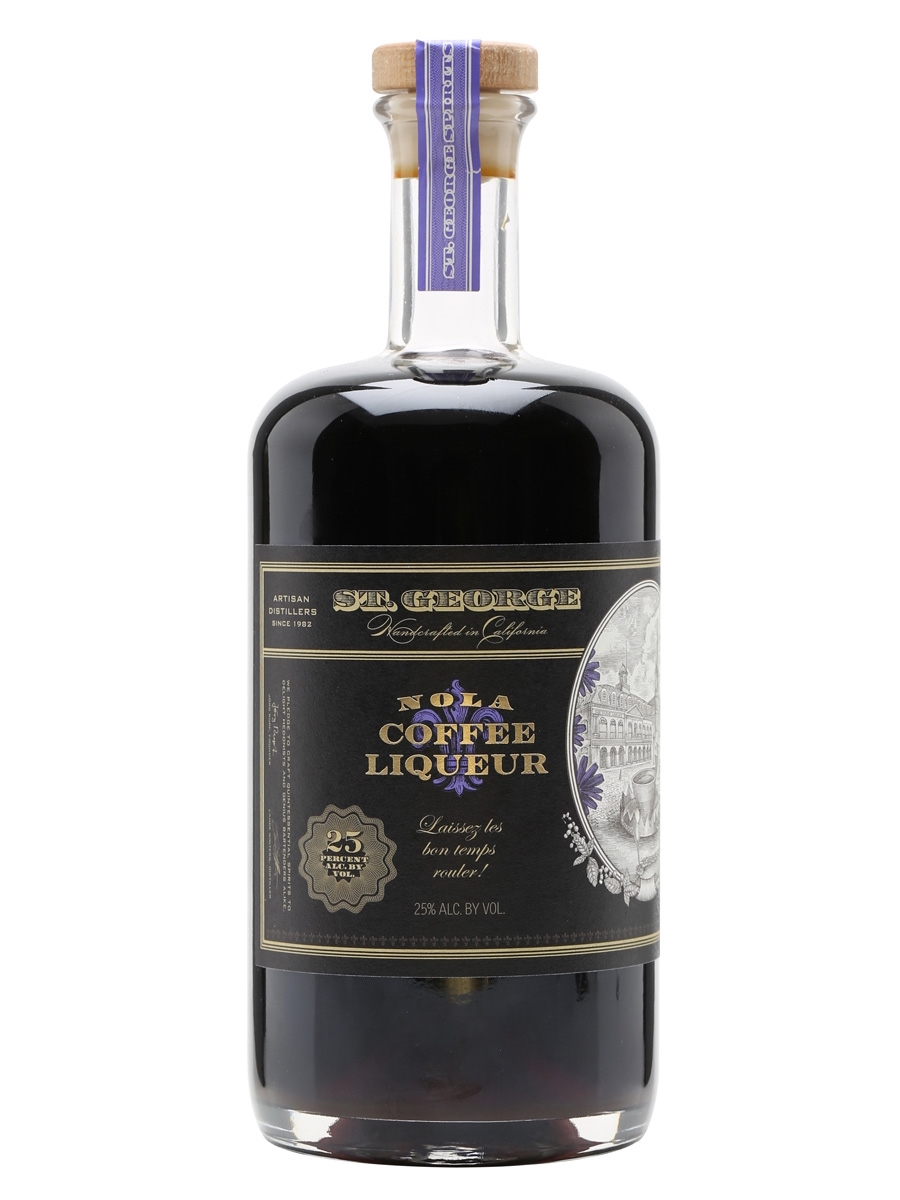 The coffee liqueur from Alameda, California-based St. George Spirits was created by distiller Dave Smith for his bride, Julia Cianci, inspired by the jazz-infused town where they met. The liqueur has as its base natural Yirgacheffe coffee from farms that vary from year to year.
"Our friend and professional roaster Brad Joyce has roasted every batch of St. George NOLA Coffee Liqueur on Lil' Ugly, our well-loved 1952 Probat 12-kilo roaster," Smith wrote to Daily Coffee News. "We rely mostly on medium to dark roasts for our process, though we also incorporate some light roasts. We focus on developing lemon meringue and berry notes, as well as wine and black pepper characteristics."
For winter cocktails, Ellie Winters at St. George recommended the NOLA Nog, "a great wintry coffee liqueur cocktail" from Brianna Danner at the website Dirty Whisk, as well as the warming Madame Marie Laveau.
"With its combination of cognac, port and Fernet in addition to the NOLA, it's definitely a robust cocktail that'll warm you right up," Winters wrote to Daily Coffee News. Melissa Pinkerton of The Betty in Chicago gets credit for the recipe.
NOLA Nog
1 part (or so) St. George NOLA Coffee Liqueur
1 part (or so) eggnog
cinnamon stick
Mix NOLA and nog to taste. Stir with a cinnamon stick and sprinkle with cocoa.
Madame Marie Laveau
1 1/4 ounce St. George NOLA Coffee Liqueur
1 ounce Hennessy VS
1 ounce Noval Black Port
1/4 ounce CH Fernet
1 bar spoon simple syrup
1 whole egg
Combine all ingredients in a shaker tin and dry shake without ice. Add six ice cubes and shake again for 20 seconds, then double strain into an 8–10-ounce glass. Garnish with coffee dust on top.
Mr Black Spirits Cold Press Coffee Liqueur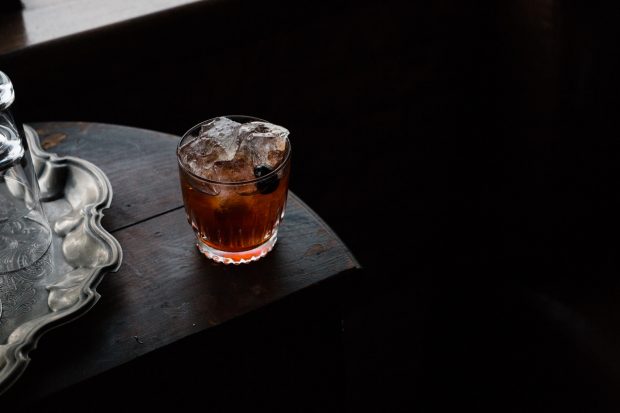 Mr. Black, made in New South Wales, Australia, sources its arabica coffee from the Popayan region of Colombia. Roaster and distiller Detlef Mohr broke uses an exacting blend of varieties sourced from the region, including Caturra, Colombia, Castillo, Catimore and Typica.
These, Mohr told Daily Coffee News, are roasted "relatively dark… between a Full City and a Viennese Roast" for a liqueur with generous body, dark chocolate and caramel flavors, and some bitters to balance sweetness from added sugar. Mr. Black is built on a neutral grain spirit.
"The fruity nose and palate is achieved by a blend of lighter roasted Arabica beans from Kenya, Tanzania and Papua New Guinea," Mohr wrote. "These beans are roasted together and dropped just after going through first crack and provide flavors of ripe blackberries and black currants, as well as citrus."
The following cocktail is a variation on a flip, a dessert cocktail involving a whole egg. Flips are rich, sweet and filling. This one was created for Mr. Black by Yao Wong at a bar at the Elysian Whiskey Bar in Melbourne.
The Caffeinated Backflip 
30 mL yellow Chartreuse
20 mL Mr Black
10 mL espresso
10 mL absinthe
1 egg
1 dash Peychaud's Bitters
Pinch of salt
Grated nutmeg, for garnish
Shake the chartreuse, Mr. Black liqueur, espresso, absinthe, egg, bitters and salt together without ice. Add ice, shake vigorously again and strain into a Nick & Nora glass. Grate nutmeg over the top.
Two Tall Distilling Hard Pressed Coffee Liqueur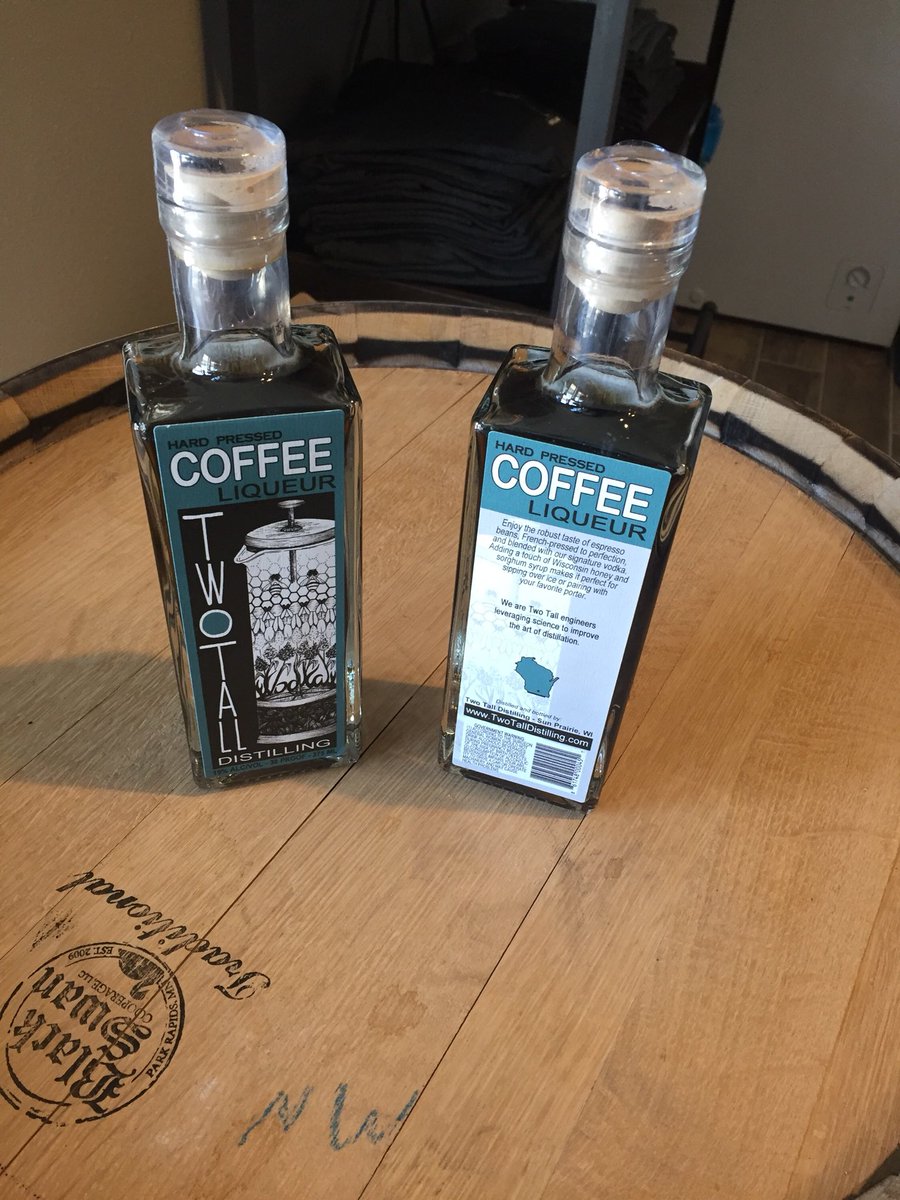 The coffee blend used to make Two Tall Distilling's coffee liqueur comes from Just Coffee, a roaster based in Madison, Wisconsin, near Two Tall's Sun Prairie distillery. The Electric Monkey espresso blend is a combination of three coffees: a natural-processed coffee from the Telamo Cooperative in Sidama, Ethiopia; a specially processed coffee from the Permata Gayo Cooperative in the Bener Meriah district of Northern Sumatra; and a washed coffee that alternates.
"I adjust the proportions of these coffees throughout the year," Just Coffee's Scott Spilger wrote to Daily Coffee News, "so that Electric Monkey Espresso has a clear, distinct flavor profile, with berry tones from from the Sidama, acidity and additional sweetness from the washed coffee and body from the Sumatra."
The rest of the recipe is vodka, Wisconsin honey and sorghum syrup. Two Tall Co-Founder Stephanie Farnia recommends combining the liqueur with hot chocolate made from Lake Champlain's Spicy Aztec mix.
Seattle Distilling Coffee Liqueur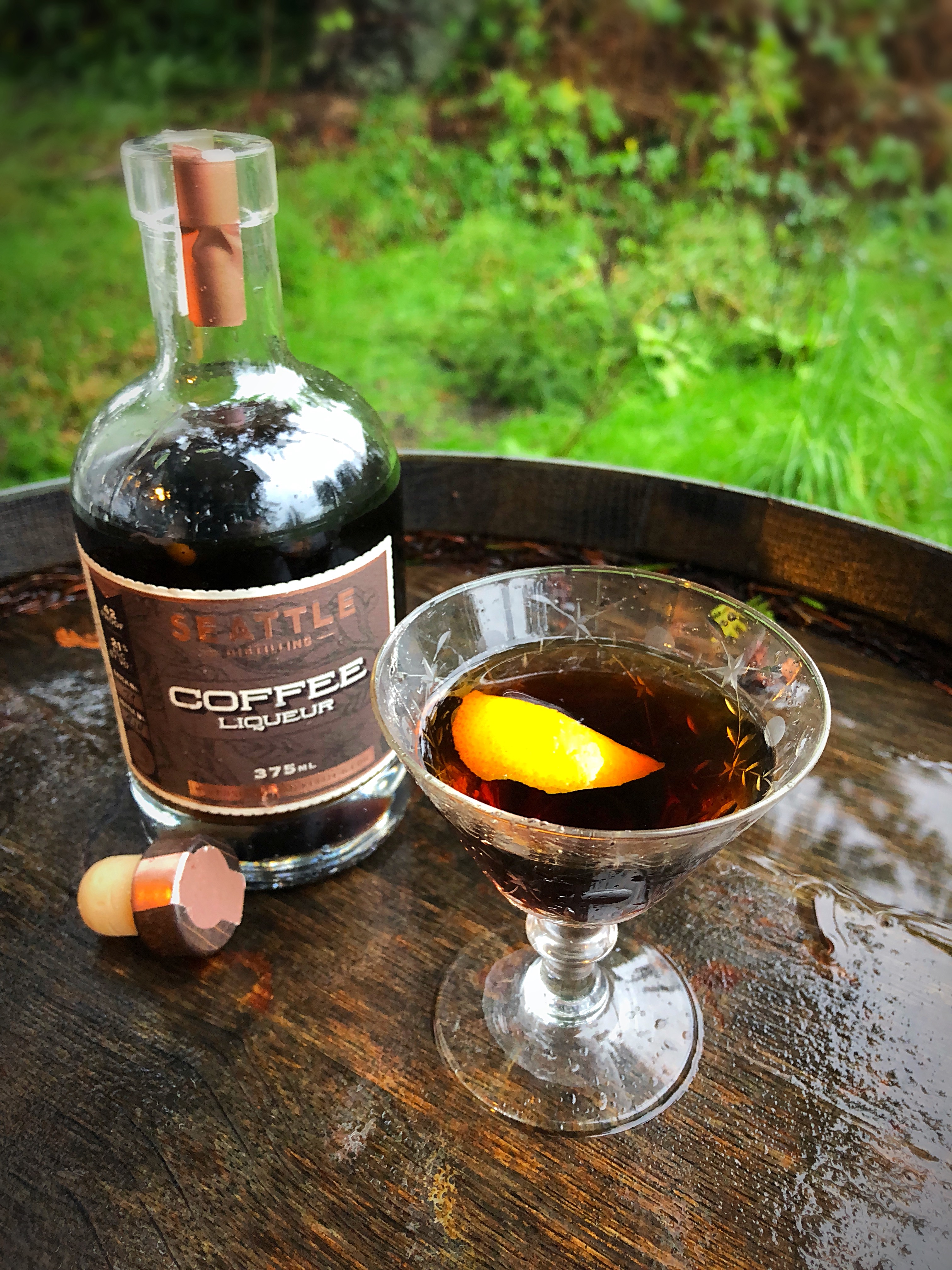 The small-batch, vodka-based liqueur from Seattle Distilling was born in a cabin. Though the business has recently moved off Vashon Island in Puget Sound, the beans in the Orca Blend are still roasted by Vashon Island Coffee Roasterie.
"It's a medium roast and we love that you can taste the toast as well as the fruit," said Tami Brockway Joyce, CEO of the Seattle Distilling Company. "The Orca Blend gives our coffee liqueur some serious coffee cred. We cold brew it, add just a touch of brown sugar and a healthy dose of our handmade vodka."
Joyce said one of her favorite liqueur cocktails is the Idle Revolver, which is "easy to make at home and fun to tinker with, trying different whiskies and bitters."
"It's one of those cocktails that feels like alchemy," she said. "Somehow these three simple ingredients combine to make something transcendent."
Idle Revolver
1 ounce Seattle Distilling Coffee Liqueur
1 ounce Seattle Distilling Idle Hour Whiskey (rye or bourbon are good here too)
2 dashes orange bitters (also try black lemon or chocolate bitters)
Add all the ingredients to a mixing glass and fill with ice. Stir until well chilled and strain into a cocktail glass. Garnish with a wide strip of orange peel and enjoy.
Remington Family Distillers Caffe del Fuego
"We created Fuego for iced coffee fans to just pour over ice and, voila! Adult iced coffee," wrote Peter Knight Remington, a co-founder of Remington Family Distillers in Austin, Texas. Remington told Daily Coffee News that their spirit — with coffee supplied from Austin Roasting Company — is not sweet; in fact, they call it a liquor instead of liqueur.
"With only about 2 tablespoons of dark cane (sugar) per bottle, Fuego is never actually sweet… and aging adds a touch more body," Remington wrote. "A bottle has about 1/2 ounce vanilla and that's generally noticed more on the nose than the palate."
In addition to the coffee, Remington Family Distillers does add some dark sugar, "for the subtle molasses notes," Madagascar vanilla and neutral grain spirit run through activated charcoal four times before blending.
Remington wagers that his liquor would pair with the brown spirits (rum, brandy, whisky) as well as vodkas and liqueur, bringing "bittersweet chocolate notes, dark baking spice and hints of caramel" to cocktails.
"This drink is something I came up with a while back after figuring out that a Fuegoldfashioned is a cool thing," Remington wrote. "This is a riff on that. I call it the South Texan as it marries tequila, chocolate and peppers for a smooth and warming winterish cocktail… It's sort of like a molé cocktail."
The South Texan
1 ounce Caffe del Fuego
1 ounce quality anejo tequila (the aging adds much to the net effect
1/4 ounce Ancho Reyes Ancho Chile liqueur
3 shakes quality chocolate bitters
orange peel garnish
Pour spirits and bitters over ice and gently stir. Garnish with an orange peel.
Cureo Coffee Liqueur
The founders of Cureo Coffee Liqueur in Norfolk, Virginia, looked to North Carolina-based Counter Culture Coffee when designing its robust, full-flavored spirit. Counter Culture's Big Trouble blend is made 50 percent with coffee from San Fernando, Peru, 30 percent from Baroida, Papua New Guinea and 20 percent from Hunda Oli, Ethiopia.
Unlike many coffee liqueurs, Cureo is based on rum and it came out of a coffeehouse, not a distillery. Mike Aston and Chris Shelton own Cure Coffeehouse, where Kari Redman is the general manager. All three now run Cureo, which is made in Chesapeake Bay Distillery in Virginia Beach.
"We want to showcase the coffee," Redman told Daily Coffee News. "That robust, full-bodied chocolate and fruit profile comes through perfectly."
Redman offered two recipes. The first is a riff on a dark 'n' stormy with "bold flavor from the coffee liqueur and warming ginger spices" for the "perfect by-the-fireside beverage on a cold winter evening." The second is a winter classic, updated with a twist from Cureo.
Dark & Stormier
1 ounce Cureo Coffee Liqueur
1 ounce dark rum
1/2 ounce fresh-squeezed lime juice
Spicy ginger ale (such as Blenheim "hot")
Orange peel, Luxardo cherry and fresh sage for garnish
Fill a 10-ounce metal shaker or copper mule mug with ice. Pour in the liqueur, rum and lime juice. Top off with the spicy ginger ale and give a light stir to incorporate. Garnish with orange peel, Luxardo cherry and sage.
Cureo White Russian
1 1/2 ounce Cureo Coffee Liqueur
1/2 ounce vodka
1/2 ounce vanilla syrup
Two large ice cubes
Half and half
Ground cinnamon to garnish
In an 8-ounce glass, add two ice cubes and vanilla syrup. Pour in vodka and Cureo. Top off with half and half, give a light stir to incorporate. Garnish with a sprinkle of ground cinnamon.
Cardinal Spirits Songbird Coffee Liqueur
Cardinal Spirits in Bloomington, Indiana, wants its Songbird coffee liqueur to have regional character. So the distillery works with three different roasters.
"Metric is our latest partnership for the Illinois market," Erica Sagon, Cardinal's media manager, wrote to Daily Coffee News. "In Kentucky, we collaborate with Good Folks Coffee Co. in Louisville, and in Indiana we collaborate with Hopscotch Coffee in Bloomington (also sold in Tennessee)."
Cardinal's Songbird liqueur is made with coffee, vodka, bourbon vanilla beans and cane sugar, and Sagon said the company has gravitated toward medium-to-dark roasts of single origin beans, though the origin countries have varied.
"While lighter roast coffees have gained traction in the coffee community, in our test batches, the coffee characteristics of lighter roasts tend to get masked by the other ingredients," she wrote. "We've found that bolder profiles on the darker end of the spectrum give us a consistently more coffee-forward liqueur."
Cafe a l'Orange
1 1/2 ounce Cardinal Spirits Songbird coffee liqueur
1 1/2 ounce Cardinal Spirits vodka
Orange peel
Combine coffee liqueur and vodka in a shaker with ice. Shake vigorously, then strain into an ice-filled glass. Squeeze an orange peel above the drink to release orange oil. Wipe the peel around the edge of the glass and use for garnish.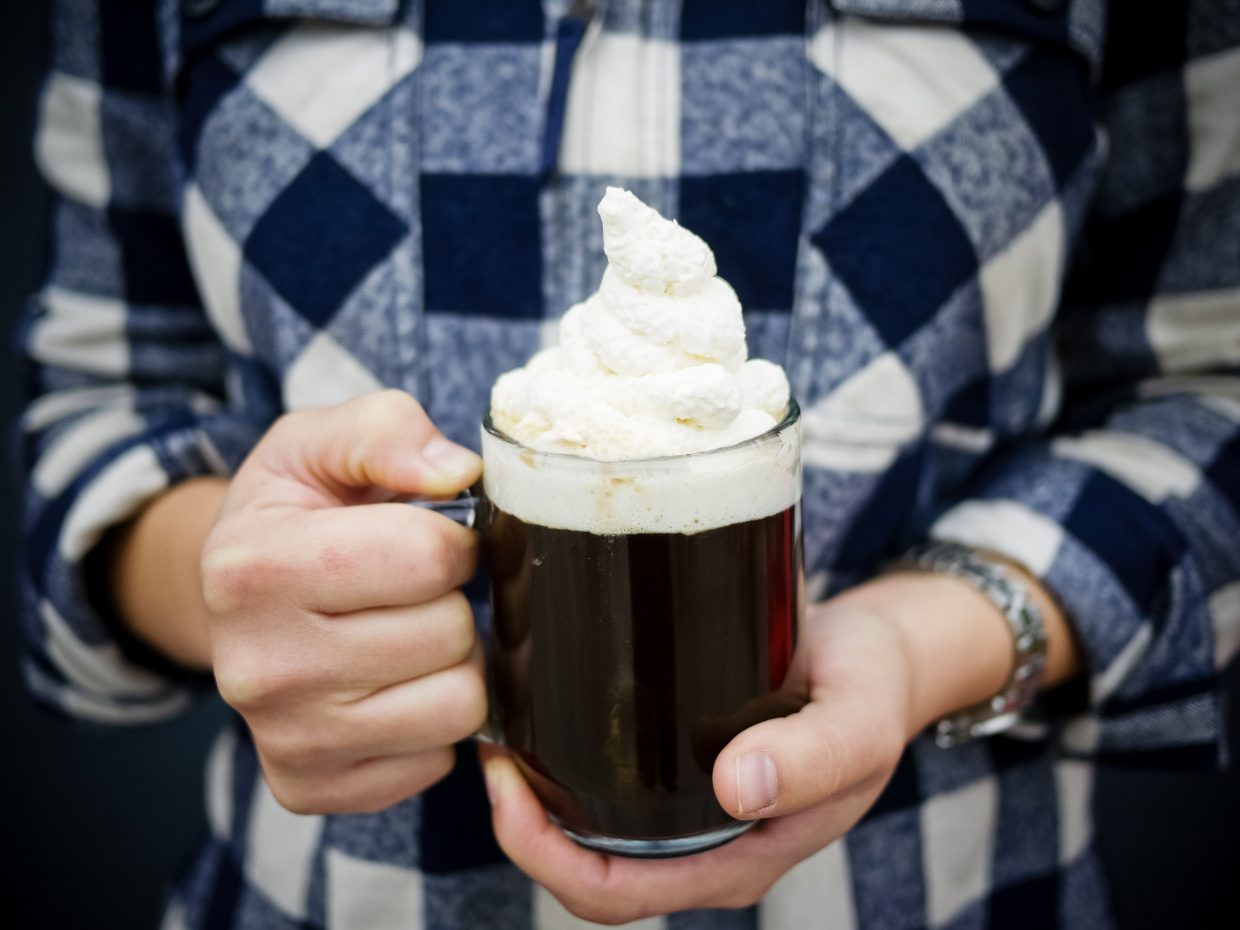 Coffee + Songbird
1 1/2 ounce Cardinal Spirits Songbird coffee liqueur
6 ounces hot coffee
Whipped cream (optional garnish)
Add liqueur and coffee to a mug and give it a stir. Top with whipped cream if you'd like.
Yahara Bay Coffee Liqueur
Yahara Bay, a distiller in Madison, Wisconsin, has made its coffee liqueur in collaboration with several different roasters, including True Coffee Roasters in nearby Fitchburg, Wisconsin, and Madison's Ancora Coffee Roasters.
The current batch was made with a a light-roast-based cold brew from JBC Coffee Roasters, also based in Madison. JBC's Worka Ethiopia is a washed-process coffee from the Gedeb District in Yirgacheffe. The liqueur is made with whiskey, which Yahara's maple whiskey cocktail doubles down on. Yahara Bay's 2-year aged version is aged in southern white oak American bourbon barrels.
Maple Whiskey Coffee Cocktail
1 ounce Yahara Bay whiskey
1 teaspoon maple syrup
1 1/2 ounce coffee liqueur
Cold brew coffee (to fill)
Splash of cream
Cherry and peppermint stick, for garnish
Combine whiskey, maple syrup and coffee liqueur in an Irish coffee mug. Top with cold brew coffee and a splash of cream, and garnish with a cherry and peppermint stick.
Firelit Spirits Coffee Liqueur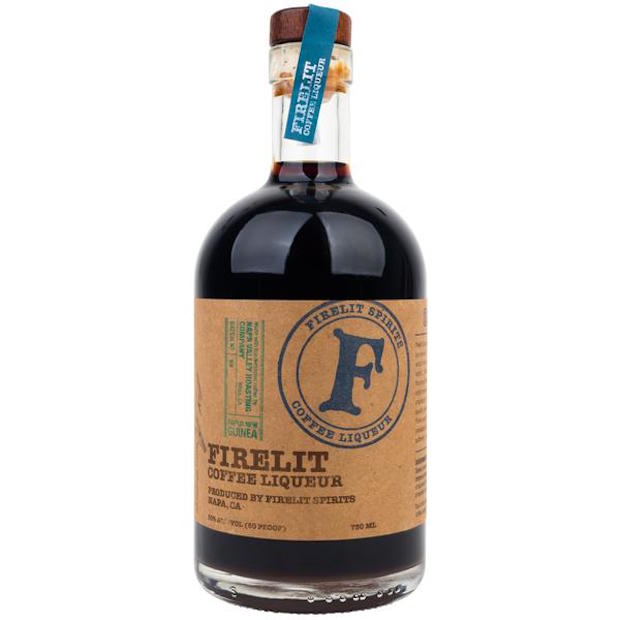 For each new batch of its coffee liqueur, Firelit Spirits tends to work with a different roaster partner, including names like Blue Bottle Coffee, Weaver's Coffee in San Rafael, California, and Napa Valley Roasting Company. The most recent batch was roasted by Metropolis Coffee in Chicago, with beans from Brazil roasted medium-dark.
"The batches certainly change batch to batch," Blueprint Spirits' Jeff Kessinger wrote to Daily Coffee News. "Each batch is made using different small batch roasters with different single origins specifically to highlight the uniqueness of those differences… It's as if the brandy acts as a magnifying glass for the olfactory senses."
Firelit also makes a higher-proof spirit called F-80. Kessinger said the following cocktail, the Revolver, was made for Firelit by the founder of the bar Prizefighter in Emeryville, California.
The Revolver
1 1/3 ounce Bulleit bourbon
1 1/3 ounce coffee liqueur
2 dashes orange bitters
orange peel garnish
Add all the ingredients to a mixing glass filled with ice and stir until chilled. Strain into a chilled cocktail glass, and garnish with a wide strip of orange peel.
Lindsay Christians
Lindsay Christians (@LindsayC608) is a full-time food and arts journalist for The Capital Times in Madison, Wisconsin. She is the host of a weekly food podcast called The Corner Table.