Any coffee business that's managed to endure for a century knows a thing or two about the delicate balance between old and new.
In the case of Washington D.C.'s Swing's Coffee Roasters, founded originally in 1916 before roasting and retailing shortly thereafter, some difficult design decisions came about as major building renovations took place at the company's 17th and G Street location, forcing a temporary evacuation.
The coffee shop, one of three retail locations operated by the company, has been serving patrons coming from the neighboring White House, Old Executive Office Building and World Bank since 1994, with much of the original decor dating back to 1916.
Swing's owner Mark Warmuth recently told Daily Coffee News that the decision to keep or add vintage and antique elements — including a 100-year-old bar, apothecary-style coffee bins, refurbished illuminated branded signage from the 1950s and a custom-painted floor safe — was intended to help connect patrons to Swing's long history in the neighborhood.
However, making those elements part of a cohesive, contemporary coffee shop with gleaming new equipment like a Poursteady automatic pourover machine, Mahlkonig Vario K30 grinders and and a cherry red La Marzocco FB80 espresso machine posed "no small task" for him along with project architects Jon Hensley Architects and general contractor Infinity Building Services.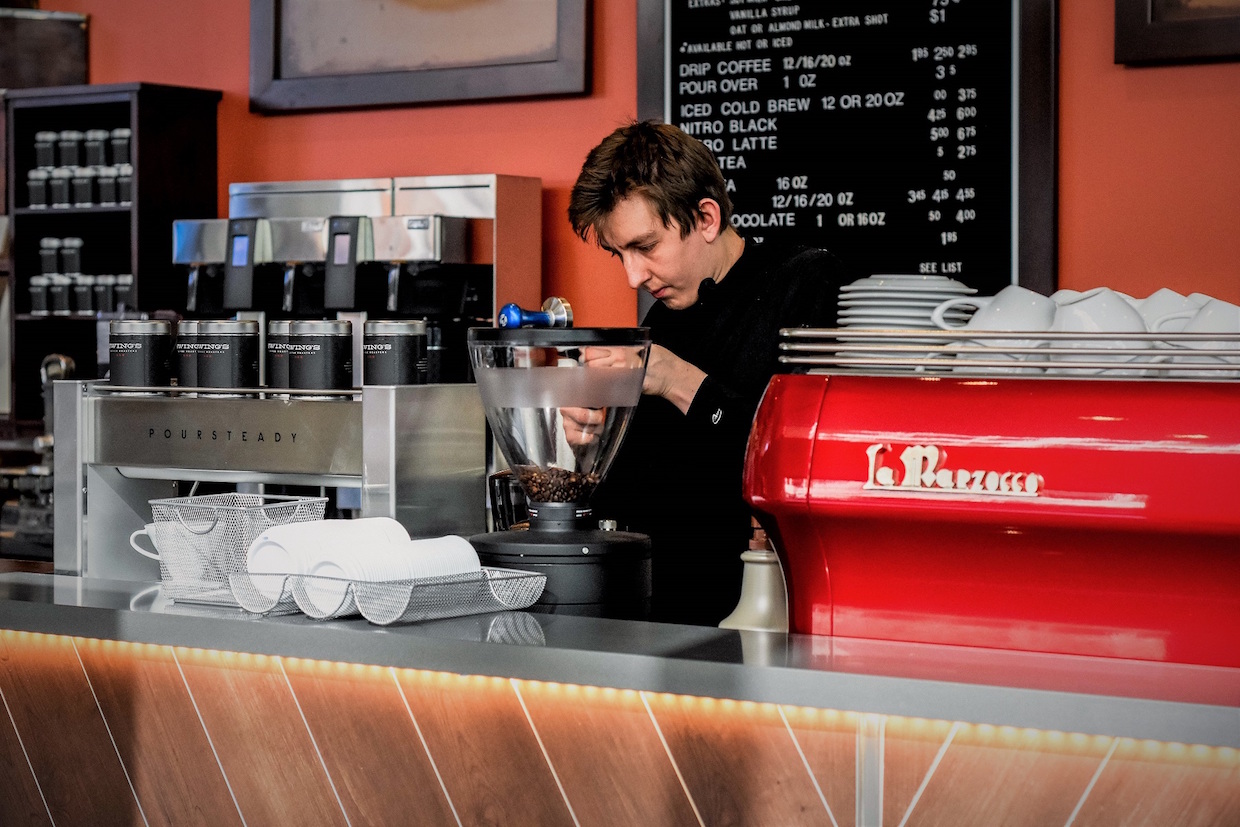 We asked Warmuth more about the redesign project and how he and the project team approached the peaceful marriage of vintage and contemporary.
(Note: This interview has been shortened for space and clarity)
What compelled you to keep or include the vintage elements?
Although there was some discussion regarding the possibility of replacing some of the very dated elements, the historic nature of the original coffee bar speaks to our tenure as a roaster and contribution to DC's business district for decades. It had to be part of the new shop. Over the span of nearly 100 years, hundreds of thousands of pounds of coffee beans have literally passed from one side of that counter to the other. That is significant and a story worth telling.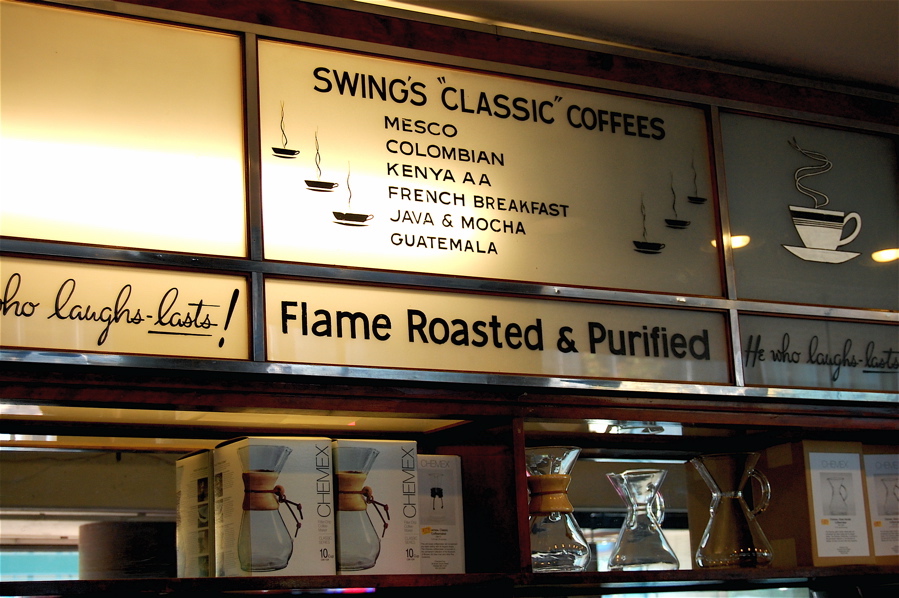 As for the signage, our branding as an iconic coffee roaster is validated by including design pieces from our storied past. When a lot of new shop builds these days include reclaimed vintage fixtures that have been repurposed for coffeeshop use, Swing's is merely continuing use of what we created generations earlier.
How involved were the refurbishments to the bar and the signage?
We went back and forth on whether to refurbish the bar and backlit signage, and brought in a number of artisan woodworkers to evaluate the merits of refurb. Our architect convinced us that the best thing for the look and feel of the shop would be to hold off on any major refinishing and go with subtle, complementary highlights — adding new brushed metal trim to the bar and minor touch-up of the back-lit displays. It was important to retain the patina and authenticity of the coffee bar. I'm not certain of the exact date of the signage, but all the letters and images were hand-painted – which is a bit of a lost art these days.
What were the main functional or aesthetic considerations for adding the new coffee equipment?
We had previously equipped this bar with a 4-group FB80, and knew that the volume of customers for this location would command a machine of this size. Workflow allows us to position a barista on both sides of the FB80 with plenty of boiler capacity to crank out a massive number of lattes and cappuccinos during a busy shift. The traditional red color for this machine from La Marzocco actually is integrated into our logo, matching the three red stars from the District of Columbia's flag.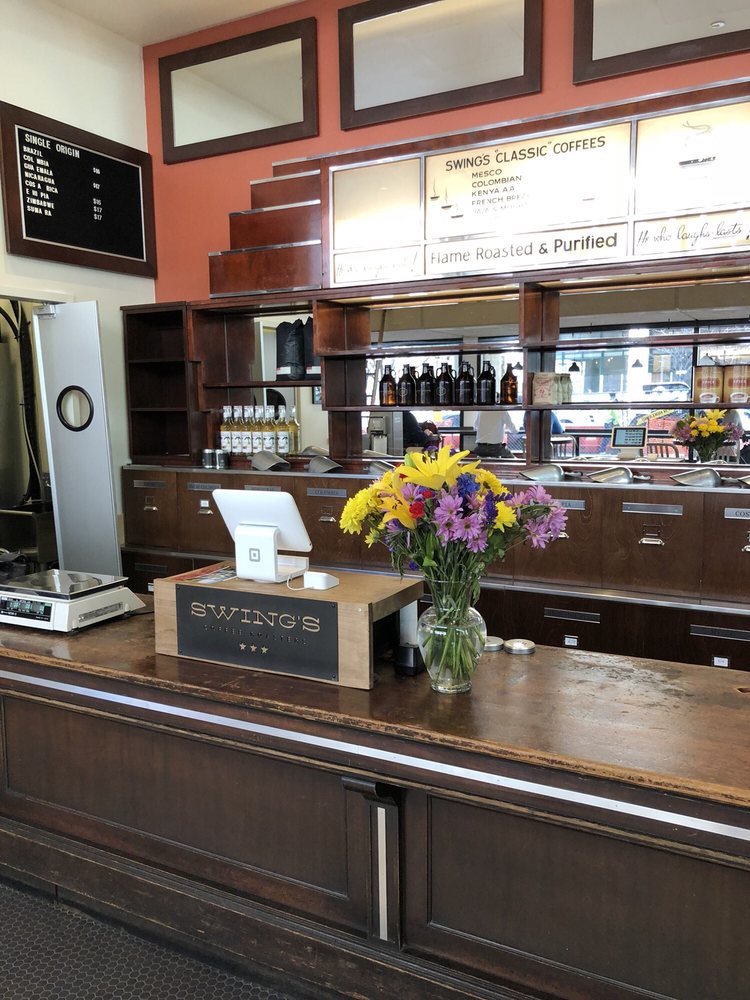 Since we introduced the Poursteady at our roastery coffeebar a few years back, we have included it in our new shop designs going forward. It has proven to be a very consistent and efficient brewer allowing us to highlight some great coffees from our pourover menu.
What's next up for you?
Swing's is currently very busy with a roastery project that will enable us to scale out our cold brew/nitro cold brew operations, piloting centralized cold brewing for distribution to our shops and wholesale clients… Additionally, we have invested in roastery equipment that will improve efficiencies with regard to how we get our coffees to market. As we have grown substantially as a roaster over the past few years, it has become very necessary to reinvest into back-of-house operations.
Nick Brown
Nick Brown is the editor of Daily Coffee News by Roast Magazine.