After a five-month hiatus, Bloom Coffee Roasters has opened the doors to its newly renovated cafe and roasting space in the Old Town district of Lansing, Michigan. The four-year-old coffee roasting business had introduced the cafe space in June of 2016, just a year and a half prior to making the decision to close up shop for a reboot.
Bloom's owner Jared Field told Daily Coffee News that the cafe had to shut the operation down due to a "health department-inspired" renovation. The coffee roasting side of the business carried on, but Field took the opportunity to make some tweaks to the cafe space that he was leasing.
When Field made the decision to close at the end of December, the future of the cafe was still uncertain due to financial and personal reasons. After losing some staff during the downtime, Field has reopened Bloom with two new investment partners along with operational help from cafe manager Chay Menke.
With the renovation, Field was able to realize his vision for the space, particularly in creating a new bar flow and a sense of simplicity. The expansion included the addition of a U-shaped bar with 11 seats. There was also the addition of a community table, replacing the individual tables from before, and two new wall bars in addition to the existing window bar.
The traditional menu board and counter service have been replaced with a new service approach that combines increased interaction with some technological efficiencies. Customers may sit where they'd like, and Bloom staff will bring over the iPad with Square to take their order. Field said that this allows his staff to focus on the guests they are serving and to ensure they are comfortable to make a decision about what they'd like, without the pressure of someone who hasn't had their coffee yet rushing them along. 
"I feel like it kind of has a Fleet Foxes, Bon Iver, wintery vibe, even though sometimes we're spinning super warm and funky Fela Kuti," Field said of the vibe in the new space. "We wanted to minimize the distraction and allow people to focus on their conversation, or hopefully their coffee."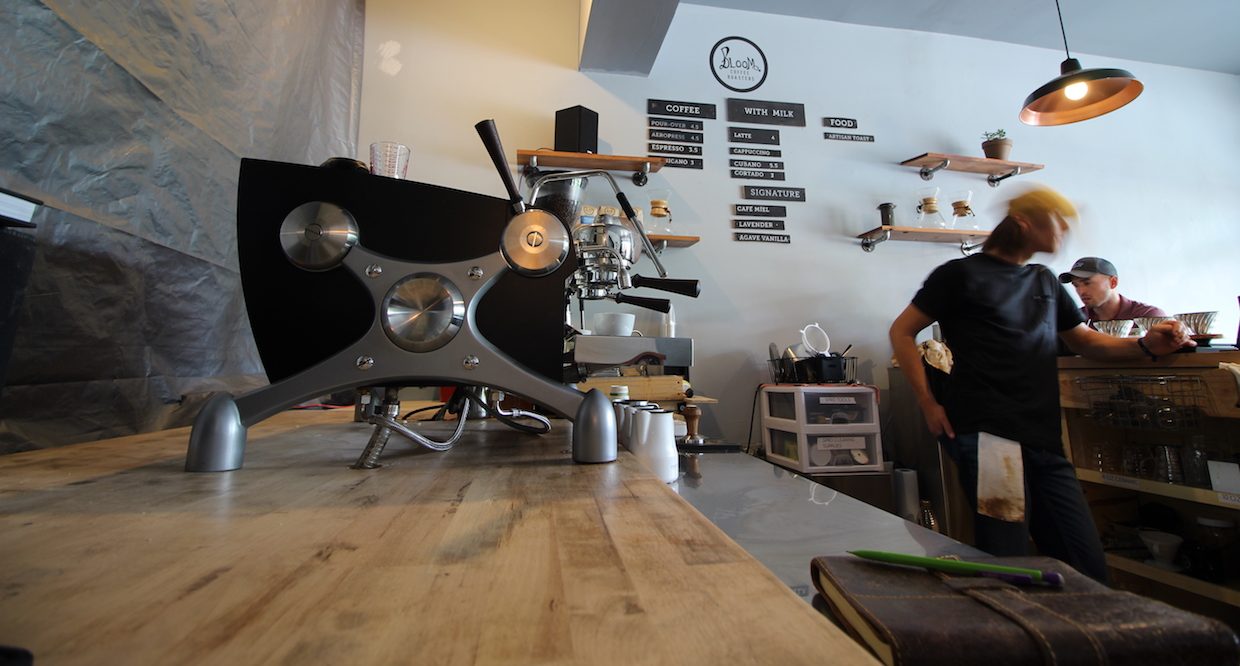 The cafe's Slayer Espresso 2-Group espresso machine is a highlight of the back bar, while brewed coffee is prepared on the front bar using Hario V60 and Aeropress. 
The roasting operation received perhaps the biggest upgrade, with a Probat L12 roaster now in the back of the Bloom space, greatly increasing the capacity allowed by the previous 2-kilo Victory machine.
Field's goal with the renovation was to create something "completely coffee-centric in nature, and to avoid something that was totally, like, shoved in your face." He added, "We used to call ourselves a community establishment, yet we only had four seats at the bar and a bunch of two-top tables. The menu was riddled with stuff that masked the flavor of the coffee, rather than highlighting it. Mostly, we wanted to live the brand that we built, and speak its language."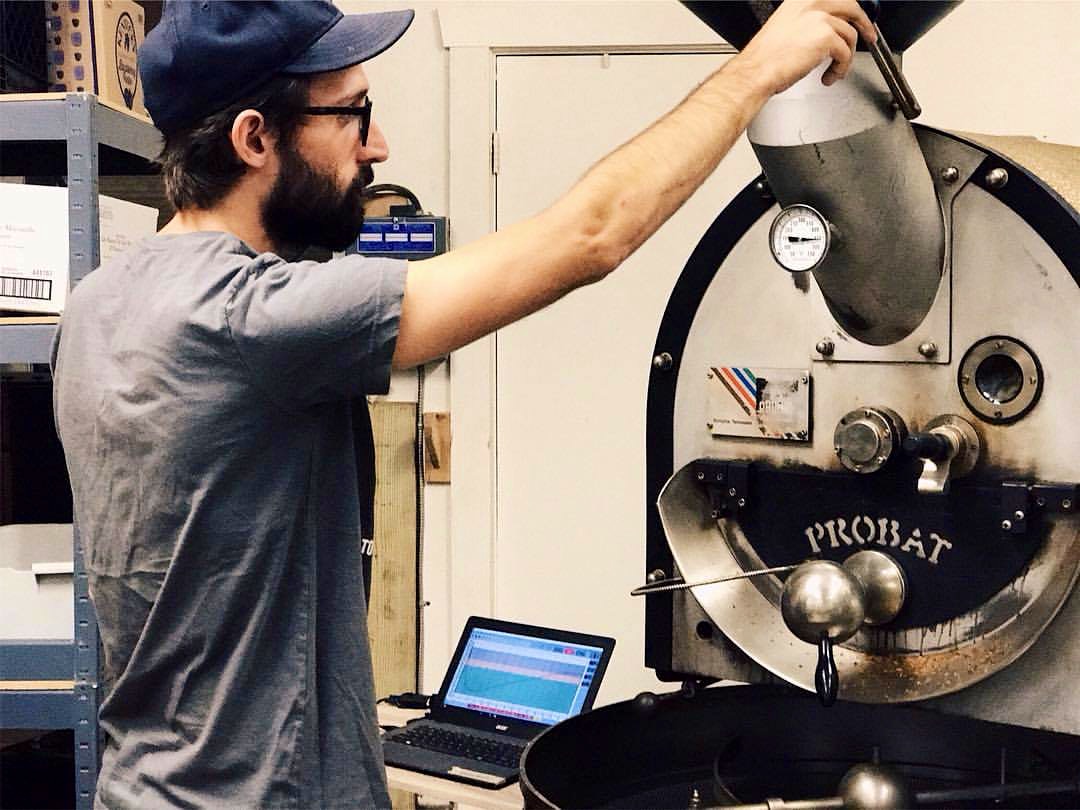 Lansing has a vibrant coffee culture that runs the gamut of options for local coffee drinkers, according to Field. However, he noted that there are just two other cafes locally that he would consider "third wave" coffee establishments: Strange Matter Coffee Company and Craft & Mason Roasting Co. 
"There are some [others] who do a great job at what they do, whether it be the coffee cocktail thing, or creating a warm, inviting space for their coffee drinkers," said Field. "But we are more about the art and the science of coffee, and working towards creating undeniably killer coffee products."
When Field was working as a production roaster at Water Street Coffee Joint in Kalamazoo, Michigan, he began to take more interest in understanding the roasting process and learning how small adjustments play a major role in impacting the coffee's flavor and aroma.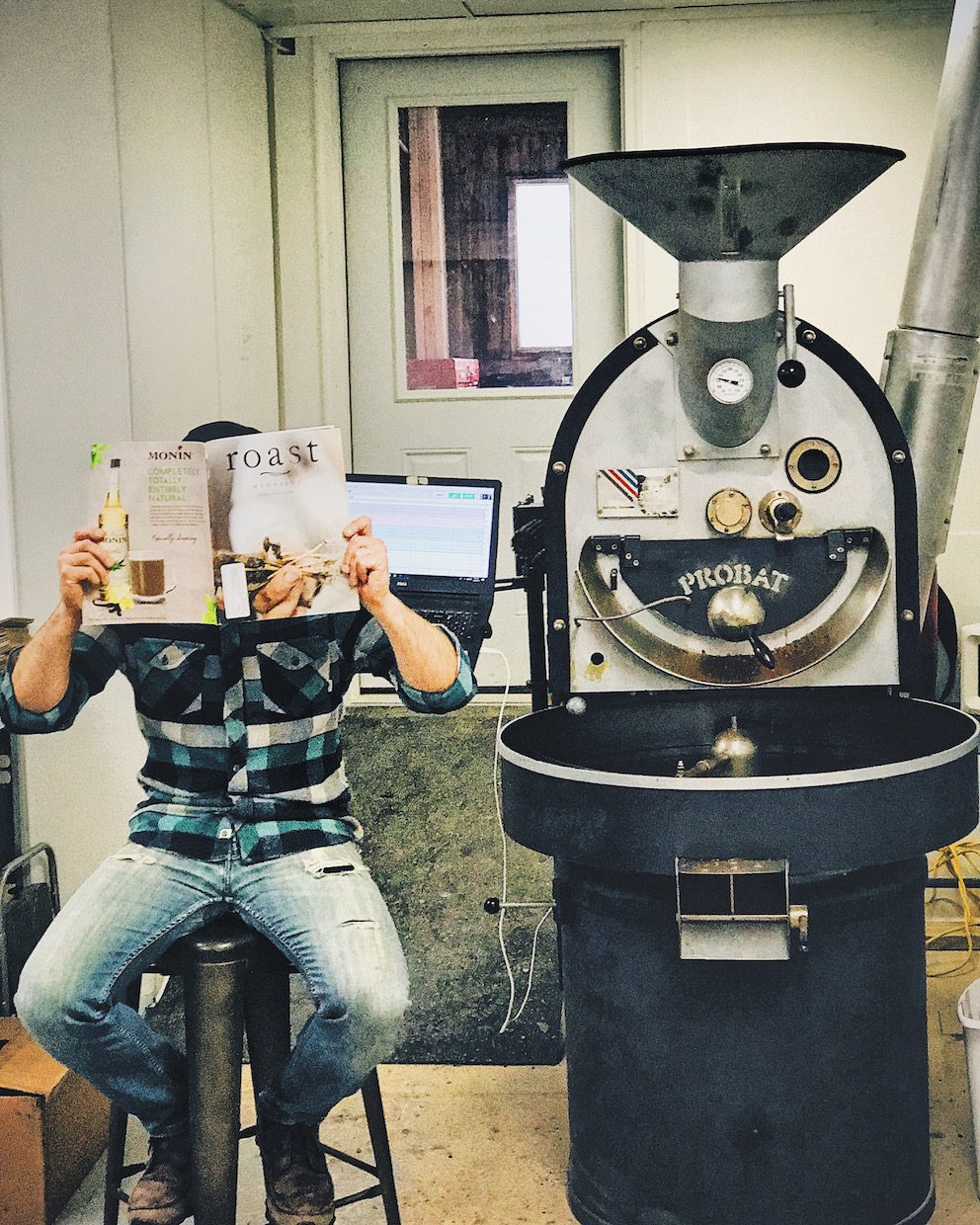 "I learned rather quickly and began to take my studies home with me every night," Field said. "I bought all of the books — literally, all of them. It was something that I just became fascinated with. Having graduated with a journalism major and music minor in 2012, I was aware that my job marketability was slim to none. When I realized I had hit a dead end as a production roaster, I thought, 'Why not pursue coffee?'"
Field continued to roast at Water Street while he contemplated, and finally took a stab at writing a business plan. When his first self-developed roast profile placed second at a cupping competition, Field had his lightbulb moment, which set things in motion.
"It was that moment that pushes you past contentedness with your current situation and causes you to explore the unknown," Field said. "When I left, I was stepping to the edge of the cliff, and I dove off into the turbulent waters of entrepreneurship."
Bloom Coffee Roasters is now open at 1236 Turner St. in Lansing.
Lily Kubota
Lily Kubota is the managing editor and digital content manager for Roast Magazine. She is based in Southern California.