Sarah Leslie is the current chair of the Barista Guild of America (BGA) and has been involved in coffee at many levels over the past 12 years, working as a barista, manager, trainer and educator at various coffee companies in New York City such as Gimme! Coffee and Irving Farm Coffee Roasters. This year, Leslie is making the big leap to owning her own cafe, called Leslie Coffee Co., in the Delano neighborhood of Wichita, Kansas, the hometown to which she recently returned.
Getting her start at a neighborhood cafe in Windsor Terrace, Brooklyn, when she was in college in 2006, Leslie worked in coffee while she earned a master's degree in cinema studies from New York University. Her coffee mastery did not come overnight.
"[At first], I was so nervous about talking to customers and making mistakes — I think I was fairly terrible — but there were a few regulars who I figured out how to please," Leslie recently told Daily Coffee News. "I have no idea what coffee we used. It came in a big trash can and we scooped it into all the hoppers as needed. My co-worker told me that he had seen someone pour milk to make a heart design, but neither of us knew how to do it. But once you have a little experience on your resume, it's not so difficult to find another job in coffee, so I started to work my way up through shops that were more and more serious about coffee in New York."
When it opens later this fall, Leslie Coffee Co. will be the culmination of a dozen years of Leslie honing her coffee chops. The space will include a training room, doubling as overflow seating, where Leslie plans to provide classes on home brewing techniques and best practices, barista training courses, and other educational events. The shop will open this fall as part of the historic Westside Independent Order of Odd Fellows building in Wichita.
We caught up with Leslie to ask about her goals for the new shop, and her involvement in the coffee community and the BGA.
What made you want to open a cafe of your own?
I want to make my community a better place, and a coffee shop is the best way I know how.
What is your vision or goal for this new space?
I think great coffee is often about finding the optimum balance, and a great coffee shop does the same. I hope to create a shop that offers a specialty product in a very approachable way, where the knowledge and professionalism of our baristas is balanced by our warm and inviting hospitality.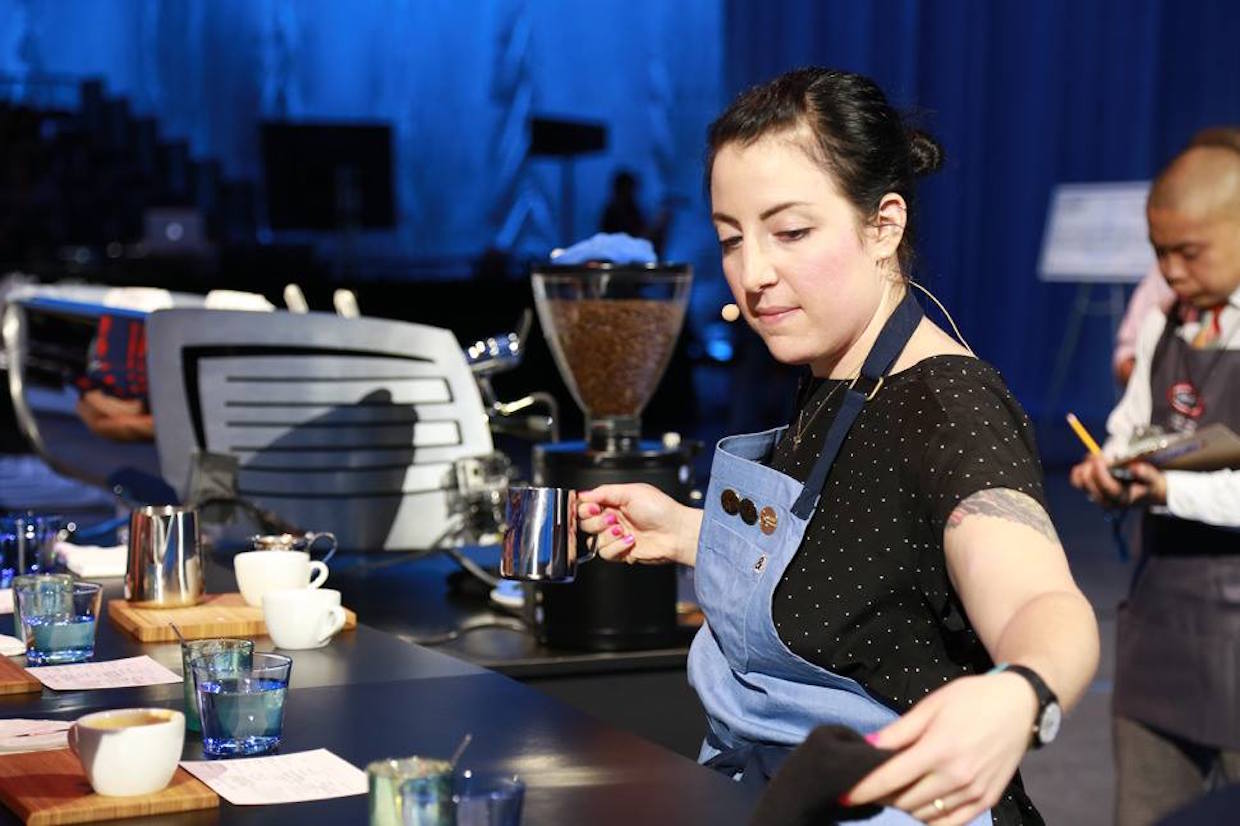 When and how did you become involved with the Barista Guild of America?
I first became aware of the Barista Guild of America (BGA) in 2010 when I competed in the Northeast Regional Barista Competition and passed my Barista Level 1 certificate exam. I became very involved as a station and lead instructor for what came to be called the Barista Pathway program through the Specialty Coffee Association of America… I served on the Pathways Committee for two years before being elected to the BGA Executive Council. I'm currently chair of the Executive Council and part of the unification committee between the BGA and Barista Guild of Europe (BGE).
How has serving on the Executive Council shaped your path in the industry?
Serving on the Executive Council is a huge commitment of time and energy, but the relationships I've made with the other volunteers I've met, particularly the other EC members is incredibly meaningful to me. We all support each other professionally, which I've been very grateful for on many occasions — especially now, as I'm working on opening my own shop.
Three Questions with Sarah Leslie
What inspires you most about coffee?
The people.
What troubles you most about coffee?
When I need coffee and don't have any, that is pretty troubling.
What would you be doing if it weren't for coffee?
I would be very, very sleepy.
Lily Kubota
Lily Kubota is the managing editor and digital content manager for Roast Magazine. She is based in Southern California.