The independent, specialty coffee scene in Long Beach, California, has been steadily growing, offering coffees that represent an enticing departure from the same old blends put forth by the most popular chains.
New business owner Alan Gomez jumped in to this specialty market in the spring of 2017 with a multiroaster shop in Long Beach's Zaferia neighborhood that's oddly enough called Commodity. Over a seven-month buildout, Commodity has now moved next door to the original location into a larger space with more opportunity to grow and differentiate itself.
An added benefit of the move is the new neighbor Analog Record Shop, which moved into the previous Commodity space and is now connected through a glass door and windows.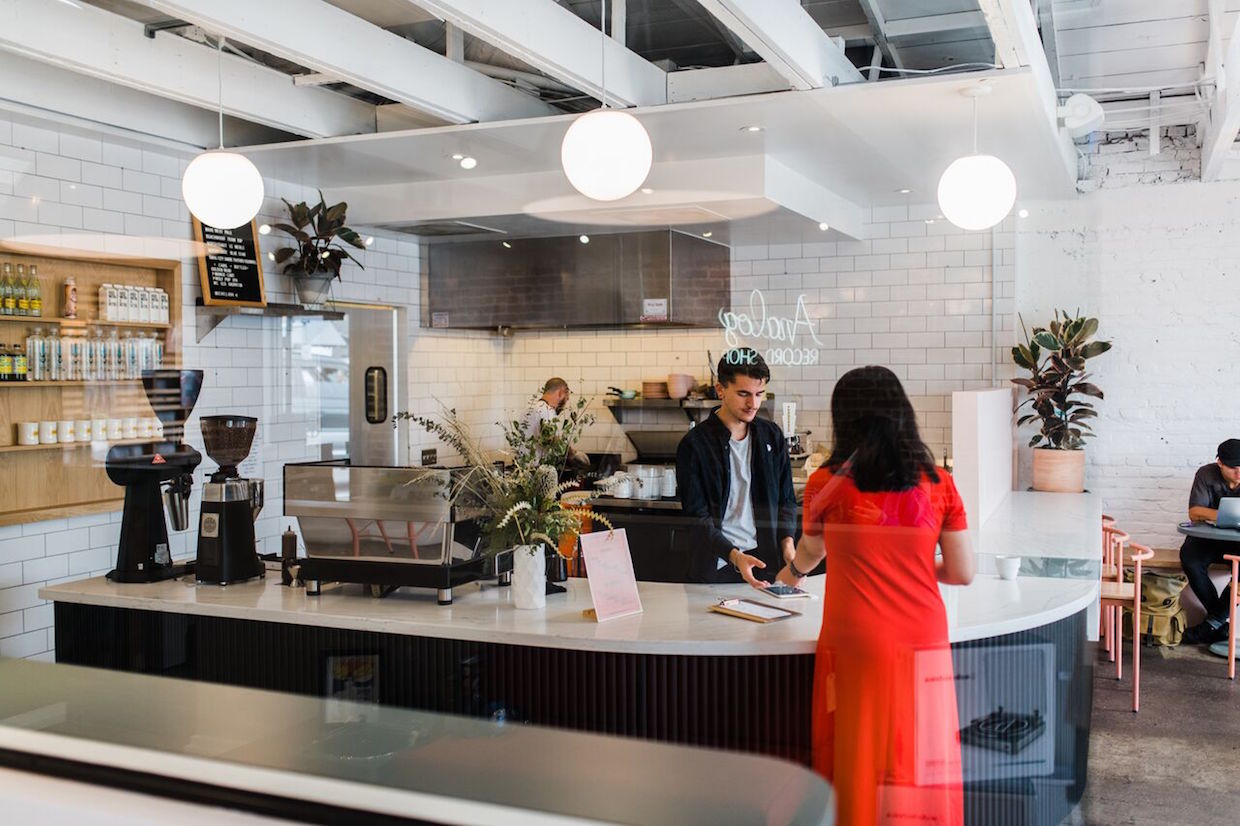 "I partnered with a local designer, Eric Trine of Amigo Modern, to design the new space," Gomez, a former coffee enthusiast turned longtime coffee professional, told Daily Coffee News. "He very much captured what I wanted — something minimal, but inviting. I feel like our cafe definitely says that."
The neighborhood surrounding the shop is culturally and economically diverse, said Gomez, and while businesses was relatively slow when the doors first opened last year, support from the neighborhood association and more recognition in general resulted in more visits from all kinds of people.
"After a while, I really started investing in my community, and Long Beach really started loving my spot," said Gomez. "It's still pretty crazy to think that people want what I'm selling."
On the bar, Commodity is using a La Marzocco Linea espresso machine with a Mazzer Kony grinder, while a Mahlkonig EK43 grinder supports Curtis G4 batch brews. The shop also offers single pourovers using Kalita Waves.
Current roasters on the Commodity menu include North Carolina's Black & White Coffee, Paris-based Belleville Brulerie, western Michigan-based Madcap Coffee, Los Angeles-based Mad Lab Coffee, and northwest Arkansas-based Onyx Coffee Lab.
"I always just look for coffee that tastes good with a good support system," said Gomez. "We like serving coffee that tastes good, roasted by people that care about us — because absolutely care about everyone we buy coffee from, and we most certainly care about everyone we serve coffee to."
Since beginning a career in the specialty coffee industry, Gomez has competed in the U.S. Barista Championship, roasted coffee, rebuilt and maintained espresso machines, and trained staff in quality control and latte art. Gomez had been considering starting a cafe for years, but never moved forward because it felt unattainable.
"When my wife and I moved back to Long Beach from Los Angeles, I didn't have a job lined up," said Gomez. "I really didn't want to go through rewriting resumes and interviews, so I decided to just go for it and open a cafe. I started as a popup inside a men's shop in Laguna Beach… Then, after a year, I signed a lease and opened a cafe."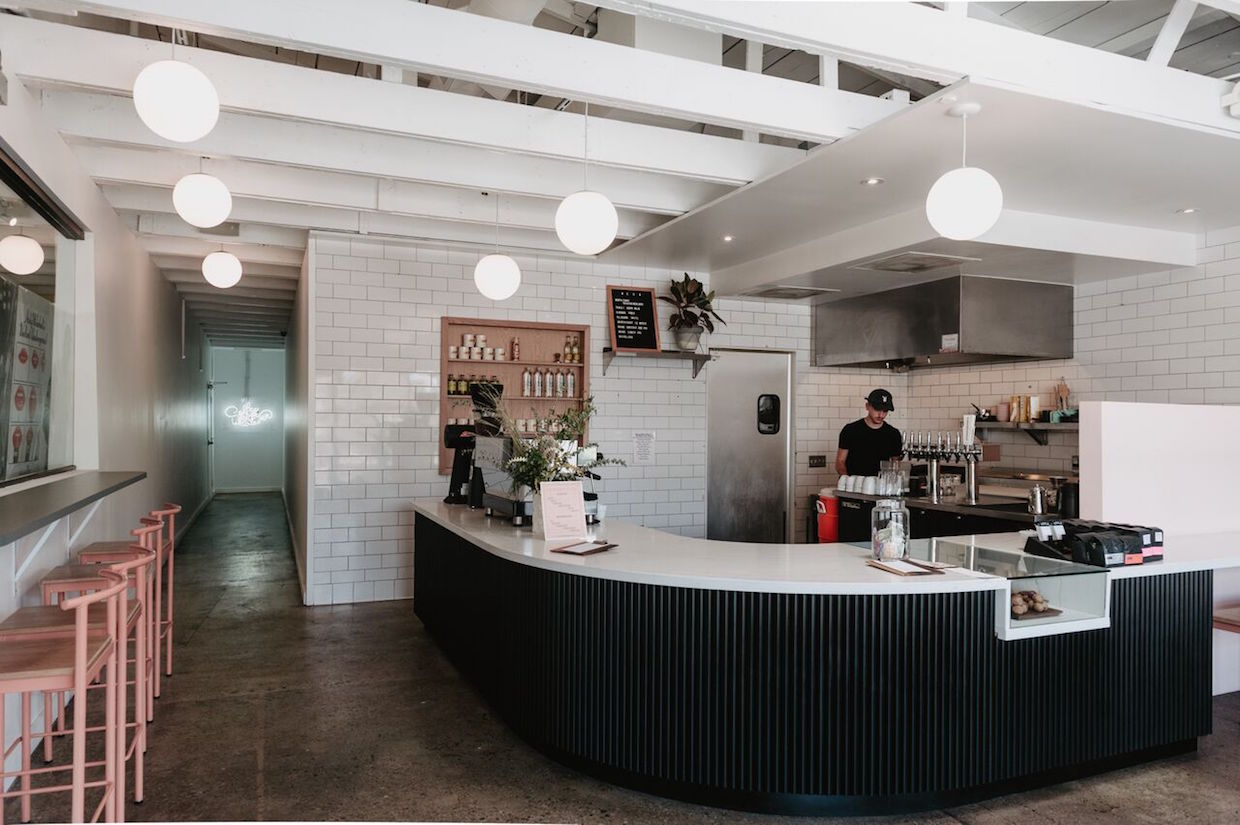 With not much cash and little name recognition outside some specialty coffee circles, Gomez had to prove himself and the viability of the business to the landlord before he was able to sign a long-term lease.
"I sold him on the idea and opened after a one-month buildout in the least-put-together space," said Gomez. "My father-in-law built 75 percent of what used to be my bar/counter. For my main espresso bar, I was using a popup cart that I had purchased used. All of my furniture was from Ikea or Amazon. When you have no money, you just have to do with what you have."
After nearly half a year in the temporary space, Gomez was able to obtain the building next door, which included plumbing and drainage for a proper cafe. He was also able to secure the beer/wine license that was attached to the address.
"We definitely faced some challenges when dealing with contractors and the city," Gomez said of the buildout of the new space. "Everyone is always doing multiple jobs and working with multiple people, so sometimes your project is put on the back burner, which can create a lot of frustration — and the city is almost always impossible to deal with. I feel like I could go on forever with buildout troubles."
With the tagline "Coffee or Whatever," Commodity now has a full kitchen, with pastries and food prepared in-house, and carries a selection of beer and wine, as well.
Commodity is now open at 1322 Coronado Ave. in Long Beach.
Lily Kubota
Lily Kubota is the managing editor and digital content manager for Roast Magazine. She is based in Southern California.