Though the sister city to Los Angeles in Brazil is São Salvador, a new coffee company called S P L A is inadvertently making a respectable case for that title to be shifted to São Paulo.
With an emphasis on Brazilian microlot coffees, its own take on cafezinho and a drink named after the late São Paulo rapper Sabotage — a.k.a. "the Tupac of Brazil" — S P L A is providing a bridge to Brazilian culture along with its quality brews and tasty bites..
Having helped start the quality-focused, farm-direct Isso é Café coffeehouse in São Paulo, and as the Nossa Familia regional manager that laid the foundation for vertically-integrated Oregonian/Brazilian company's expansion to DTLA, S P L A owner Alex Kipling's connections to coffee in Brazil, and to Brazilian coffee in the U.S. for that matter, run through virtually every link in the chain.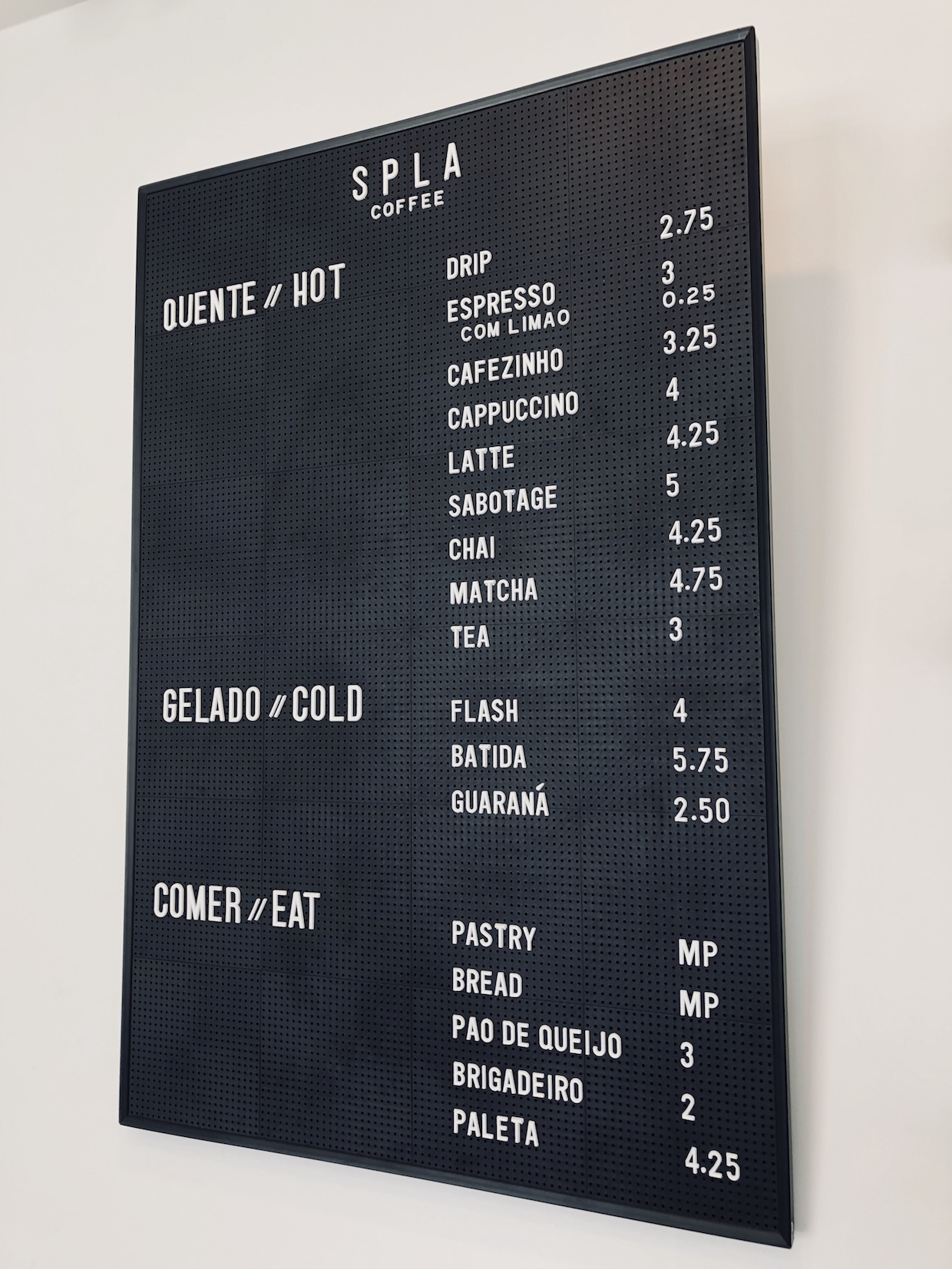 "Our goal at S P L A is to feature a mostly Brazilian lineup of microlot coffees," Kipling told Daily Coffee News. "We are very well-connected with some of the best producers [and] growers in the region, and are excited by the newest coffees coming out of São Paulo, Minas Gerais and Espirito Santo."
In the 350-square-foot shop clad almost entirely in grayscale materials, a silver 2-group La Marzocco GB5 reflects the geometric logo found on the company's bags, merch, cups, and handmade ceramic tiles ordered from Brazil intended to replicate the tile found on the streets of São Paulo.
Batch brews are also on offer, as is a blended São Paulo-inspired Batida drink and Brazilian bites such as Brigadeiro and Pao de Queijo.
"We spent so much time deciding on what core elements would allow us to reflect the urban city culture of São Paulo," said Kipling. "We played around with lots of greys to bring out the 'cidade de concreta' — São Paulo's nickname is City of Concrete. We also focused on sharp geometric shapes. São Paulo is known for its very intense urban architecture and design."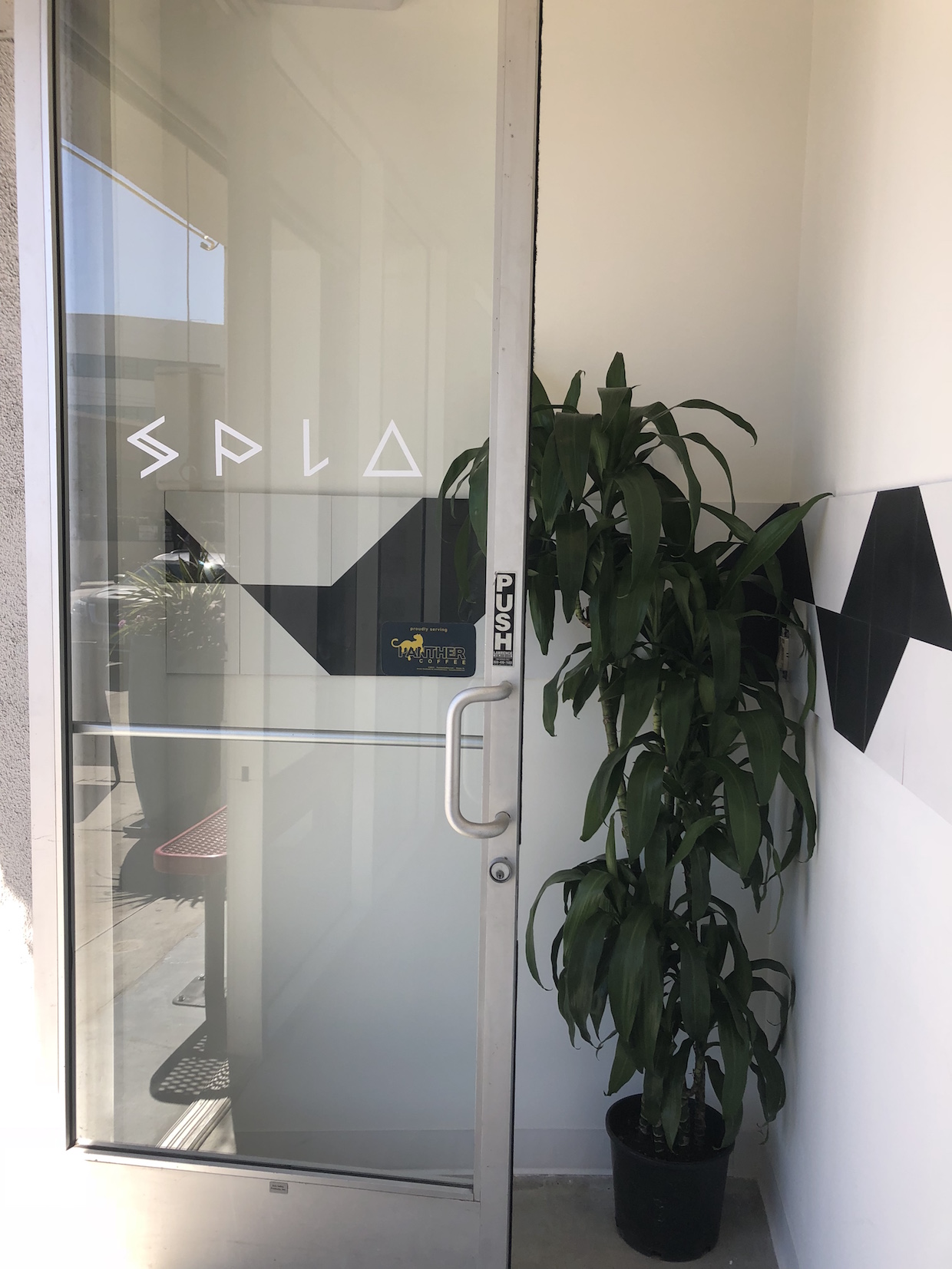 The coffee at the heart of the operation is roasted by Miami-based Panther Coffee, which Kipling said was a tough choice.
"Nossa Família is like family, and in terms of relationships, this was a hard decision to go with another group," said Kipling. "Both Nossa and Panther are quality specialists, but with Panther Coffee, we had the awesome opportunity of bringing them out to the West Coast and featuring more of an eclectic, diverse program with them. Plus, they are female-owned by a Paulistana [woman from São Paulo]!"
Despite the Panther partnership, Kipling also hopes to launch an in-house roasting operation by the end of this year.
"Felipe Crocê, owner of Isso é Café and FAF Coffees, is a good friend," said Kipling. "We are planning on working together to create a fantastic Brazilian microlot program."
The new company intends to open several more S P L A shops in LA and eventually bring the project full circle with a shop in SP.
S P L A is open now in Los Angeles at 714 N Figueroa St.
Howard Bryman
Howard Bryman is the associate editor of Daily Coffee News by Roast Magazine. He is based in Portland, Oregon.