As Brooklyn, New York-based Eleva Coffee celebrated its first year in business last month, the coffee roasting company reached another, more meaningful milestone: the completion of a major renovation project in Peñas Blancas, Nicaragua.
As a result of the effort, more than 300 children at a local school now have access to a new, sustainable, sanitary latrine and a kitchen powered by an innovative bio-degassing system.
Emilio Baltodano, founder and owner of Eleva, spent 15 years as a marketing executive at Mercon Coffee Group before he decided to start a coffee company. With Eleva, Baltodano is aiming to offer aficionados a positive and uplifting, yet affordable, coffee experience, while simultaneously helping to lift up the small farming communities that make great coffee possible.
Eleva is currently sourcing its coffee directly from producers in the coffee growing regions of Nicaragua, Guatemala, and Ethiopia, building on relationships that Baltodano cultivated during his decade-and-a-half working for a coffee trading firm.
"I was exposed to all kinds of coffee farmers, from large corporate-style farms to individuals," Baltodano recently told Daily Coffee News of his time at Mercon. "For Eleva, I have made a point of choosing small farming communities that grow premium coffee, and that I know have the potential to be sustainable. The farmers we work with are open, and committed to, innovating and working together to improve the standards of living in their communities."
For its first project, Eleva raised $16,000 to provide an elementary school in Peñas Blancas with safe facilities and a healthy learning environment for the next generation. Now with a kitchen for the first time, the school is able to participate in a government school snack program that provides food for the children during the day. The new outhouses have bamboo exteriors and a waste removal system that uses a process called bio-degassing to turn the bathroom waste into gas to power the kitchen.
"Peñas Blancas, in the high-altitude region of Jinotega, Nicaragua, produces delicious, flavorful coffee, but the farmers barely subsist on the income they make and the local infrastructure there is weak," Baltodano said. "We were thrilled that not only were we able to give the school better bathrooms, but also a kitchen that ensures the kids aren't hungry and can focus on learning."
With a goal to complete at least one infrastructure project in an origin partner community each year, Eleva is ahead of schedule with another recent undertaking: a project in the community of Santa Palencia, Guatemala to repair two local schools. 
For this project, Eleva partnered with McCombs Business School at the University of Texas in Austin to bring 12 students to work on the renovations. The students also raised funds to help pay for the supplies, with which they were able to stabilize the foundations, repair roofs and windows, and repaint the interior and exterior of the buildings.
"The most meaningful aspect of that trip for me was that [the university students] lived in and with the community," said Baltodano. "The owner of the coffee mill created a dorm for them inside the mill, with air mattresses on the floor and an outdoor shower. The woman who is the local mayor cooked their meals. In the afternoons, the students played baseball with the kids and attended Q&A sessions with the coffee farmers where they learned about their work, their challenges, and their lifestyle."
Back in the States, Eleva's coffee is passing through drum roasters at a family-owned facility in New York City. Baltodano said he oversees the roasting process for each batch to ensure that the coffee meets his standards.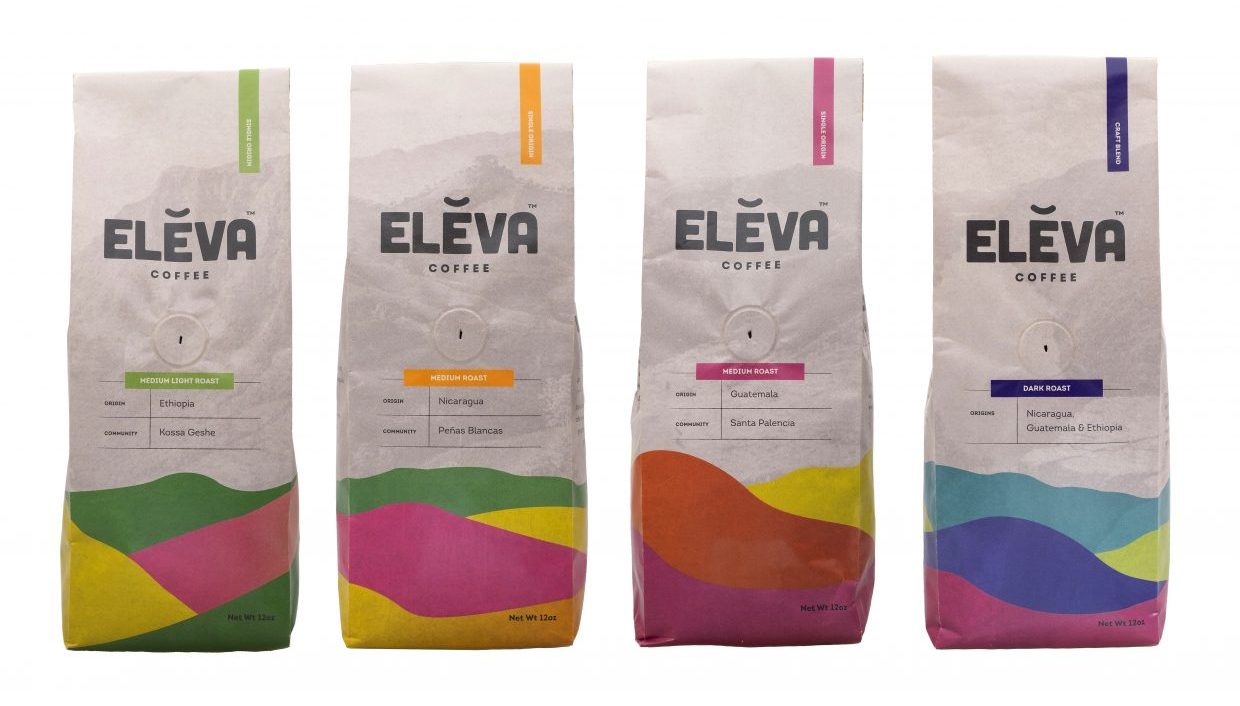 "I believe that most premium coffees are best enjoyed when they're roasted a medium or medium light roast, so that's what I do with our single origins," Baltodano said. "We also have a dark roast blend that combines all three of our single origins."
The mountains pictured on each Eleva label are from the coffee's respective country of origin, Baltodano added. For Eleva's dark roast blend, the mountains are the Adirondacks, because the blend was created by bringing all three of these origins together, in New York.
Lily Kubota
Lily Kubota is the managing editor and digital content manager for Roast Magazine. She is based in Southern California.