From a corner of the kitchen of Minneapolis baking company The Salty Tart, a new aroma has been wafting of late — the buttery, popcorny and bread-like bouquet of roasting coffee. It emanates from a 2-kilo-capacity Mill City Roasters machine operated by a new Twin Cities outfit called SK Coffee.
SK Coffee Co-Founders Sam Kjellberg and Nate Broadbridge have drawn upon Kjellberg's Swedish ancestry for inspiration in branding. The company's Dalecarlian horse logo — composed of angular, colorful geometric shapes — ties Kjellberg's Swedish family roots with an equally Scandinavian modernity, while the beans inside the bags are subject to Kjellberg's own interpretations.
Prior to relocating from Boston to Minnesota a couple years ago, Kjellberg was a freelance singer and conductor, teaching music at the university level and playing the drums. Instinct, rhythm and a sense of harmony are among the variables at play as beans tumble through the bigger, heavier drum that's become Kjellberg's central focus today.
"My training is in music and philosophy," Kjellberg told Daily Coffee News. "Like a responsive musician, in roasting I find that I tend to listen and react to the moment more readily and openly, rather than following prescribed profiles."
Kjellberg said that he adheres more to his senses and his intuition than following a course charted by settings and measurements, although the final notes of the roast ring out, as it were, consistently towards the final snaps of first crack.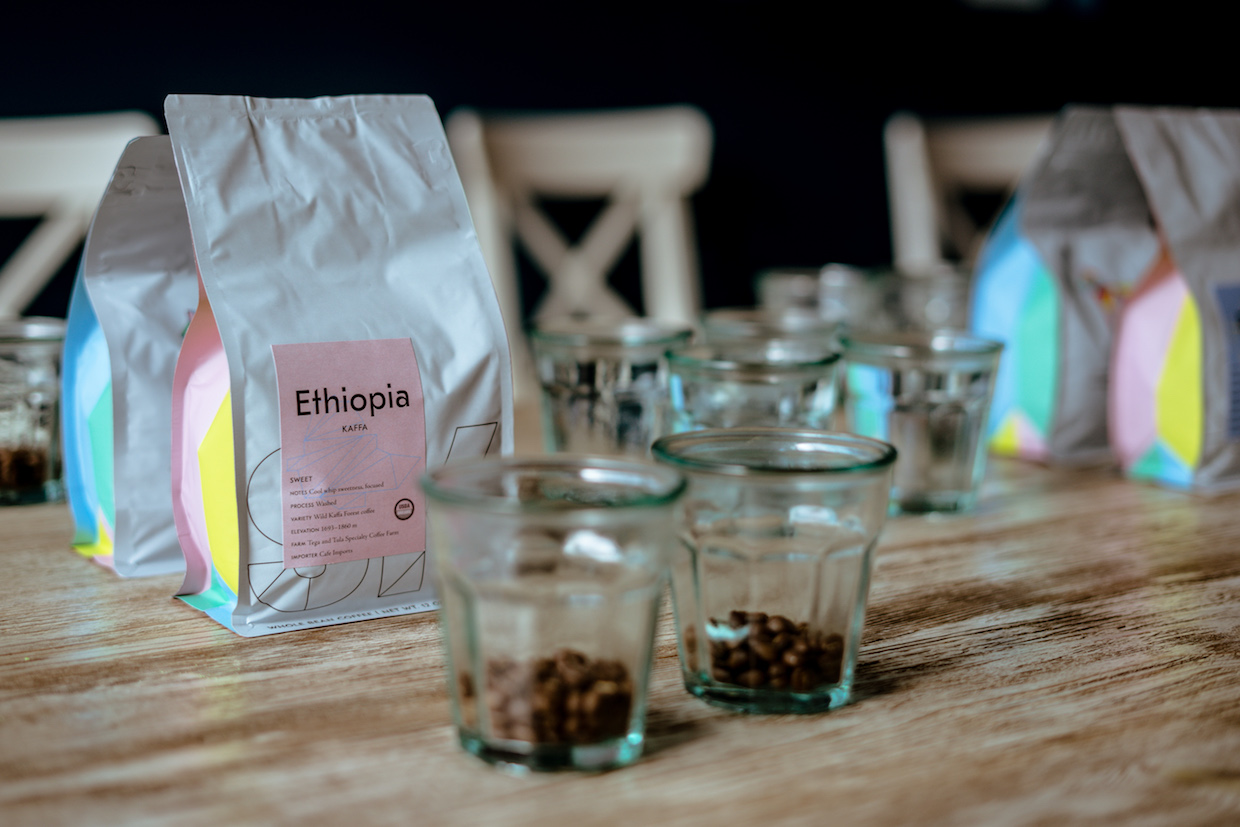 "I want a well-balanced bean, regardless of color," said Kjellberg. "One that offers the idiomatic qualities of that specific bean's sugar structure in addition to an enjoyable body and mouthfeel."
The company has turned to its friends at Campesino Mateo for Peruvian coffees, De La Gente for beans from Guatemala and Cafe Imports for offerings from various other origins, which are roasted in the 200-square-foot area within the bustling kitchen.
"It's cozy in there, but we love the energy, vibe, and bootstrap-ness of our current state," said Kjellberg. "One way we live out our mission is to keep overhead low. We don't need much space to roast, so we only take up what we need. And it keeps rent down, which, in the Whittier Neighborhood, is significant as it is the most populated neighborhood in the state of Minnesota."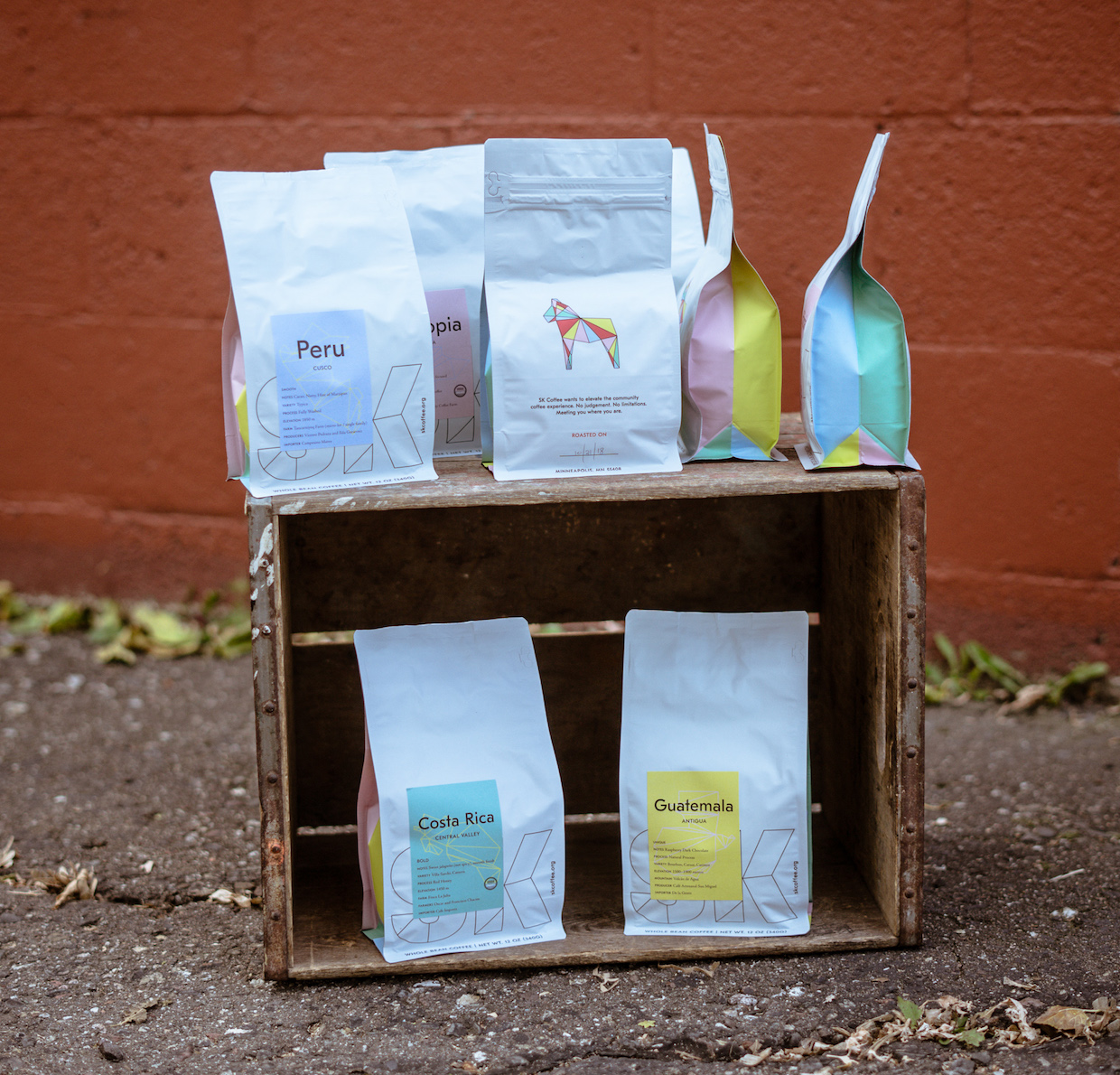 SK Coffee leans hard on its online subscription service, enjoying the intimacy of delivery straight to people's homes and aspiring to business models like that of Dollar Shave Club and the coffee-focused Misto Box. Yet the company also strives to foster a greater sense of connection between consumers and the farmers, and the importers for that matter, rather than just to itself as the roaster.
"We believe that the person who roasts the coffee is not nearly as important as the producers at coffee's conception and the importers who take on all the risk," said Kjellberg. "When granting customers variety and experience, offering many roasters' perspectives, to us, is less important than bringing our customers on a guided and educational tour of the global coffee fabric."
While an SK Coffee cafe is a distinct possibility moving forward, according to Kjellberg, more immediate concerns include the company's corporate coffee and gift program, growing the subscription service and directly engaging the public at first with more popup cafe experiences.
Said the Scandinavian-blooded Midwesterner, "When our cafe opens, you betcha, we'll have straight and clean lines along with the bright and energetic colors found in our brand image and personalities."
Howard Bryman
Howard Bryman is the associate editor of Daily Coffee News by Roast Magazine. He is based in Portland, Oregon.