The bloom by plume is about to boom in the Lansing, Michigan, area, with Blue Owl Coffee currently headlong into a major expansion. The company has announced that three new coffee shops and a new roasting facility are all slated for opening within the next few months.
The roasting company, which grew from a coffee bike to a 1,500-square-foot brick-and-mortar cafe in the REO Town neighborhood two years ago, is currently settling its roasting operation into a facility at 1236 Turner Road in Lansing's Old Town, led by Blue Owl Head Roaster Gage Jackson. That location is planned to also include a cozy 700-square-foot cafe this Spring.
At the same time, another new 3,000-square-foot Blue Owl Coffee cafe location is expected to be finished and open to the public at 213 Ann St., Suite C in East Lansing by the end of this month. A third cafe in a 1,500-square-foot space an hour's drive west in Grand Rapids is slated to open in May.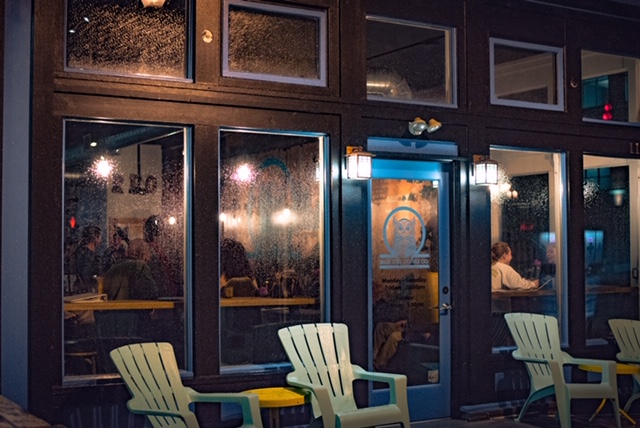 "Much of our roasting operation is meant to be a temporary setup at this point," Blue Owl CEO Nicholas Berry told Daily Coffee News. "We intend to invest in a larger long term roaster once we get all the stores rolling."
That provisional setup includes a 12-kilo Probat on loan from an industry compatriot, plus a 500-gram Mill City sample roaster. Through these machines, Jackson generally strives for outcomes in the medium-light to medium-dark range, preserving the "integrity" of each bean without sacrificing either approachability or the hallmark flavors of each coffee's origin.
"He hopes this will create an inclusive coffee offering, versus an all-or-nothing approach," said Berry. "Gage has been with us from the very beginning. We use to work together at Starbucks, and he is the one who designed the Blue Owl logo. [He's] kind of an all-around genius."
Jackson will eventually oversee a comfortable cupping room, as Blue Owl plans to enter more coffees into competitions while also seeking out direct sourcing relationships.
Most of the company's current and upcoming coffee bars center on Rancilio Classe 9 USB espresso machines paired with Mahlkonig K30 Twin espresso grinders, plus Mahlkonig EK43 grinders for drip. A La Marzocco GB5 espresso machine will anchor the bar at the smaller Old Town cafe that "will allow for the more attentive pace the machine offers," Berry said.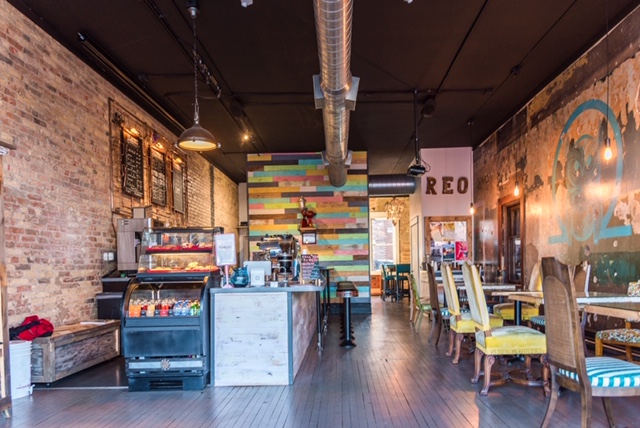 Rather than punch out a bunch of cookie-cutter shops, Berry said each cafe will reflect the spirit of each neighborhood it supports. In East Lansing, for example, where Michigan State University is a dominant presence, Blue Owl aims to provide a calm but creative sanctuary away from the rigors of academia and professionalism, according to Berry.
"A place to start the dream projects many people don't believe they have permission to start working on," said Berry. "I'm pretty excited to show off what we came up with to help encourage that, but don't want to give away the surprise."
Blue Owl's dream project is to nest in 10 different cities within 10 years, showcasing the work of local artists and musicians for an audience of local supporters.
"We started as a record label way back, and this is an extension of that heart," said Berry. "Our hope is to not only help neighborhoods grow, but to take the creative voices in those places and send them out on tour through the different Blue Owl cafes."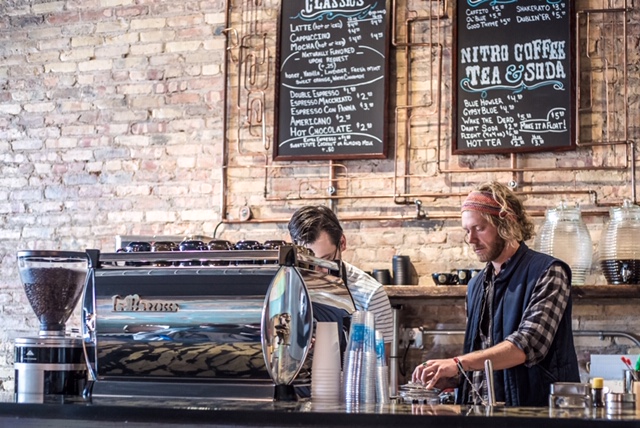 Berry isn't sure what additional cities might come next. The  immediate concern is to get this first set of cafes up and running, and then to give them time to run smoothly and predictably before casting their gaze to the horizon once again. And when that time does come, Berry said the first step is to travel and get to know every prospective location before considering it in serious terms.
"We don't want just a space," said Berry. "We really want to be a place to help anchor the story of each individual community. You can't just throw up an open sign and have that happen. You have to listen to what the people want."
Howard Bryman
Howard Bryman is the associate editor of Daily Coffee News by Roast Magazine. He is based in Portland, Oregon.